If you love Italian cuisine and want to experience more of it, we have prepared a short guide to the most popular Italian dishes and desserts you will fall in love with.

Pizza Margherita
Undoubtedly, pizza is the most typical Italian dish that has become a symbol of Italian cuisine around the world. The types of pizza that are available in Italy are nearly two thousand, but there has always bee one queen and it is called Margherita.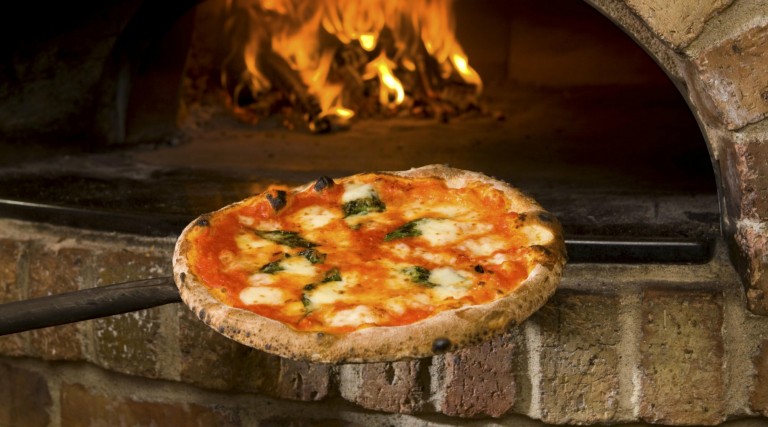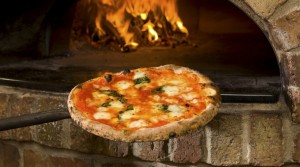 Designed and prepared for the first time in Naples on the occasion of Queen Margarita's visit to the city, this simple, cooked only with three ingredients dish (tomatoes, mozzarella and basil) quickly became one of Italy's largest culinary symbols.
If you have the opportunity to drop by Naples, the first thing to try is a piece of aromatic pizza Margherita. And if you are lucky enough to find a free table in the world's oldest pizza restaurant,Antica Pizzeria Port'Alba, you will find out why the pizza made in Italy has nothing to do with all the other pizzas you've tasted until now.
Polenta
For the humid, cold and foggy winter evenings in Northern Italy,there is nothing better than a warm and delicious polenta. The dish is made from cornmeal, meat, seasonal vegetables and cabbage and is extremely tasty and gives strength and energy. Although it is a typical dish for the Milan area, polenta is being prepared and marketed all over Italy.
Spaghetti with seafood
Typical for Italy's seaside regions, seafood spaghetti combine the most common types of Italian pasta with seafood such as mussels, crustaceans and other sea molluscs. Spaghetti are served with fresh tomatoes and parsley sprinkled with olive oil.
Pasta alla carbonara
Pasta Carbonarais a traditional dish of the Lazioregionwhose capital is Rome. In the past, this pasta has been prepared and consumed mainly by the poor layers of society because of the easy and quick cooking, and especially because of the low price of the products that are used in it.
Gradually, the dish became popular far beyond Italy, and today pasta Carbonara is a world-wide dish. Want to try Carbonara in a traditional recipe, it is the most delicious in Rome.
Minestrone soup
Minestrone is a classic thick Italian soup made from fresh seasonal vegetables. There are no restrictions on the vegetables that are used in the preparation of Minestrone.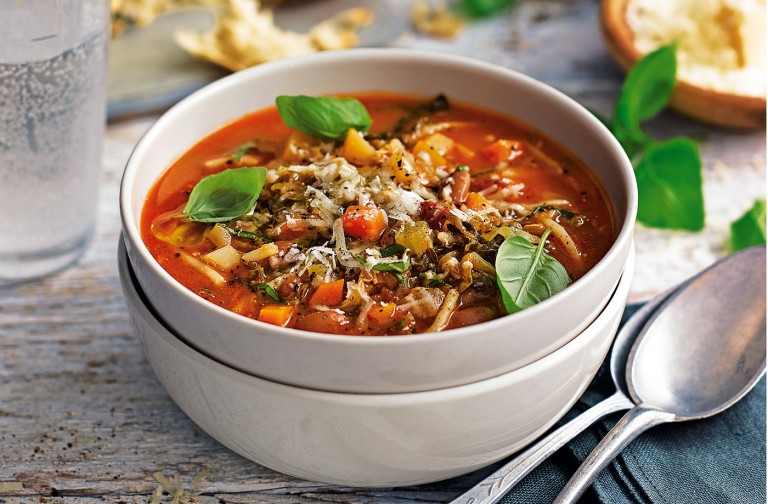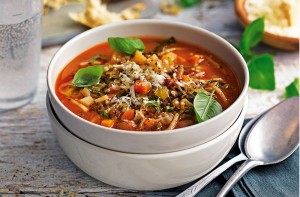 Depending on the season and the area where it is prepared, the soup can consist of potatoes, legumes, rice, spaghetti, tomatoes, onions, celery and carrots. This extremely rich and delicious soup is one of the most frequently cooked dishes in Italian cuisine.


Risotto with saffron
Risotto is one of the favorite dishes of Italians made from rice. What makes this seemingly simple meal so delicious is the addition of saffronwhich gives it a unique flavor and a characteristic yellow color.
There is an interesting story about the connection between saffron and this dish. Many years ago, a young artist who worked on the Duomo's decorationin Milan did not stop praising the exotic Arabian spice in front of his friends.
To play a joke on him, his friends poured some saffron into the rice which the young artist wanted to offer to his guests on the occasion of his wedding. The rice turned yellow, but when they tried it, everyone else was amazed at the incredible taste of the dish.
To try the classic risotto with saffron itis advisable to visit Lombardy where this dish is part of the traditional regional cuisine.
Cotoletta alla milanese
The name of this very popular dish sounds modern, but it has actually been prepared since 1134 in the Milan area. Although it is among the typical and often prepared dishes in Italy, the origins of cotoletta alla milanesehave led to disputes between Italians and Austrians over the years.
The disputes started because of the way the chop was prepared, as it looks more like a Viennese schnitzelthan a traditional chop. Fortunately, the controversy was over when Austrian Field Marshal Radetzky wrote a letter to the Austrian Emperor describing how to make cotoletta alla milanese, explaining that in Austria such a dish was neither prepared nor tasted.
Classic lasagna alla bolognese
Lasagna deserves a place among the top dishes in Italy. Today there are many different options for making lasagna, but if you want to try classic Italian lasagna, the place is Bologna. The secret to making this dish is in Bolognese sauce which in Bologna is prepared with tomato sauce, beef and pork bacon cut into very fine pieces, white wine, onions, carrots and celery.
Cacciucco
Cacciucco is a very popular and delicious soup of fish and seafood which is typical of the Livorno area. The dish is prepared from octopus, several types of fish cut into pieces, mussels, garlic, parsley, white wine and tomatoes cut into cubes. Served always with toasted bread from Tuscany spread with garlic. The bread is placed on the bottom of the plate and the soup is poured over it.
Fun fact: the Italian word Cacciucco comes from the Arabic kükük, which means "small", which comes to show that the soup is made of small pieces of fish.
Caprese
Caprese is a snack (a variant of the antipasta), which has become one of the national dishes of Italy. This snack is prepared from bruchettas, mozzarella, olive oil, tomatoes and basiland is uniquely delicious.
Bruschetta
In Bulgarian, the bruschetta is a toast of bread. Only difference is that we toast the slice of bread and sprinkle it with salt, paprika and oil, while the Italians flavor it with garlic and butter/olive oil.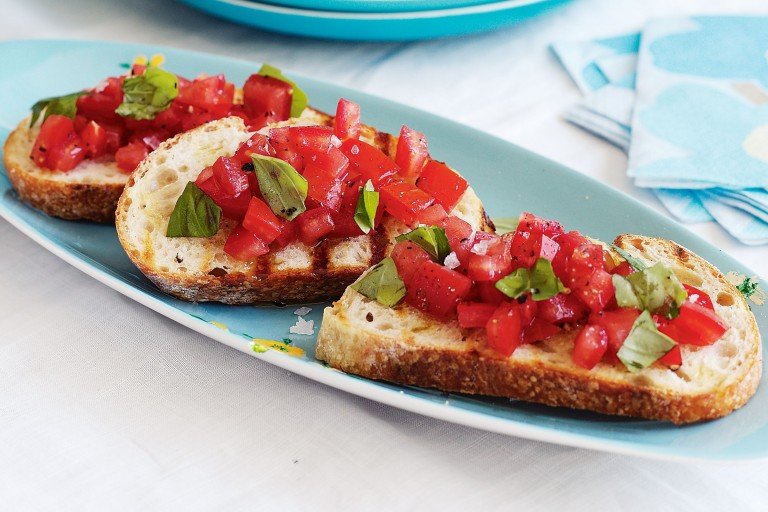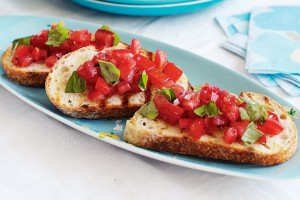 The classic bruschettais made from Tuscan breadwhich is baked to gold on both sides and rubbed with garlic until the slices are still warm. Finally, the bruschetta is sprinkled with salt, olive oil, pepper and tomatoes, ham, salami, olives, and so on are added. The most popular type of bruschetta is tomato, mozzarella and basil.
Frittata
This dish is the Italian version of the omelet. Like any omelet, the main ingredient of the frittata are eggs but to them the Italians add many more different fillings of cheese, vegetables, meat, even pastain some areas. The frittata is initially prepared in a pan, then transferred to a baking tin and baked in the oven. The dish is prepared quickly and easily and is one of the favorite dishes in Italy.
Tortellini
This popular Italian dish is a kind of stuffed pasta and the names you can hear in different areas of Italy are many – from the classic "tortellini" to "anolines", "cappeletti", "torteli"and others.
Emilia-Romagna region is considered to be the birthplace of the tortellini and if you go to Bologna, you will be served tortellini in the classic version, where the stuffing will be from pork fillet, ham, mortadella, parmesan and nutmeg. This dish is served with beef or hen broth.
Italian breakfast
Italian breakfastis very different from the rest of Europe, mostly because it includes mainly sweet foods. Brioche, croissants, biscuits, bread with butter and jamand all this served with some freshly squeezed juice, thick and strong coffee for the elderly and cocoa or milk for the little one … If you are traveling to Italy, do not miss the famous and very delicious Italian breakfast.
Desserts
Gelato
Gelato or home-made ice creamis one of the most famous and popular desserts not only in Italy but also in the world. What makes gelato so delicious and loved is its different way of preparation.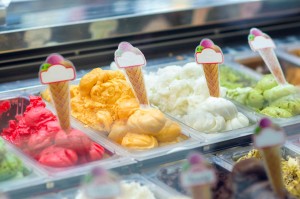 Unlike any other ice cream you can try in different parts of the world, Italian home-made ice creamis made from fresh, low-fat ingredients.
Gelato is prepared on the spot and is practically not stored in a freezer, but it is chilled. Being able to prepare gelato requires a lot of skills and therefore only specially trained ice cream masterscan prepare it. The sweet temptation is available in small restaurants called "gelaterie", and the varieties you can enjoy are over 100.
Tiramisu
Tiramisu is the most popular Italian dessert in the world, which you certainly adore. There are many theories and even legends of its origin, but whatever we me say the fact is that every bite of this sweet magic with a slight taste of coffee, marsala and cocoa makes us fly in the clouds with pleasure.
You can try Tiramisu all over Italy, but if you want to enjoy the classic version of this dessert, try it in Treviso.
Cannoli
This is the dessert you must try in Sicily. Cannoli are waffle cones that are usually filled with ricotta or mascarpone, milk chocolate, pieces of fruit and crispy nuts.
Zabaione
Zabaione is a classic Italian dessertsimilar to an air mousse with a delicate structure and a distinct aroma of wine. Traditionally, it is served with lady fingers or biscuit lady fingers.
Panettone
Traditional Christmas cake which in Italy and the world is loved and offered both in its classic version (with candied fruits and raisins) and in the "richer" version (filled with chocolate and cream).
Panna cotta
We can not miss this incredibly delicious dessert with cream, sugar and vanilla. Delicate, creamy, in perfect combination with blueberries or chocolate sauce, panna cotta is a really irresistible dessert, making it one of the most favorite desserts from the Italian cuisine.
Amaretti
At other places in the world you will find them under the name "Italian biscuits" or "Italian walnuts", but in truth, the classic Amarettiare prepared only with almonds. The dry biscuits combine perfectly with liqueur wines and are almost always present at the Italian table.