It goes without saying that  Italians are masters of pasta . They invented some of the most popular of them – pizza and pasta. These crown dishes of  Italian chefs,  and many other delicious pastries, have long captivated  connoisseurs of excellent cuisine all over the world.
Each of them has its own history and place of birth, which is proud of it.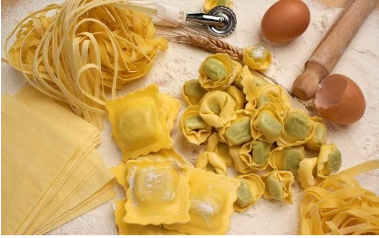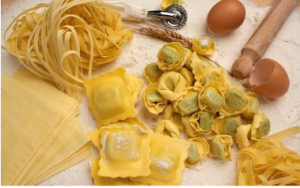 Here are  5 top pasta products from different regions of Italy.
Pizza Margarita
The famous pizza Margarita does not have a large number of complex ingredients or special technology, but it is nevertheless  among the most famous foods in Mediterranean cuisine.  It is recognized as one of the most delicious pizzas, although the products for it are quite ordinary.
All you need is  flour, tomatoes, mozzarella and basil  to achieve a perfect result. This culinary perfection the world owes to  Naples.
The pizza was first made there in  1889  by the baker  Rafaele Esposito.  It is believed to be named after  Queen Marguerite of Savoy.
There is a lot of symbolism in the color of the products used – green basil, white mozzarella and red tomato sauce resemble the Italian flag.  The good Italian pizza is thin and crunchy , and juicy in the middle, thanks to the rich tomato sauce.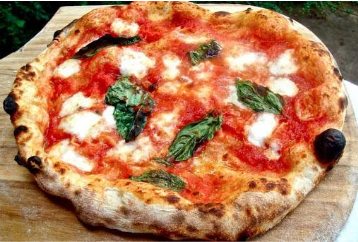 In Leonardo restaurant in Bansko they follow the good  Italian traditions  and prepare Margarita pizza according to a classic recipe with homemade tomato sauce, mozzarella and fresh basil.
Spaghetti carbonara
The types of Italian pasta are so many,  that every day of the year you can choose one of them without repeating. However, some of them are more popular than others and it is difficult to find a person eating  in the world who has not heard them.
A good example of this are the famous Spaghetti Carbonara. They reach us, starting from the region of  Lazio.
As with many other famous recipes, there are  various legends about the origin of this dish.  Most culinary historians trace its origins to the Lazio region, although there are other claims.
It is typical for Carbonara pasta that  it contains bacon, cheese and black pepper . The name of the dish translates as Coal Pasta. The most common version is that  it was first prepared by workers  who mined charcoal.
In remote mountainous areas, people had to stock up on durable products such as dry pasta, salted pork cheeks, olive oil, cheese and pepper. Some believe that  Pasta Carbonara is a recipe for shepherds in the Apennine Mountains near Rome.
There are also opinions that  this pasta is a Neapolitan dish,  because traditional local dishes with similar ingredients, such as spaghetti Carbonara, are described. The names  pasta alla carbonara and spaghetti alla carbonara  did not appear in official sources until after  World War II.
There is also a version that Carbonara pasta is probably an urban dish from Rome,  popularized by a restaurant of the same name.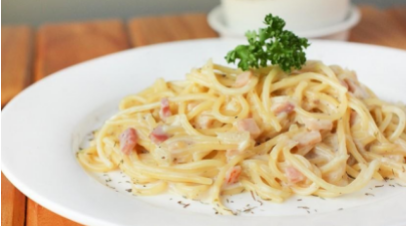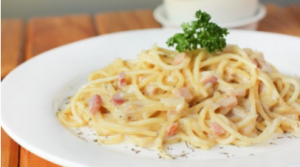 Fans of Carbonara pasta, however, are a little excited about the controversy over its origin. For them, it is enough to  enjoy its perfect taste,  which is due to the sauce of the same name.
The ingredients in Carbonara sauce are few, but there is also controversy about them. In the area of ​​ Rome,  the recipe includes –  Guanciale  (this is bacon from pork cheeks), eggs, sheep cheese  Pectorino Romano  from the Lazio region and black pepper.
In  Northern Italy  the recipe includes cream and garlic, and instead of Pecorino cow cheese  Parmigiano is used.  Pork breast panties are often used instead of guanchale.
For the original sauce, Carbonara  is cut into cubes, not strips, and fried in its own fat.  The sauce is made from raw egg yolks mixed with grated Pecorino Romano cheese.
Naturally, a lot of black pepper goes well with the charcoal paste. The mixture is  mixed together with the fried bacon and some of the water from the spaghetti cooking . In addition to spaghetti, Carbonara sauce goes well with various other pasta products.
Wonderful Spaghetti Carbonara in the Italian restaurant Leonardo in Bansko are  prepared from fresh pasta with pancetta, pecorino, egg, cream and parmesan.
Lasagna Bolognese
Lasagna is a  traditional dish from the city of Bologna,  made from layers of dough, alternating with filling and sauce (usually béchamel). The layers of stuffing can be meat or minced meat, tomatoes, spinach, other vegetables and, of course,  parmesan.
For Lasagna Bolognese the sauce of the same name is prepared first, which is practically a filling. Fry the minced meat in heated olive oil or vegetable oil and then add finely chopped carrots, peppers, onions and garlic.
When they are semi-finished, add tomato sauce and tomato paste, wine and spices. Separately make  Béchamel sauce according to the classic recipe  with fresh milk, butter and flour.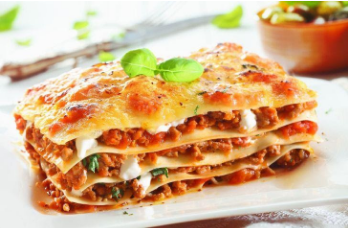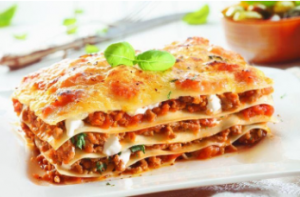 Tortellini
The tortellini  originate from the Emilia-Romagna region  and in particular from the town of Castelfranco Emilia. According to one of the romantic legends  they were invented by a young chef  who, while preparing pasta, wrapped it around his little finger so that its shape resembled the navel of his beloved. In another of the stories stories,  Venus itself is involved.
Legend has it that when the  goddess of love  spent a night in a local inn, its owner was tempted to look through the lock. Amazed by the divine beauty of his divine guest,  he sculpted tortellini in the shape of the navel of Venus.
However, the reality is different, as it is believed that  tortellini are prepared from the 50s of the last century.  Initially, this pasta was served in broth. There are several varieties tortellini according to size – the larger ones are called tortellini and torteloni, and the smaller ones – tortellini.
The dough is  made from durum wheat without leavening agents,  but can be colored with various additives – spinach gives it a green color and tomatoes – red. Add  eggs, salt to taste and a little olive oil.
The dough is rolled out thinly, cut into squares or circles,  in which it is placed from the filling. They are folded in two to form a triangle or semicircle, which shrinks like a ring and the ends stick together.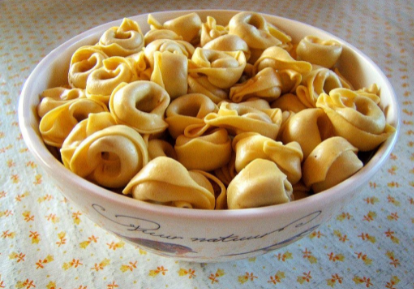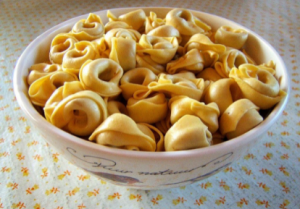 Minced meat, chicken, ham, etc. are used for meat stuffing. The filling can be made from parmesan or ricotta cheese. There are also  vegan options  with broccoli, mushrooms or spinach.  Cooked tortellini are served with different sauces  – cream, tomato mushroom sauce or just pesto.
Fettuccine
Italian Fettuccine are  a type of Italian pasta, very popular in the capital Rome.  They are thin flat strips of dough about  7 mm wide.  They are similar to tagliatelle, but wider than them. Their name comes from the word  fettuccia,  which means ribbon.
The original fettuccine in Italy is made from elastic dough, but today the hosts can buy  ready-made dry pasta.  Fettuccine can be prepared with ham, mushrooms, chicken fillet, fish, seafood or other products and sauces.
The fettuccine variant offered by Leonardo Restaurant is  Fettuccine Bolognese.  They are prepared with beef stew with onions, carrots, celery, tomatoes, rosemary and fresh sage.
One of the  most famous dishes with this paste is fettuccine Alfredo,  which spread the fame of this dish around the world. It is considered both an  Italian and an American dish.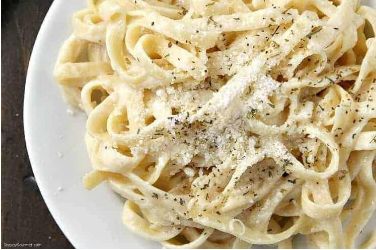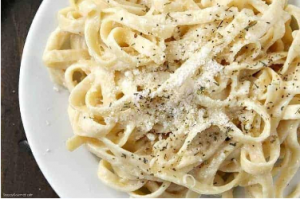 The original technology used by the Roman restaurateur  Alfredo,  is called burro e parmigiano, which simply means  "parmesan butter."  The Italian chef's contribution to the recipe is the addition of double the amount of butter to the sauce.
American tourists in  Rome  liked the taste of this seemingly ordinary dish and named the dish  fetuccini Alfredo,  and then took the recipe home. Over the years, it has changed with the addition of cream, bechamel sauce, broccoli, shrimp, chicken, mushrooms, but  the original recipe remains that of Alfredo with the three ingredients.