The Mediterranean diet is recognized as one of the best diets and is gaining more and more followers. However, it consists not only of pasta, risotto, dairy products and vegetables.
An important element of the Italian diet is fish. The huge coast of the Apennine Peninsula is a prerequisite for consuming fresh fish products.
Italian cuisine uses almost everything that lives in the sea – dozens of fish and a variety of seafood.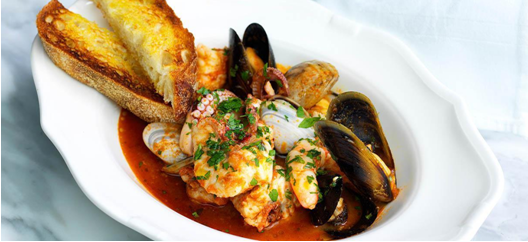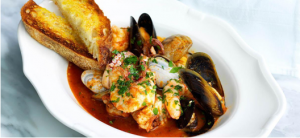 What fish dishes are popular in Italy?
Fish in Italy is prepared in various ways, and among the most common is grilled. There are also many recipes with vegetables or sauces made with wine or tomatoes. The abundance of seafood is huge – different types of mussels and shrimps, squid, octopuses and more.
Most Italian regions have coastal areas, so each of them has its own seafood specialties. This is especially true for the Italian islands.
Sicilian fish, for example, is baked with onion rings, diced potatoes, zucchini, thin slices of fresh mushrooms and lemon slices. Season with salt and pepper, add olive oil and water and bake in a moderate oven.
In Sardinia, spaghetti with bottarga, which is dried caviar, is popular. The recipe is very easy and includes only a few products: spaghetti, botarga, garlic and olive oil.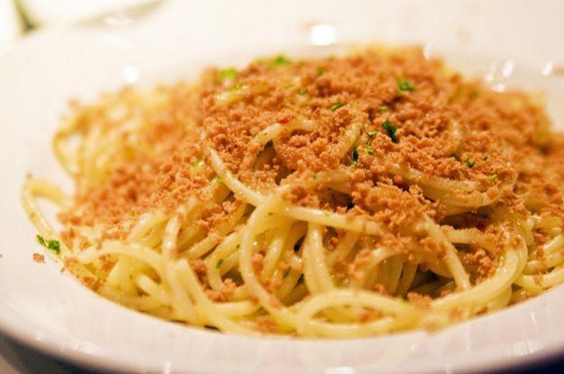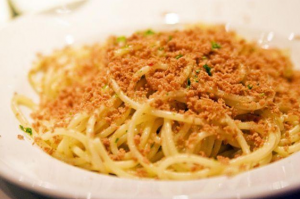 In the area of ​​Bergamo you will be prepared a very fragrant trout, which is first rolled in flour and placed in a pan with melted butter. Add bay leaves, cloves, finely chopped onion, pepper, parsley and sage.
Drizzle with wine and put in the oven for 30-40 minutes, and finally season with lemon juice. Florentine fever is stewed with onions, mushrooms, tomato paste, chopped capers, pitted olives, wine and spices – ginger, oregano and cumin.
In Italy they also have interesting recipes for fish and seafood soups. A prominent representative is the rich Kachuko soup, which includes at least 5 types of fish and various seafood. The traditional Minestrone can also be prepared in a fish version.
There is no way to talk about the Italian classics pizza, pasta and risotto. They all have varieties with fish and seafood.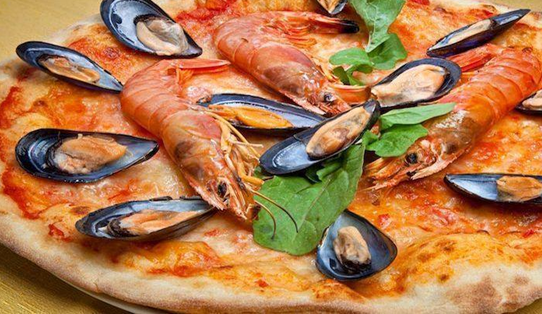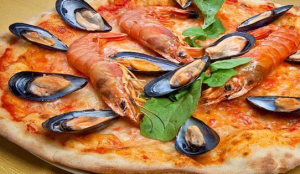 Top 5 Italian dishes with fish products
Kachuko seafood soup
Cacciucco is the region of Bergamo, popular in the region of Bergamo. Like all Tuscan soups, it is very thick.
Initially, kachuko was made from all kinds of fish and seafood, depending on the catch, which is typical of the port city of Livorno. There are several legends about the origin of this dish.
According to one of them, it was prepared for the first time by the widow of a deceased fisherman, whose comrades share with her what they do not need from the catch. According to another legend, the soup was invented by a lighthouse keeper who was forbidden to fry fish because oil was a valuable fuel for the lamp.
Now the most popular version of soup is made from fish broth, red wine and tomato sauce, to which various types of fish and seafood are added. It is traditionally believed that the soup should contain at least as many varieties of fish as there are letters "c" in the name of the soup, namely, at least five.
What products are needed?
Several species of fish
Seafood – mussels, squid, tiger prawns and more.
shallots
2-3 cloves of garlic
carrots
Chilies
Quarter head fennel
Celery
Leek
Grated tomatoes
tomato paste
salt and green spices
Method of preparation:
Cut the fish into pieces.
Wash well and prepare the seafood.
Cut onions, carrots and a little fennel into small cubes.
Also cut the leeks and grate and mash the tomatoes.
Crush the garlic with a knife and chop it.
First, heat the olive oil in a saucepan and sauté the chopped vegetables.
Put the grated tomatoes, then reinforce with tomato paste.
Some recipes add red wine, but you have to decide for yourself if you want it.
Now add the fish stock, be sure to add salt at this time.
First the cuttlefish, squid and mussel meat are added to the seafood, after five minutes the fish is added and after another three or four minutes the tiger prawns, crabs and mussels are added in shells. It is not recommended to cook fish or seafood for a long time, and when the tiger prawns are ready, the dish is ready.
Season with parsley and basil. It can be served as a soup or as a main course with fresh bread.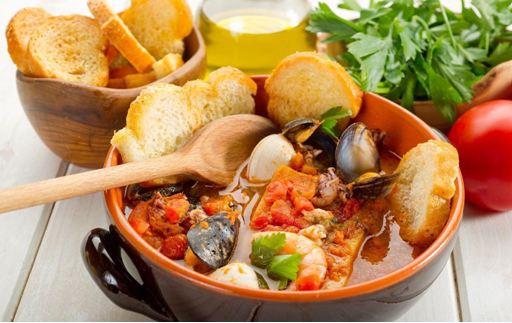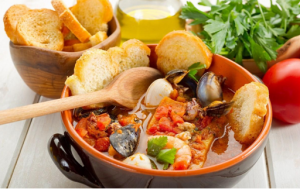 Seafood risotto
Products:
2 tablespoons olive oil
75 liters of fish broth
2 onions
2 cloves garlic
1 stalk of celery
400 g of rice for the risotto
10 mussels in shell
150 g fish fillet
8 pcs. peeled shrimp
2 tablespoons chopped parsley
1 tablespoon oregano
Preparation:
Pour the broth into a saucepan and bring to a boil.
Reduce and simmer slowly with a lid.
Heat olive oil in a large skillet over medium heat.
Add finely chopped onion, garlic and celery and fry 2-3 minutes. Add 2 tablespoons of water, cover and simmer for about 5 minutes until the vegetables are soft.
Add rice and cook for 3-4 minutes, stirring occasionally.
Gradually add 125 ml of hot broth, stirring constantly over low heat until the whole broth boils.
Add 125 ml of broth until the rice is cooked, be sure to add salt.
Meanwhile, boil water in a large saucepan. Add the mussels, cover and cook for 4-5 minutes, shaking the pan from time to time until the mussels open. Drain and remove unopened mussels.
Add sliced ​​fish, shrimp and remaining hot broth to the rice. Stir well and cook 5-10 minutes. Remove from heat, add the mussels, cover and leave for 5 minutes. Sprinkle with parsley and oregano.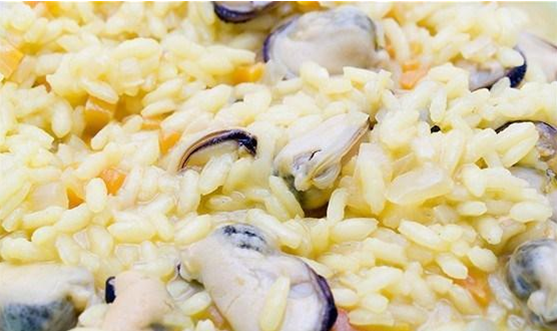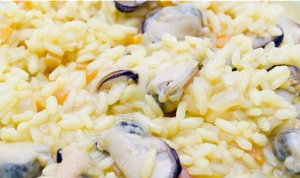 Spaghetti with tuna
Products:
400 g of spaghetti
5-6 tomatoes
300 g canned tuna in its own sauce
3-4 cloves of garlic
1 carrot
4 tbsp. olive oil
1 tsp sugar
pepper
sol
basil
Method of preparation:
Boil the spaghetti in salted water, drain and rinse.
While the spaghetti is still cooking, put the tomatoes and carrots in another pot of salted water.
When soft, remove and allow to cool.
Peel a squash, grate it and put it in a blender together with the carrots and garlic cloves.
Mash by adding half a teaspoon of water, ground black pepper, sugar and salt.
Heat the olive oil in a deep frying pan and put the pureed mixture in it. After 15-20 minutes, when the liquid has already boiled, add the canned tuna.
Allow to simmer for a few more minutes, then sprinkle with chopped fresh basil.
Finally, add the cooked spaghetti to the sauce and stir. You can also add a few olives and chopped parsley.
Tuna spaghetti is served hot.
Serve grated Parmesan cheese separately for sprinkling.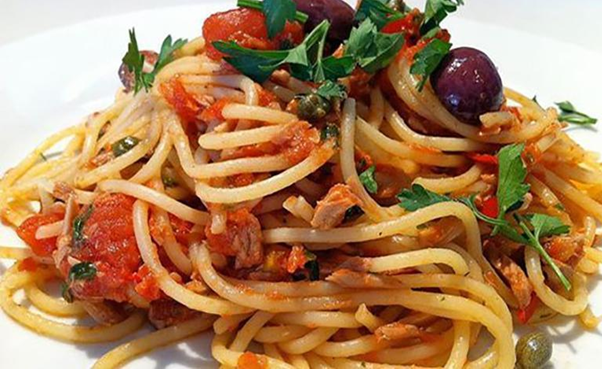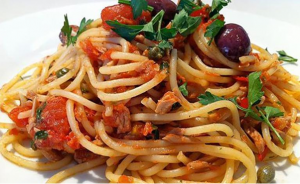 Lasagna with fish, tomatoes and cheese
Lasagna with fish, tomatoes, two types of cheese (soft and hard) and bechamel sauce is just as tasty and appetizing as classic lasagna, but the dish is lighter and healthier. This dish can be prepared with white fish, pike or other species.
What products are needed?
600 g fish fillet
8 pcs. lasagna sheets
1 tomato
100 g soft cheese
80 g hard cheese
For the béchamel sauce:
2 tbsp. spoons of flour
50 g butter
500 ml. milk
5 tsp sol
2 pinches of black pepper
1 pinch of nutmeg
For the marinade:
5 tsp sol
2 pinches of black pepper
1 tablespoon lemon juice
1 tsp oil to spread the form
Method of preparation:
For lasagna you will need a square or rectangular baking dish.
Cut each fish fillet into slices 1.5-2 cm wide. The fish must be marinated in advance. Put the pieces in a bowl, salt, sprinkle with pepper and lemon juice. Cover with a lid or cling film and refrigerate for an hour or more.
While the fish is marinating, prepare the béchamel sauce. To do this, melt the butter in a pan or saucepan over medium heat.
Add flour to the melted butter, stirring constantly.
Carefully pour the milk, stirring the sauce constantly to make it smooth.
Cook the sauce over low heat for about 5 minutes. Add black pepper, nutmeg and salt, stir and the sauce is ready.
Divide it into four parts.
Turn on the oven to preheat to 180 degrees.
Grease the baking dish with oil and place two lasagna sheets on the bottom of the pan. Spread 1/4 of the béchamel sauce on the leaves.
Place half the pieces of marinated fish on top. Place two lasagna leaves on the fish, on which add the next portion of sauce.
Cut the tomatoes into slices and place them on top as the next layer. Cut the soft cheese into slices and place on top of the tomatoes. Sprinkle with black pepper.
Then cover with lasagna sheets, spread with sauce and add the remaining fish. The top layer are lasagna sheets smeared with the remaining sauce.
Place the dish in the oven for 30-35 minutes. After the allotted time, the top of the lasagna will turn brown. Grate hard cheese on a coarse grater
Sprinkle the lasagna with hard cheese and return to the oven for ten minutes. When the cheese has melted well, remove the dish from the oven.
Cool the lasagna slightly and cut into portions straight into the form.
Tuscan fish
Products:
500 g of mackerel fillet or other species
Half a lemon
2-3 tablespoons of olive oil
1 onion
1 clove garlic
2-3 tablespoons dry white wine
3 tomatoes
2 peppers
sol
pepper
Method of preparation:
Cut the fish fillet into portions, sprinkle with lemon juice and sprinkle with salt.
Heat half the butter in a pan and fry the finely chopped onion and garlic.
Put pieces of fish in the pan, pour white wine, sprinkle with spices and simmer for 10-15 minutes, covering the pan with a lid.
Cut the peppers into rings and fry separately in the remaining oil.
Wash the tomatoes, peel and cut into slices and add briefly to the pepper.
Season with salt and pepper.
When the vegetables are ready, place them on the fish and simmer