For fans of Italian cuisine and statistics, it is probably interesting that the types of pasta are over 350, and the options for sauces to it reach 10,000. Even the Italians themselves probably find it difficult to navigate in this variety.
The national dish is prepared in every restaurant and every home in the Apennines, and both chefs and ordinary housewives contribute to the enrichment of recipes. In the universe of Italian pasta, however, there is a name known to everyone in the world – spaghetti bolognese.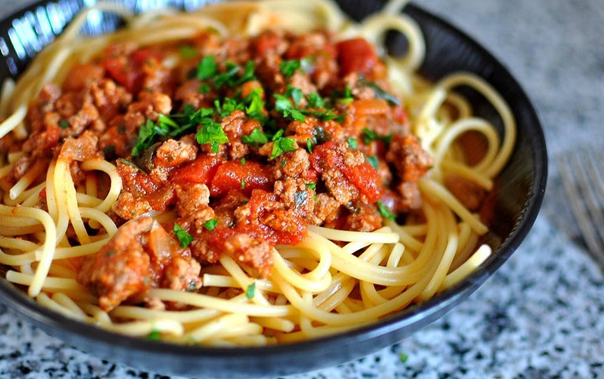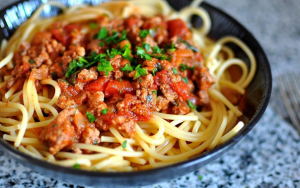 History of Bolognese
As its name suggests, the birthplace of the Bolognese sauce and the spaghetti prepared with it is considered to be the Italian city of Bologna, which is the capital of the Emilia-Romagna administrative region. In its simplest form, Bolognese sauce is minced in tomato sauce.
After its appearance, tagliatelle was prepared with this sauce, but now the most popular are spaghetti bolognese, although other types of pasta can be combined with it. In Italian the dish is called Pasta alla bolognese.
According to some Italian sources, the appetizing Bolognese sauce was invented in Rome, not Bologna, and its origins can be traced back to the late 18th century. Culinary historians claim that the original recipe for Ragu alla Bolognese was invented by Alberto Alvisi and is a tomato-based meat sauce served with pasta.
The term Ragù comes from the French word ragôuter, which can generally be translated as "to add flavor to something". Initially, sauces were considered a main dish, and then began to be consumed with pasta.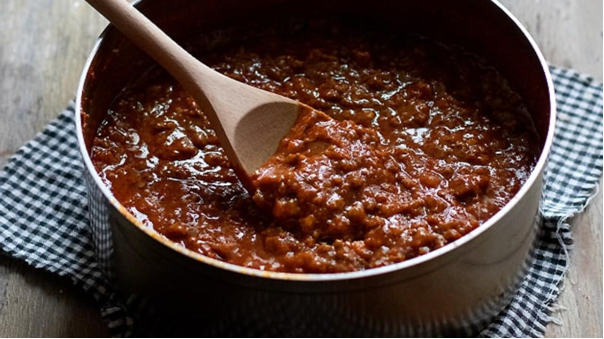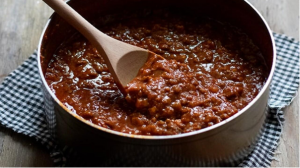 In 1891 the respected cookbook author Pellegrino Artuzi, who was born in the Emilia-Romagna region, first published a recipe for Macaroni alo Bolognese in his book "The Science of Cooking and the Art of Proper Nutrition" . Artuzi's version is quite different from the popular one now.
The original recipe for Bolognese sauce was registered much later in the Italian Academy of Cuisine (Accademia Italiana della Cucina) in the Chamber of Commerce of Bologna. This happened on October 17, 1982. The products from which the legendary sauce is prepared are:
beef
pork
pancetta (Italian bacon)
onions
carrots
celery
tomatoes
meat broth
white or red dry wine and milk
Today, the legendary sauce includes mainly tomatoes and minced beef, and the additives and spices are very different. Bolognese pasta is easy to make at home, so it has become a popular family option for lunch or dinner around the world.
What is the secret of Bolognese sauce?
At first glance, it seems very simple to prepare spaghetti – boil, add some sauce and you're done. However, the Italians have turned the cooking of pasta into an art and have introduced strict rules regarding technology.
First, you should know that all types of pasta are boiled in a lot of water, the ratio is: per hundred grams of dry pasta per liter of water. The greatest sin a cook can commit is to boil the pasta. Spaghetti must remain "al dente" or "to the tooth". This means that a little firmness must be maintained in the middle.
So far we have only cooked the spaghetti, and the most important part is ahead – the preparation of the sauce. Masterful sauces have a huge contribution to the taste of real Italian pasta and their preparation is a science.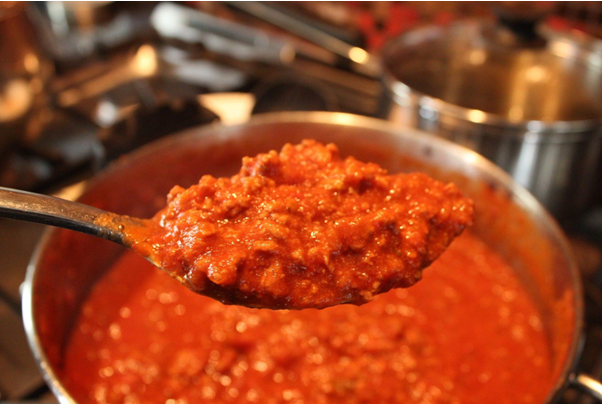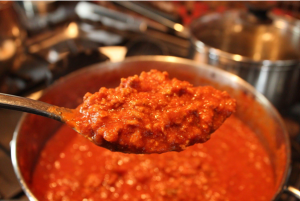 One of the secrets of a good sauce is to hit the perfect texture. The spaghetti sauce should not be too thick. Chefs advise you to cook the sauce in a large pan or saucepan, so that the cooked spaghetti is finally transferred there.
When the spaghetti is drained of water, put it in the pan with hot sauce to simmer for another minute or two on medium heat. Thus, the pasta absorbs the taste and aroma of the sauce, although more often you will see cooked spaghetti served flights with the sauce on top.
In modern spaghetti recipes Bolognese the main products are tomatoes, minced beef or a mixture of wine. For the sauce are also used onions, garlic, carrots, celery, olive oil. Season with black pepper, basil, etc.
Italians sometimes use finely chopped meat, and the sauce boils for about 4 hours, until the meat is completely soft and almost merges with the liquid part. Faster, of course, is made with minced meat.
To make your sauce very tasty, the vegetables must be finely chopped into equal pieces. The minced meat is better to be a mixture with equal amounts of beef and pork.
When preparing the sauce, dry wine is added, which must evaporate and its aroma remains in the dish. The taste is ennobled by the addition of whole milk. When preparing Bolognese, tomato concentrate can be used instead of fresh tomatoes. or puree.
Spaghetti is served with grated parmesan.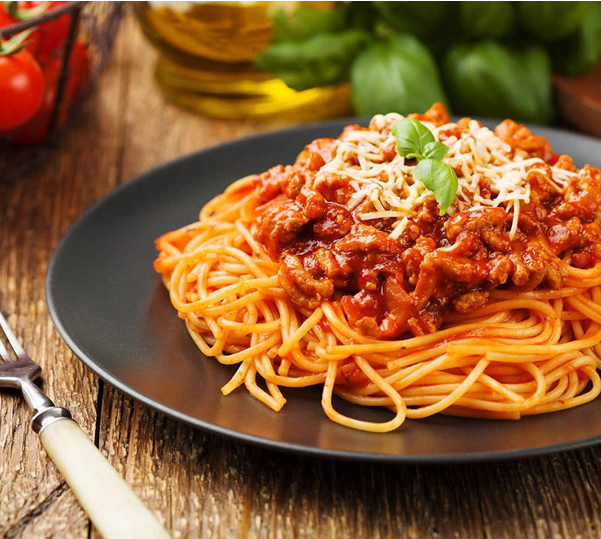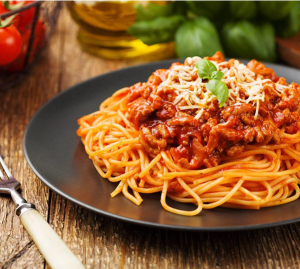 Although the main products for Bolognese are relatively constant, there are a variety of recipes in different regions depending on the additional products and aromatic spices. Sometimes sausages, mortadella sausage, peppers, mushrooms, etc. are added.
How are spaghetti consumed?
More anxious people often refrain from eating spaghetti in public places because long pasta has the insidious property of slipping and getting dirty. That is why it is good to learn the etiquette of eating them at home in advance.
In fact, there are different ways to do this, and they say that an Italian can only guess which part of the country he is from by the way he eats pasta. If served with a fork only, it is held in the right hand, and you wrap 2 or 3 long spaghetti around it before serving it to your mouth.
In some restaurants, more common in southern Italy, spaghetti is served with a fork and spoon. The spoon is held with the left hand and with it you help to wrap the spaghetti around the fork.
It is generally believed that eating spaghetti with a spoon and fork is an American custom and many Italian restaurants do not practice it, although it is quite practical.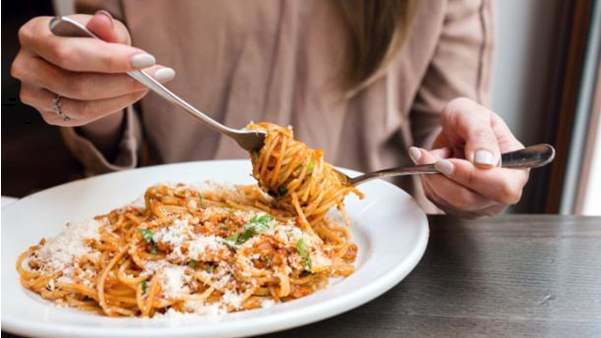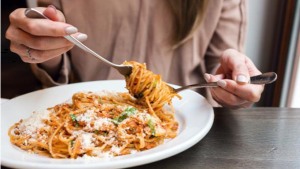 The label does not allow the spaghetti to be cut into smaller pieces with a knife. You can use a knife for larger pasta such as lasagna or ravioli. Even if you really want to, you shouldn't suck on pasta or melt bread in spaghetti sauce.
Receptions
Spaghetti bolognese
Products:
300 g of spaghetti
400 g minced beef and pork mixture
100 g of bacon
500 g canned peeled tomatoes
1 onion
2-3 cloves of garlic
1 carrot
1 stalk of celery or celery
150 ml of white or red dry wine
150 ml of fresh milk
2-3 tablespoons olive oil or vegetable oil
salt and pepper
basil
grated parmesan
Preparation:
Heat the fat and put the finely chopped bacon in it. After 1-2 minutes add chopped carrots, onions and garlic. Shortly afterwards, add the minced meat and stir until fried.
Then add the tomatoes, which you should have thickened beforehand, or for easier you can use 2-3 spoons of tomato paste, without having to thicken. Add the wine and finely chopped celery.
Season with salt and pepper. Reduce the heat and let the sauce simmer for about 30-40 minutes. Finally add the milk and let it boil a little more.
While the sauce is cooking, boil the spaghetti in a large saucepan with plenty of water. Drain and transfer to the sauce. Serve with grated parmesan and a sprig of basil.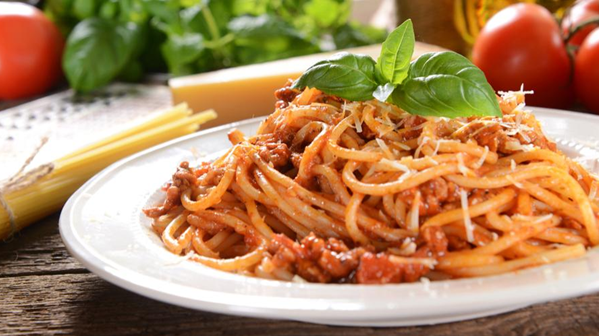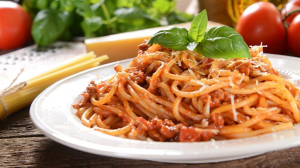 Spaghetti Bolognese with zucchini
Products:
350 g of spaghetti
1 tbsp olive oil
400 g not very fatty minced meat
3 chopped garlic cloves
1/2 tsp ground red pepper
250 g zucchini
250 g coarsely grated carrots
spices of your choice
500 g of ready tomato sauce
basil leaves
ground black pepper
sol
Preparation:
Heat olive oil in a large deep frying pan over high heat. Add the minced meat and garlic to the pan. Fry until the meat is brown. Add zucchini and carrots to the minced meat.
Continue frying on low heat for about 30 minutes, stirring occasionally, until the vegetables are soft. Pour about 500 ml over the minced meat. ready tomato sauce (the shops already have a choice of bottled tomato sauce). Bring to a boil, try and add salt and pepper to taste. Add chopped basil to the sauce.
Meanwhile, boil the spaghetti as indicated on the package. Arrange the resulting spaghetti in 4 plates and pour the Bolognese sauce over them. Garnish the dish with basil leaves and serve.