Emilia-Romagna , in northern Italy, is known as Italy's "bread basket" ! With its capital, Bologna, this region is considered by many to be the gastronomic and culinary heart of the country. His reputation extends to many exquisite Italian culinary connoisseurs. If you want to taste the best food of Italy , you should focus on Emilia-Romagna and its healthy and delicious Italian cuisine !
Many of the important, unique dishes that originated here are served all over Italy! Emilia-Romagna is the center of the city ​​of Parma , which is the birthplace of Prosciutto di Parma – the most famous pork product in Italy . Considered the king of food in Parma, prosciutto is the cornerstone of Italian cuisine.
In Parma, there are more pigs than people, which makes pork the cornerstone of the kitchen in Emilia-Romagna. The region's rich tradition of dried meats is based on the colder climate of the hilly and mountainous places with caves near Modena , where these meats can be well processed and stored.
Coppa, Pancetta, Salame, Culatello and Zamponi are also remarkable specialties that deserve good attention. It produces the venerable "Mortadella di Bologna" , which makes the people of the region proud of their rich, delicious pork delicacies .
Modena is well known in culinary circles and another culinary masterpiece created in Emilia-Romagna: the famous balsamic vinegar , which has been produced since Roman times, under strict quality standards, heavily regulated by the government. This product can be stored for up to 50 years in wooden casks .
The exquisite balsamic vinegar has a rich and strong sweet-sour taste and aroma. Although quite expensive, the incomparable liquid spice emphasizes the taste of many wonderful recipes: from sweet to savory .
Emilia-Romana is the birthplace of the world-famous Parmigiano-Reggiano ( Parmesan ) cheese . This cheese is only legally produced in this region of Italy. Although there are many imitations, there is no rival that makes it part of the countless world recipes . The provinces of Parma, Reggio and Emilia Romana have for many years the legal right to produce it.
Parmesan is a cheese of ancient origin . Its characteristics and processing method have been preserved unchanged since ancient times. To this day, the masters of cheese continue the tradition of preparing it only with milk and rennet , strictly observing the centuries-old traditions.
Pasta dishes originating in Emilia-Romagna include the well-known:
lasagna

tortellini and tortellini

ravioli

chaplets

cannelloni and many other well-known

pastry masterpieces

of culinary art
Here is the birthplace of Sugo Bolognese – a thick, tomato sauce with minced meat, also known as "ragout" , beloved by locals. It is a supplement to most of the delicious local food
Pastry dishes are usually simple , but the variety lies in their preparation. Some pasta dishes are served as a small first serving or for a light lunch, such as salad pasta . Other dishes can be larger and served for dinner. The flavors and smells of pasta- rich sauces can vary greatly in color and texture.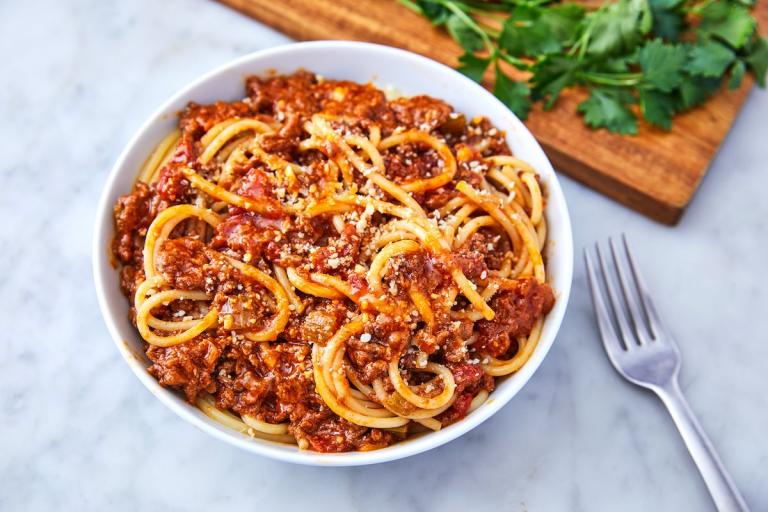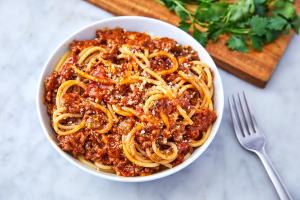 Bolognese is a famous Italian meat-based sauce ported from Bologna to Emilia-Romagna. It is a thick, plentiful, delicious and preferred dish that can be served in many variants. Tagliatelle is a common pasta served with Bolognese, but other pasta can be used, such as rigotons, foam and ravioli .
This sauce is cooked slowly and its preparation involves several methods, such as thickening, sautéing and stewing. The ingredients are typical onion, celery and carrot, all kinds of minced or finely chopped beef, often with small amounts of fatty pork . Add a little white wine, milk and a small amount of tomato concentrate or tomatoes, then allow the dish to simmer slightly to make a thick sauce.
Baked goods are undoubtedly the favorite food in Emilia Romagna's kitchen , but bread is also popular. Freshly baked rolls , known as "coppiette" , can be found anywhere. Local flat breads can be bought in any region.
A round "piadina" or "Roman pie" consists of wrapped cheese, salad or prosciutto. They are baked on a tile or grid. The focaccia here is called "spianata" or "torta salata", unless it is salted pork, as it is done in Bologna, where it is called "crescentina" .
Emilia Romana's bakers prepare borlengo from very thin, almost transparent dough leaves, seasoned with garlic, rosemary and salted pork, and serve it in quarters with Parmesan. These spices are also used for handmade bread similar to the English muffin.
Erbazzone are baked or fried bread filled with spinach, salted pork, garlic and onions. If baked in crust, they are called "scarpzzon" . They are usually eaten in Reggie .            
Emilia Romana consumes many types of fried pies , sometimes with sausage, prosciutto or pork stuffing. Traditionally, they are fried in pork , although lately they are also cooked in oil. Some examples include:
Pie Chicken Burletina

frit cake in Parma

Modena's gnocchi frit

Regio pizza
Bologna 's famous "frito misto" offers a choice of fried meats and vegetables. Fried pasta, known as casseroles , contains spinach and raisins in their stuffing.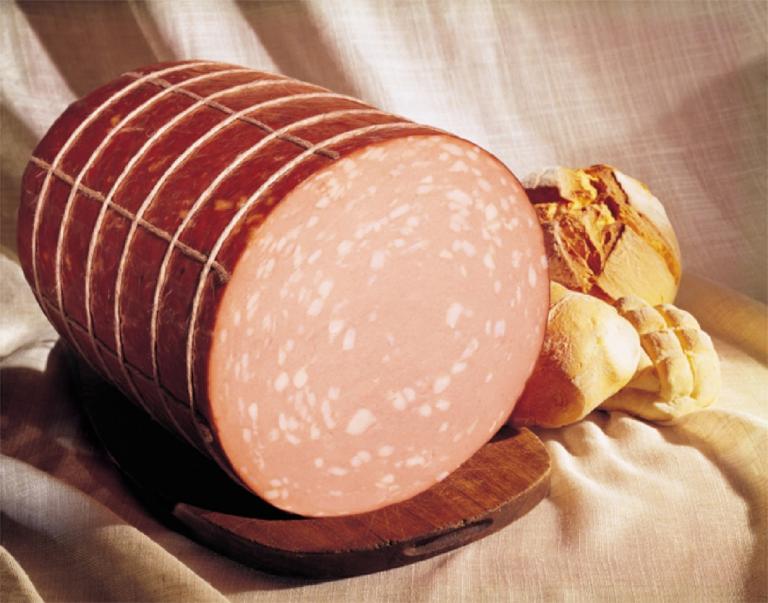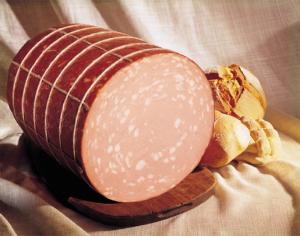 Bologna is known for its sausage mortadella , made from ground pork, pieces of pork fat and sometimes pistachio. Modena's pork loin is eaten with a New Year's lens for good luck .
Capocolo, or Copa Piacentina, comes from Piacenza, as well as Pancetta and Piacentina. Pork chunks are mixed with spices and red wine to make Ferrara's salami, which is produced everywhere in Emilia Romana.
In addition to beef from the Romaniola breed, rabbit , chicken and game are consumed . For example, often wild duck with tomatoes is stewed with herbs and white wine and served with risotto. Cappone ripieno , or baked capon, is filled with veal and ham, which in turn is filled with Marsala. Other popular meats are pork, lamb and mutton .
Cesenatico is known for having the most delicious fish soup on the Adriatic Sea. The eel is served grilled or cooked in tomato, onion and garlic sauce, as well as in angila ala komhachi.
Porto Recanati 's beard was created by fishermen who made it from small fish , which was not sold on the market because it is small. For centuries, this dish has been a staple food for fishermen , after which the recipe has improved over time and gained national prominence.
The Porto Recanati Embroidery Recipe was born in the early 1900s , invented by chef Giovanni Veluti. The success of this dish was so great that even in his honor a competition was held for local gastronomy.
Among this rich palette of soups and main courses   comes dessert.
Many of Emilia Romana's desserts are based on fresh fruit . Melons, stone fruits, berries and pears are especially loved. Chestnuts are also often used in desserts . Of course, not all are made from fruits. Emilia Romana's recipes include sweet pasta, baked cookies, sweets and tartas .
One of the favorites small and large is Barroso Cake . In the town of Ferrara, 44 kilometers north of Bologna, they make a similar but not identical pastry called "La Tenerina" or "the little gentle" . The two look very similar, but their taste is different as Tenerina contains little flour and no almonds . Even today, the true recipe of Barrozi Cake remains carefully hidden between the walls of the family workshop, the ingredients, dough, kneading and baking phases remain top secret.