You no longer have to worry about how you will present yourself to the guests if you are about to have a family holiday or  organize a company event. Spreading catering services will save you the stress of preparing for a birthday  or if you are hosting a business meeting. The catering menus offered are varied, and the choice depends on the occasion and the number of participants.
If the event is planned in a narrow circle, it is best to order mini catering, and to make an impression, the food can be selected thematically. Why not bet on  catering of delicacies with Italian flavor.  The question is what is best to choose if we decide to order  mini catering in Italian style.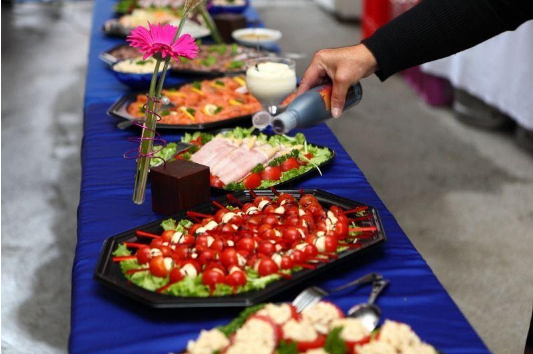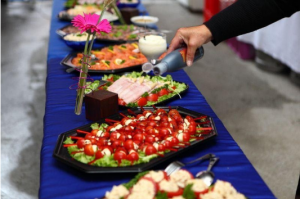 When is it suitable?
Catering is increasingly used,  and the occasions are many and varied.  First we must take into account the reason for the event and how many guests we expect. Then choose a suitable menu from the numerous offers from the Italian culinary treasure trove.  The plates with delicious things to eat are suitable for breakfast or lunch  in the office, for a business meeting, coffee break or holiday party. Mini catering is recommended for small corporate events and small family celebrations, and the style is determined by the type of gathering.
You can order food from outside for your child's next birthday. This will save you unnecessary worries and efforts on this important day and you will be able to  focus on the good mood of the little birthday boy and the guests.  The place of the holiday can be your home, the yard of the house or the park.
Suitable for inclusion in the menu are various small foods, such as
bruschettas
small pizzas called pizzas
snacks and other interesting things that are easily consumed while the children are having fun.
When the party is for children, don't forget the sweet things, for example  pieces of fruit, fragrant biscuits, panna cotta,  only for the occasion served in glasses or irresistibly  the delicious tartelette.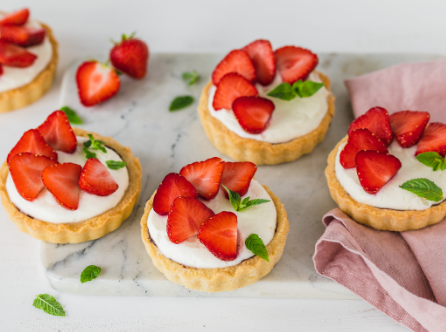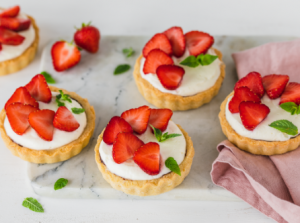 The menu for party catering is quite different, which is suitable for private events.  These are both personal holidays and corporate cocktails.
The mini catering will hardly be enough for a whole wedding, but it will be  perfect for a welcome drink for the guests  of the wedding party. In this type of service, beautifully arranged bites, small pastries and fruits are chosen,  suitable for champagne and white wine,  with which guests are usually greeted.
The concept of  corporate catering,  which has two main directions, is becoming more and more important. One is feeding employees during their working day, most often at lunch, and food is usually ordered in portions. Catering is more special for various company events and then  serving is in the style of "buffet".
The catering menu is more selected when the occasion is purely working and it is a business meeting or conference. Then it is usually done  during the coffee break  and the range is limited to a few salty and sweet offerings and soft drinks. During a festive corporate party, the food is more extravagant and can include  meat, cheese, vegetables, fruits, nuts  and all this shaped in an elegant Italian style.
Suitable are the fabrics with the famous  Italian cheeses, meat delicacies and vegetables, the Italian polpette meatballs, the mini frittata, pizzas, bruschettas with salmon or prosciutto.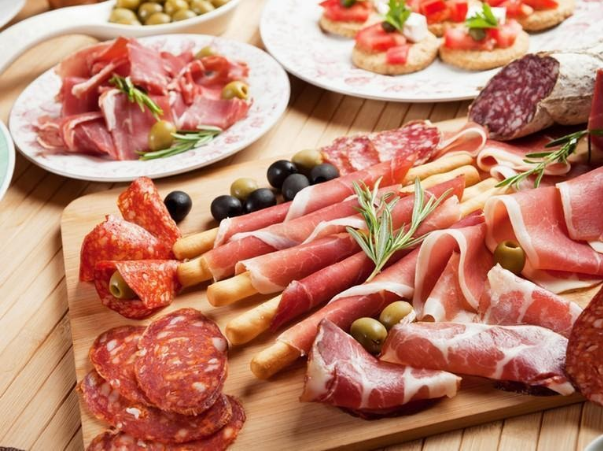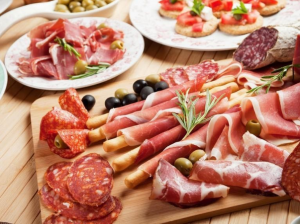 We can't help but think about including  traditional Italian pasta in the menu.  Most types, such as spaghetti or tagliatelle, are not suitable because their consumption is likely to make it difficult for cocktail guests.
On the other hand, the nice tortellini can fit well into the variety of delicious Italian specialties.  Apart from a special occasion, you can order mini catering just to make friends  or to make your family happy with a different Saturday dinner, for example.
Ideas for mini catering in Italian style – recipes and how to prepare
Bruschetta
Among the most popular small things to eat in Italian cuisine are bruschettas. They are suitable for catering because they are quick to prepare, look appetizing and allow  many variations. Bruschettas are slices of toast, which are usually rubbed with garlic and various products are placed on them.
The base is made of baguettes, baguettes, ciabata or some other type of bread.  On top are most often placed chopped tomatoes, peppers, cheese, prosciutto, sausage, mushrooms, olives, fish, shrimp. Season with olive oil and black pepper, and green basil and parsley leaves add more flavor and effect.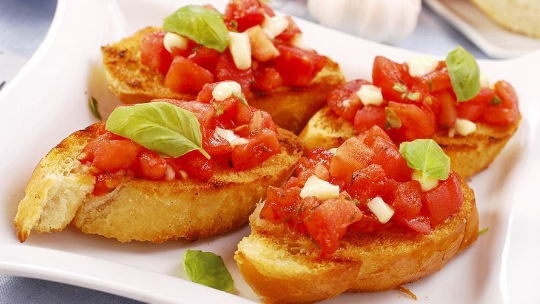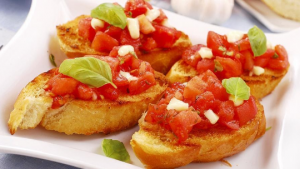 Similar to bruschettas are crostini, which are thinly sliced ​​toast, smeared with olive oil, smeared with cream cheese, sliced ​​cucumber or roasted peppers, and can also be with chicken or other liver or anchovies. Suitable combinations are cucumber with salmon, ricotta cheese with pieces of figs, etc.
Mini frittata or omelets in Italian
The famous Frittata is actually an egg omelette in Italian. The frittata is enriched with many different additives , such as:
meat products
potatoes
cheese
spinach
zucchini
mushrooms, etc.
It is easy and quick to prepare, it is delicious and is in everyone's pocket. Serve hot or cold, at any time and occasion, as an appetizer or main course. In the version mini frittata is very suitable for catering.
A good frit should be light and airy. This result is obtained by breaking the yolks and whites separately. For a richer taste, cream or milk can be added.  Unlike the traditional omelet,  which can only be made of eggs, the  frittata always has at least one additional product.  It is not a filling, but is put directly into the egg mixture.
Fry the frittata in a pan or bake in the oven. When making mini frittata, it is best to bake the mixture in muffin tins.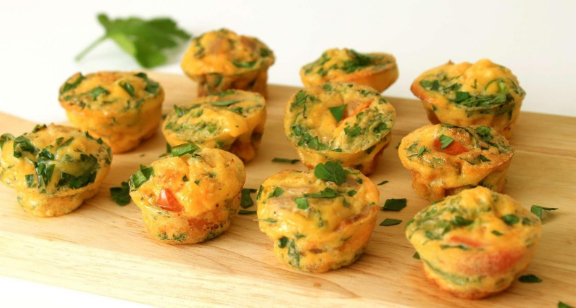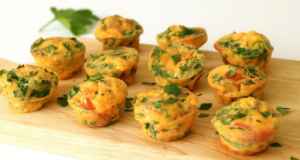 Pizzas
Italian pizzas are actually mini pizzas in different variants. Here is a recipe for  pizza with ham and mozzarella:
Necessary products:
2 tsp flour
1/3 teaspoon fresh milk
1/2 tsp water
1/3 tsp olive oil
1 equal teaspoon of sugar
basil pesto
tomato paste
mozzarella
ham
sol
thyme and oregano
Preparation:
Dissolve the yeast in warm milk and add the sugar and a little flour,  until a thick paste is obtained. Leave the mixture for about 15 minutes and then add it to the flour, water and olive oil placed in a bowl. Mix well and knead until the dough should become soft and elastic.  It needs to rise for 1-2 hours  to double its volume.
Prepare the tomato mixture for spreading by mixing the tomato puree with olive oil in a bowl on a moderate heat, add the oregano, thyme and, if necessary, a pinch of sugar and a pinch of salt. Bring to the boil until half done.
 Roll out the risen dough thinly and with the help of round shapes  (or cup) cut the marshmallows. Spread with the tomato mixture. You can make two types of pizzas – for example with sliced ​​ham, covered with mozzarella or yellow cheese or just mozzarella. Bake the mini pizzas on baking paper at 200 degrees.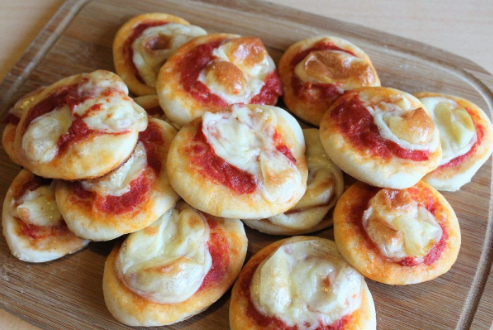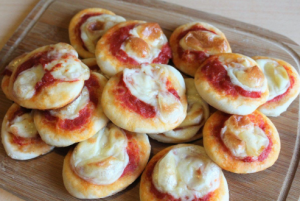 Antipasti
In Italy, foods served before the main course are called antipasti. They are very popular and varied and are usually offered before lunch or dinner.
Antipasti can also be included in mini catering with great success. Most often they are slices or pieces of different products that are arranged on a plate or plateau. They can be composed of homogeneous products or they combine different meat delicacies, cheeses, salad mixes and fruits.
Traditional antipasti in the cuisine of the Apennines include  dried meats, cheeses, fish and seafood, vegetables, olives, mushrooms.  Freshly baked pasta is often served with them. The combinations are simply innumerable.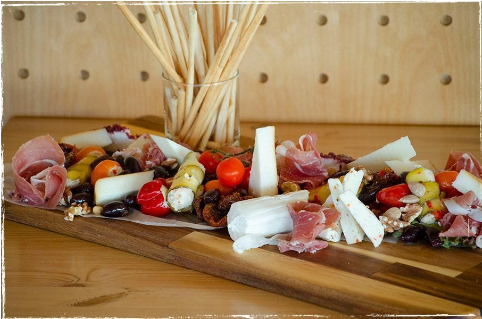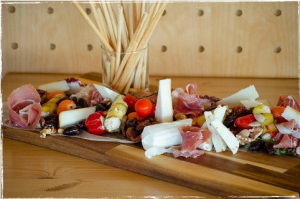 Cold antipasti are more suitable for catering, but can be  served hot as well.  Italian cheeses and sausages are among the most commonly used catering products. They form beautiful fabrics in which the appetizers can be combined or have only cheese or only sausages.
Due to the huge variety of  meat delicacies and hard and soft cheeses,  the antipasti with their participation are innumerable. The plateau may contain meat products and sausages such as prosciutto, ventricina and mortadella, and the cheese – Parmesan, pecorino mozzarella and many more. etc. For more effective they are combined with vegetables, fruits or olives and decorated with green spices. They are often served fresh bread or toast and snacks.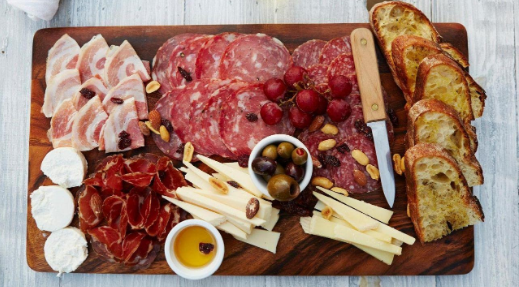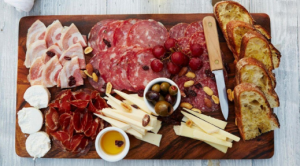 From fish and seafood are used  smoked salmon, canned tuna or anchovies, squid, mussels . Suitable for the preparation of antipasti are almost all types of vegetables – tomatoes, cucumbers, eggplant, zucchini, peppers, lettuce, asparagus, artichokes and more.
Here are some effective product combinations:
Fig, covered with mascarpone and covered with prosciutto
Rolls of zucchini, bacon and cheese
Baked eggplant rings with tomatoes and mozzarella
Spicy peppers stuffed with cheese
Smoked salmon with cream cheese on slices of baguette.
Italian meatballs Polpette
Meatballs are made of minced meat  – balls, flat circles or ellipses, which in the Italian version is called Polpette.
The minced meat can be pork, beef or a mixture, and eggs, onions and breadcrumbs are added to it, or dry bread soaked in water or milk. The taste of Italian meatballs can be enriched with the addition of cheese, such as Parmesan or mozzarella, sun-dried tomatoes, olives.
For seasoning are used  black pepper, oregano, nutmeg, garlic, parsley, thyme, cumin, basil  and others. Polpette catering is usually a small ball, and for easier consumption they are stuffed with chopsticks.
And here is a recipe for Polpette.
Cocktail fried meatballs in Italian
Products:
600 g minced mixture
3-4 slices of dry bread
100 ml. milk
2 eggs
80 g parmesan
1 onion
black pepper, parsley, nutmeg, rosemary, thyme
Preparation:
In a large bowl  mix the minced meat with the eggs, parmesan and bread,  which has been pre-soaked in milk and drained. Season with grated nutmeg, finely chopped parsley and black pepper. Optionally add rosemary and thyme. Mix the minced meat well and form small balls. Fry them in a pan over medium heat.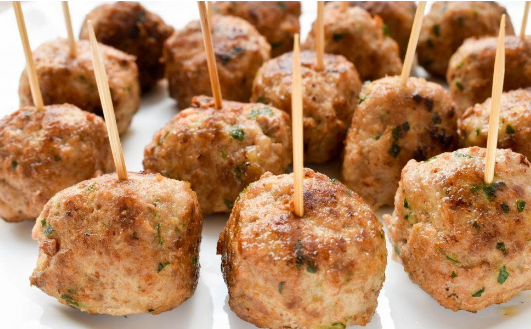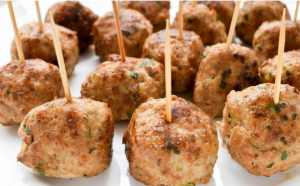 Cocktail sweets
Italian cuisine is known not only for its traditional pizzas and spaghetti, but also for its fantastic confectionery. Whatever the reason for catering, it can not but include a variety of sweet things.
Suitable for fast food on foot are  different types of Italian biscuits and small cakes,  and their range is very large:
cantuchini
amaretti
sticking out
canisters
kiakere
brizalone
pinolate
richarelli and even special wedding cookies with almond and butter flavor.
Italian biscuits combine unique Mediterranean flavors. They are crunchy and smell of cinnamon, almonds, lemons, oranges and exotic spices.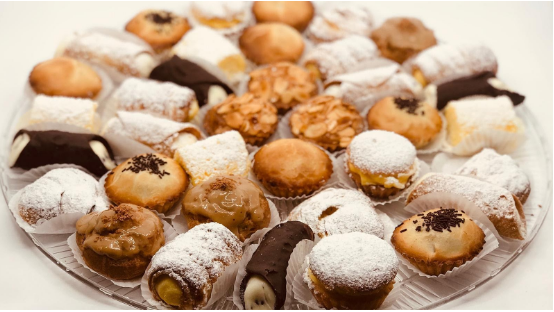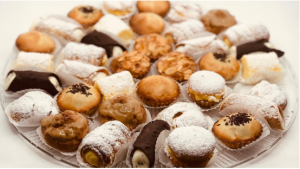 Very popular, and not only in Italy, are the  Sicilian Canola.  They are dough funnels or cylinders filled with a delicious mixture. Ricotta cheese, powdered sugar, chocolate, cream, orange liqueur are used for the cream, and  for garnish – nuts and candied fruits
A good option for mini catering for all occasions are the small spectacular cupcakes. They are with chocolate, cream, vanilla, butter or other cream, and for their attractive appearance contributes and spectacular decoration – raspberries, strawberries, candied cherries, chocolate bars and more.
And who wants to bet on a real Italian classic for catering, can include in the menu an original Italian tiramisu.