Behind the culinary concept of pasta are over 300, and according to some sources even over 350, the type of pasta, different in shape and size. The constellation of Italian pasta starts with small stars and reaches large tubes resembling telescopes. These are the cannelloni, which are one of the largest specimens among the representatives of the pasta.
They have another feature that significantly distinguishes them from spaghetti, fusilli, tagliatelle and many of their brethren – not just drizzled with sauce, but stuffed. And as for the taste of  Italian cannelloni, there is no doubt that it will be a great loss if you do not include them in the list of your favorite dishes from Botusha.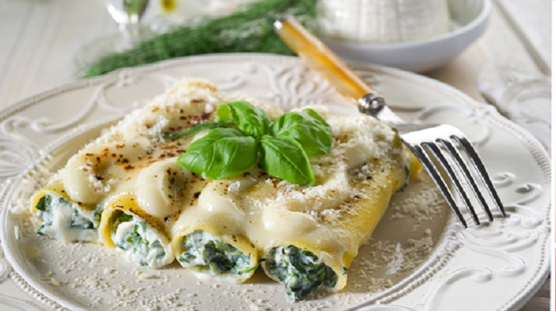 What are cannelloni and how did they appear?
Cannelloni are baked in the oven pasta rolls filled with various products and covered with sauce. The filling can be varied –  minced meat, cheese, vegetables, seafood. The sauces used for this very tasty dish are usually are tomato and béchamel.
The name cannelloni is thought to come from the word canna, which translates from Italian as reed. The tubes are made of durum wheat flour, and no eggs are usually added to the dough. The diameter of the rolls is 2-3 cm and their length is about 10 cm.
Cannelloni are younger than most types of pasta. Like any popular culinary product , it has a history that dates back to the early 20th century. to put some stuffing on it and finally stick it with sticks so that it doesn't develop.
 Culinary historians judge the later appearance of cannelloni by the fact that the father of modern Italian cuisine Pellegrino Artuzi did not mention them in his works until his death in 1911. Several recipes for cannelloni appear only in the cookbook Il talismano della felicità of the famous Roman writer Ada Bonnie,  published in 1929.
How are they prepared?
There are two ways to get the tubes themselves, which are then filled and baked. The original cannelloni are actually leaves similar to a lasagna blank, which are then rolled into rolls. There are also ready-made tubes, which are already available in our large stores.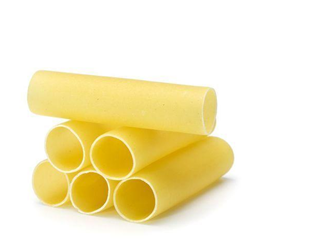 Homemade cannelloni are prepared by first kneading the dough from durum wheat flour. It is ground into a thin sheet and cut into rectangles of the same size, which must be scalded.
You can soak several leaves at once for 2-3 minutes in salt water. As with other types of paste, you must remove them from the boiling water while they are still in a state of al dente, t. f. not to be completely cooked. Then spread them out on a clean damp cloth.
Now it's time for the stuffing. There are many options and you can choose between meat, fish and meatless stuffing  different combinations. Meats, for example, can be minced meat, chicken, bacon, smoked and others.
From the cheese are often used ricotta, mozzarella, melted cheese, which are combined with spinach, leeks, green onions or other vegetables. Among the products used are also cream, eggs, walnuts, pine nuts, basil, oregano and other spices. Completely vegan variants with broccoli, mushrooms, cauliflower, etc. are also possible.
The filling you have already chosen is placed on the long side of the dough sheet, if you have adopted this option.  Rolls are rolled and arranged in a tray.
Top with tomato sauce or béchamel and put in the oven. The sauce should be a little more liquid than used for spaghetti and other pasta, because it will thicken during baking.
The preparation of homemade dough is not complicated, but it is time consuming and that is why modern housewives use mainly ready-made dry cannelloni. You must first boil them, following the instructions on the package. Then they are also filled and covered with sauce.
When filling, you can help yourself with a funnel or a pastry bag. And since it is a pasta, we can't do without Parmesan or other hard cheese to sprinkle at the end. The cannelloni are baked in a preheated moderate oven.
Regional features of cannelloni
Cannelloni are suitable for both a holiday and a family dinner or Sunday lunch. They are a favorite dish in all parts of Botuşa, but in different regions have their own characteristics like other Italian pasta.
As with other types of pasta, in the case of cannelloni there are two iconic variations – Bolognese and Carbonara. The first name, as can be seen, derives from the name of the city of Bologna in the region of Emilia-Romagna, and the culinary works under the name of Carbonara are generally characteristic of Rome and the whole region of Lazio.
For Cannelloni Bolognese  the sauce of the same name is prepared first, which in this case is the filling. Fry the minced meat  in heated oil and add finely chopped peppers, carrots, garlic and onions.
When they are semi-finished, add tomato sauce and tomato paste, wine and spices. Separately make  Béchamel sauce from fresh milk, butter and flour.
Fill the cannelloni with the Bolognese sauce and arrange in a tray in a row, and spread over the tubes if there is any red sauce left. Top with Béchamel sauce and sprinkle with grated Parmesan. Bake for about 40 minutes at 180 degrees. When served, cannelloni can be decorated with petals fresh basil.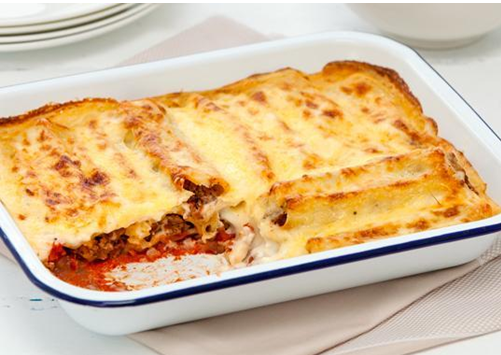 If we go to southern Italy, and more specifically to the Campania region, where Naples is located, we can eat cannelloni alla napoletana. According to the original recipe, cannelloni is made from freshly prepared dough, but now more often ready-made pasta is used.
The filling is made of ricotta cheese, mozzarella, prosciutto and eggs. Drizzle with tomato sauce, seasoned with garlic and basil. On top, of course, grate Parmesan cheese.
Cannelloni with spinach and ricotta
Necessary products:
18-20 pcs. cannelloni
For the sauce:
1 tbsp. olive oil
1 clove garlic / finely chopped /
1 small onion / finely chopped /
800 grams of tomato puree
1 tsp mozzarella to sprinkle
fresh basil
sol
pepper
For the filling:
250 grams of spinach
500 grams of ricotta cheese
1/2 tsp grated parmesan
1 tsp grated mozzarella
1 egg
1 clove garlic
sol
pepper
Preparation:
In a suitable medium saucepan, heat the olive oil and add the finely chopped onion and garlic. After frying for about 2 minutes, add the tomato puree.
Season with salt and pepper and leave on the stove for about 5 minutes. Once it is ready, add finely chopped fresh basil / if you do not have fresh, it can be replaced with dried /.
For the filling in a large bowl, mix the ricotta, spinach, parmesan and mozzarella, add the garlic and egg, stir and season with salt and pepper to taste.
Let the oven preheat to 180 degrees.
In a suitable pan, put a little olive oil and a small amount of sauce to cover the bottom. Fill the cannelloni with the stuffing and arrange them in the pan.
Pour the remaining sauce over them and put them in the oven, covering the pan with aluminum foil beforehand.  Bake for 25 minutes, then take them out, sprinkle with the reserved grated mozzarella  and bake for another 10 minutes.
Serve sprinkled with fresh basil if desired.
Cannelloni with prosciutto and mozzarella
Necessary products:
For the stuffing:
200 grams of mozzarella
250 grams of ricotta cheese
100 grams of prosciutto
2 eggs
sol
ground black pepper
For topping:
300 g peeled tomatoes
70 grams of butter
180-200 g parmesan
fresh basil
1-2 cloves garlic
ground black pepper
Preparation:
Put the dried cannelloni in a saucepan with water to which  salt and a little olive oil have been added. It is better not to put all the tubes at once so that they do not stick. Boil between 2 and 4 minutes and should not soften. Remove the cooked cannelloni and transfer to a pan.
The stuffing is made by mixing the ricotta in a bowl with the diced mozzarella and the prosciutto, cut into strips. Add the two beaten eggs to the mixture, season with black pepper and salt. The filling is ready and you can fill the cannelloni with it. Then arrange them in a greased pan.
To prepare the sauce, melt half of the butter over low heat and add grated or finely chopped tomatoes. Season with salt, pepper, basil and crushed garlic. Cook the sauce for about 15 minutes until it starts to thicken.
Drizzle the cannelloni with it and sprinkle grated Parmesan cheese on top. Spread the remaining oil on it. Preheat the oven to about 180 degrees. Bake the cannelloni for 20-30 minutes.