Minestrone is a traditional Italian soup of fresh vegetables. Carrots, potatoes, ripe beans, onions (or leeks), celery, zucchini, peppers, cabbage, broccoli, cauliflower, tomatoes, asparagus and even eggplant are used to prepare it. The more and more diverse the vegetables, the better. The soup should be so rich and thick that the "spoon should stand" in it.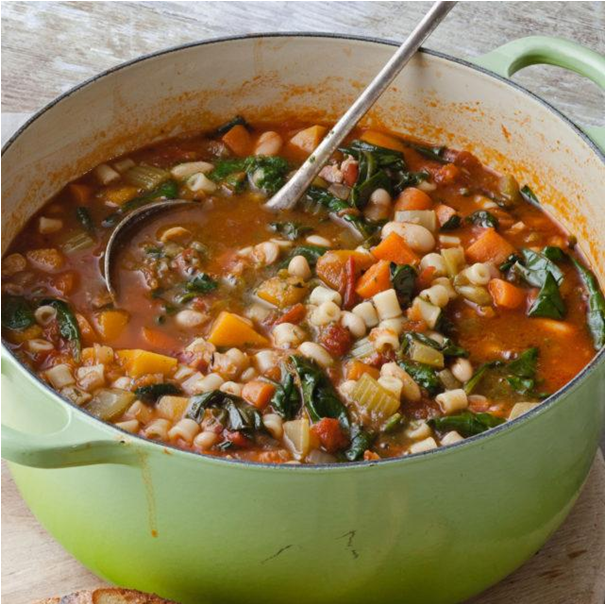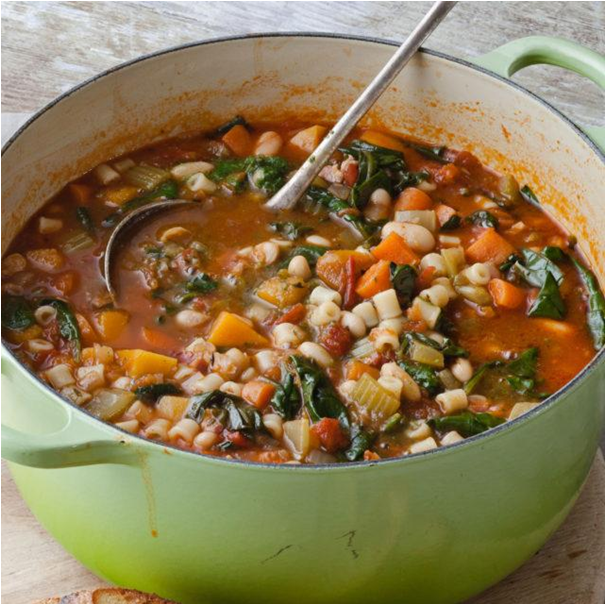 History of soup
Minestrone soup can safely be recommended as a textbook on Italian history. It is supposed to be even older than Rome. Appearing centuries ago as a dish for the poor, Minestrone has embraced the culture of different eras and regions.
Minestrone ingredients around the 16th century are thought to be beans, peas, herbs, onions and lard. The components of the soup have changed regularly over the centuries under the influence of various events. In the 16th century, when potatoes and tomatoes appeared in Italy, they immediately entered the soup recipe and, among other things, remain its important ingredients to this day.
A century later, during a dry summer, the Italians for the first time tried to add pasta in Minestrone because of a lack of fresh seasonal vegetables. Contemporary history and the intertwining of world culinary traditions are pushing Italian culinary professionals to new experiments. So now, many restaurants in Italy, for example, make pumpkin-based Minestrone.
Minestrone varieties
First the villagers decided to cook Minestrone, then the dish was classified as cucina Povera (poor cuisine). Italian families never bought products specifically for Minestrone, putting vegetables left over from previous dishes in the soup. In addition, Minestrone is somehow considered inertia to be a classic vegetable soup, but it's actually cooked with meat.
According to one legend, and there is a lot to eat in Italy, the key to the success of the Minestrone is to prepare it from 7 kinds of vegetables, 7 types of meat and 7 spices. True magic of numbers! But naturally, few people will decide to cook by following such rules.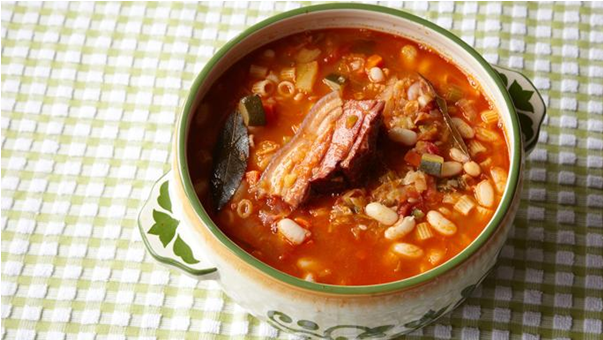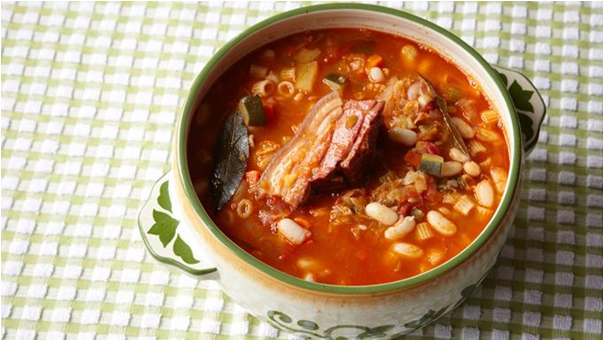 The range of Minestrone products in Italy most often includes beans, celery, carrots, dill, potatoes, tomatoes, garlic, pumpkin, zucchini and onions. Usually contains small pasta or rice. Basil, Pesto sauce, Parmesan cheese, wine and even tomato puree can be added, all depending on the region and the personal preferences of the chef.
As it became clear, Minestrone is far from being just a vegetarian soup, so it can be cooked with meat, the popular Italian prosciutto, added chicken broth or chicken pieces or given cheese.
One thing remains unchanged: soup in Italy is sure to be thick and rich in vitamins, but is it otherwise possible with such a "bouquet" of products? It is believed that the remarkable Italian soup should be cooked in a large saucepan and for a very long time, and also that it is good to consume the next day in order to "mature".
Minestrone varieties also depend on the season because seasonal vegetables are used, and it is equally appetizing at any time of the year. You can find recipes for spring, summer, autumn and winter minestrone. Naturally, in winter the soup is served very hot, in spring and autumn warm and in summer with room temperature.
Minestrone is such a popular culinary brand that it is already served in the form of salad.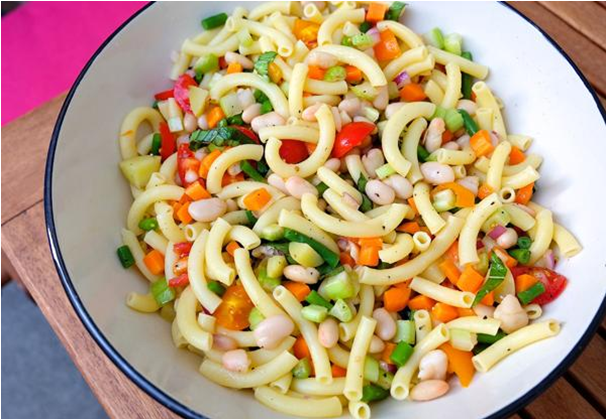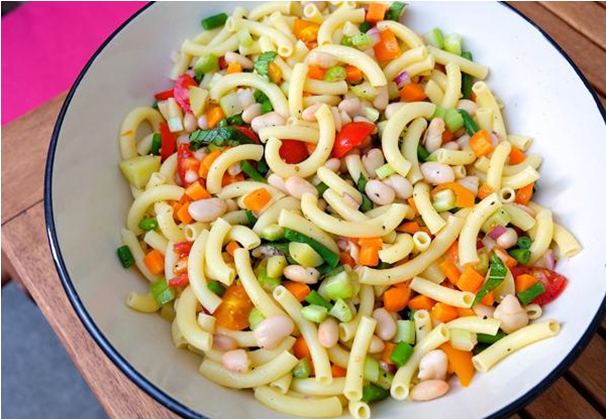 How is Minestrone preparing today and in what areas of Italy?
Minestrone ranges from a very thick and thick soup with cooked vegetables to a rarer with many cubed and slightly steamed vegetables. First, prepare the products, which are cut into small cubes, which, however, do not have to be quite small.
Almost always legumes are added. It should be borne in mind that fresh green beans and peas (in pods or not) are cooked fairly quickly and do not require pre-treatment and mature beans and peas are cooked much longer and as a rule they should be soaked for a few hours. It can be cooked faster with canned beans or canned peas.
This is followed by heat treatment, which can be cooked directly, but many prefer to stew vegetables. Pour olive oil on the bottom of a large saucepan, heat and put onion. After a while, the carrots and celery are added and seasoned with a pinch of salt. After they have softened, it comes to potatoes and zucchini. They choke a little longer.
If desired, more pumpkin, green beans, cabbage, broccoli, spinach or other seasonal vegetables may be added. To make the Minestrone taste brighter, chili peppers, ginger root and garlic are added to the oil in which the vegetables are fried.
If you want to make it easier and quicker, it may not be stewed with vegetables, but just go to the boil. All ingredients (raw or processed) are placed in a large pot of water. After the water has boiled, the hob should be reduced to a minimum.
The soup continues to simmer, stirring occasionally. If the soup is very thick, dilute with 1-2 cups of boiling water, then add a glass of fine paste (ditalini, tubet, broken spaghetti, porcelain, mussels or other optional).
The soup is cooked on a slow fire without a lid. Mix thoroughly.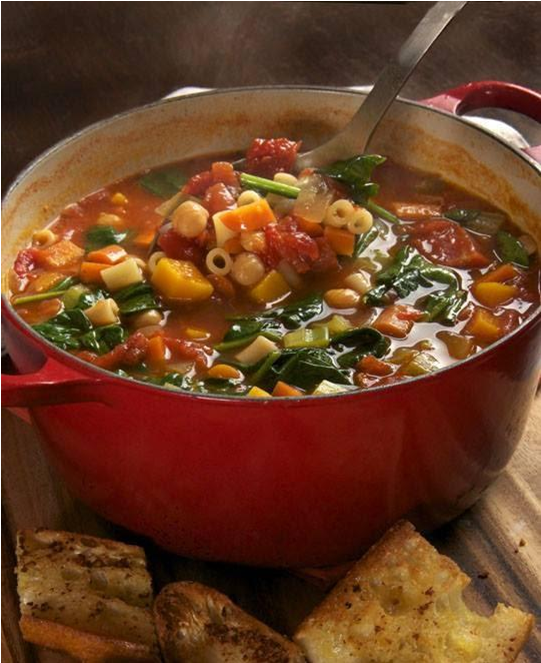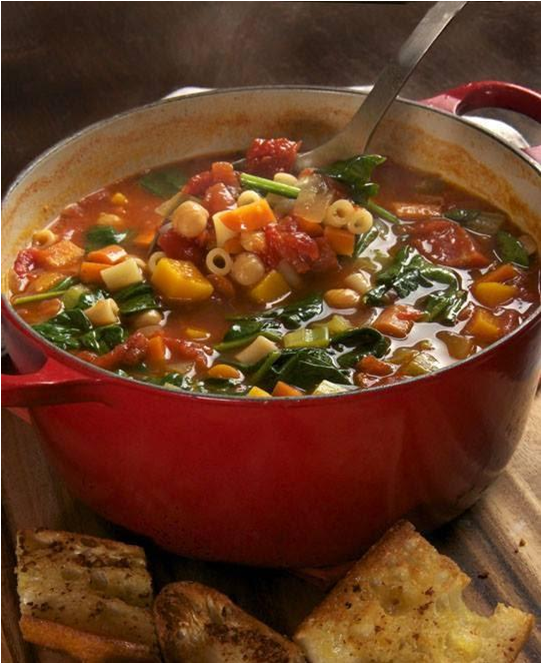 After all, the paste should be al dente (a condition in which it is boiled but remains slightly firm inside). Spicy herbs – basil, oregano, thyme, dill, are placed in the soup at the very end of the cooking. And quite often – classic Italian pesto sauce.
For splendor on top it can be sprinkled with fresh grated parmesan. The result is an extremely aromatic and delicious soup, very nutritious and useful because of the many natural ingredients in it.
Due to the lack of a well-defined recipe, the preparation of Minestrone has its own geographical features. This famous soup has many variants, and for many cities and regions they are one of the local culinary pride.
For Liguria the typical variant is Minestrone alla Giovanese. It is characteristic that this soup contains more herbs and pesto. To prepare it, both ripe red beans and green beans are used.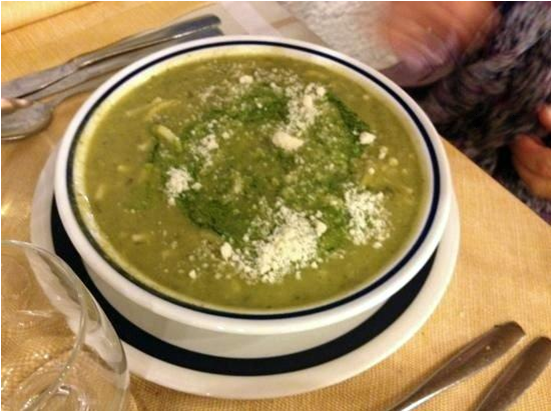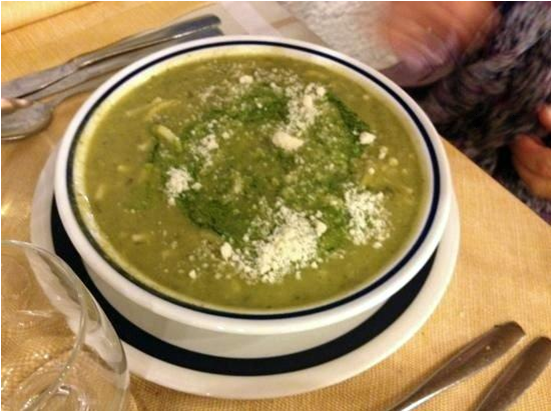 A popular variant is the Minestrone in Tuscan. Moreover, this soup has two varieties – rice or pasta. Otherwise it contains ripe beans, peas, potatoes, zucchini, carrots, onions (maybe leeks), garlic, celery, tomato puree, basil, parsley. Of course, olive oil and salt are also needed. It becomes very tasty if half the cooked beans are mashed and returned to the soup. Finally sprinkle with grated cheese.
The Milan Minestrone Summer is another regional variety of culinary classics. For the soup use potatoes, fresh green beans, carrots, spinach, two or three stalks of celery, onion, rice, tomato paste, chicken broth (preferably homemade), olive oil, basil, salt and pepper. The products are very finely chopped and spinach is added shortly before the soup is removed from the heat. Serve sprinkled with grated parmesan sliced ​​with basil and olive oil.
Minestrone outside Italy
The Italian culinary pride of Minestrone has long exceeded the borders of its homeland. It has become a favorite of millions of people outside Italy. Her admirers are said to include many international celebrities such as singer Frank Sinatra, director John Houston and actor Paul Newman.
In most countries, the Minestrone is prepared in the classic way, but in some countries the recipe has even been developed. One of the most famous foreign options comes from Malta. It is prepared very delicious Minestra. It is a soup that has thick tomato puree, potatoes, alabash, cauliflower and sometimes spaghetti.