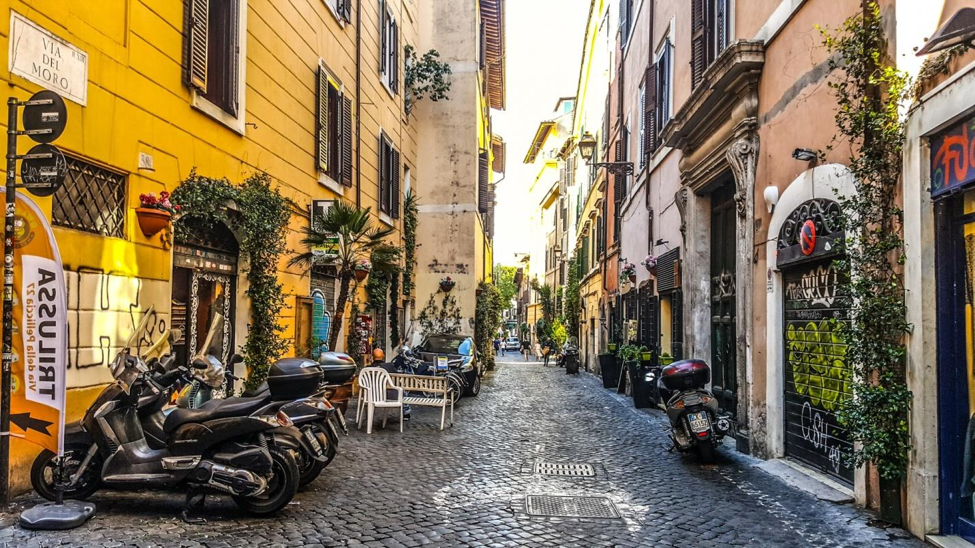 As we all know, Italian cuisine is extremely varied and there are national dishes strictly unique to every region of the country. There is no doubt that the best way to feel the authentic Italian culinary mastery is to visit a typical Italian restaurant offering traditional for the region dishes.
If you are visiting the Boot for the first time, it is likely to be confused by the variety of establishments there if you have not been informed about them in advance. In Italy there are different restaurants that offer different types of food suitable according to everyone's means and preference for the atmosphere.
And if you are not familiar with the Italian protocol during a meal, you can attract astonished looks when eating in a public establishment. And if you are visiting Italians, in the worst case scenario you could offend your hosts even if it was not your intent.
One of the things you have to do before choosing which type of Italian restaurant to visit is to decide whether your goal is a quick snack or a typical Italian dinner with an appetizer, a main meal and dessert. Whether you want an informal or a sophisticated atmosphere.
What is the eating protocol in different Italian restaurants?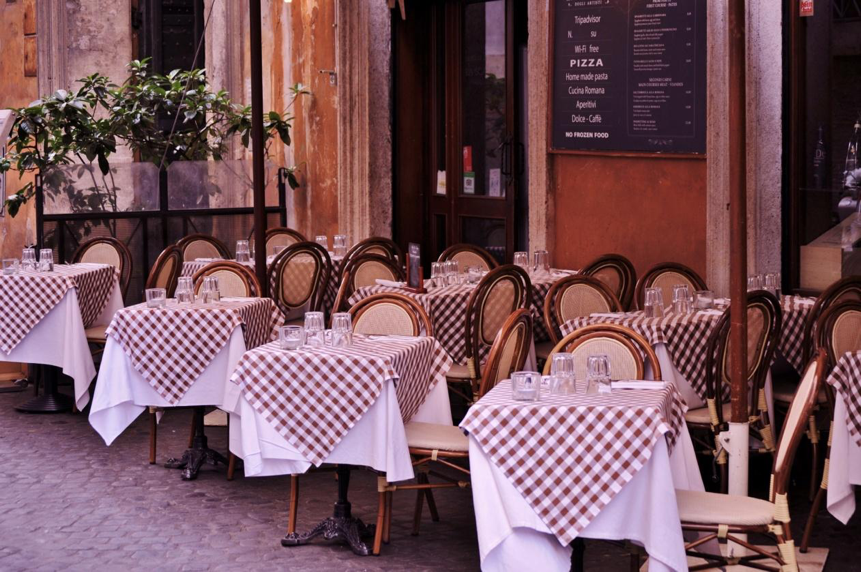 While food sharing in America has already lost its charm, in Italy traditions are not broken and families are trying to eat every day together. In Italy, eating is a social event and a small everyday celebration that is necessarily shared with loved ones. Every meal starts with the greeting "buon appetito".
If you order at the bar, ask if you may sit.  Some restaurants in Italy have a table fee and others do not. In some places, food is paid for at the cash register and then the cash receipt (scontrino) is presented at the bar.
Most restaurants' menus are on the street and are in English, mostly at tourist spots. Some restaurants do not reveal their menu until we come in and ask what they offer.
Italian bars are generally places where we can have a short espresso and have a stand-up meal. They offer alcoholic beverages, panini (sandwiches) and tramezzini (small triangular non-toaseted sandwiches), fruit salads and gelato (ice-cream).
More interesting facts about the Italian eating rules:
The Italians order from all the dishes in the menu of the dinner and eat first one, and then start a second dish. For example, if you are in a hurry or your company has ordered a variety of dishes from the menu, tell the waiter to bring you all the dishes as antipasti, starters and main dish all at once.
Italians do not like changes in the ingredients of the restaurant, but prefer it as it is written in the menu. Very rarely, they have requirements such as their meals without olive oil or additional dressing. If you still have special dietary preferences and food intolerances, you should notify the waiter.
When they eat long pasta, the Italians do not use a spoon to help wind it up, but wind it up on the fork by pressing it against the plate. Cutting pasta is also incorrect.
The host always sits in the middle of the longitudinal side of the table.
One curious fact is that the Italians do not eat bread before a pasta meal, during it or with risotto and soup. In Italy, bread is eaten along with a main course without pasta, or used to soak the sauce left after eating pasta is over.
Italians do not put cheese on a dish with fish or seafood.
Citizens on the Boot do not eat eggs for breakfast. Cappuccino with a croissant or some fruit is considered as good breakfast.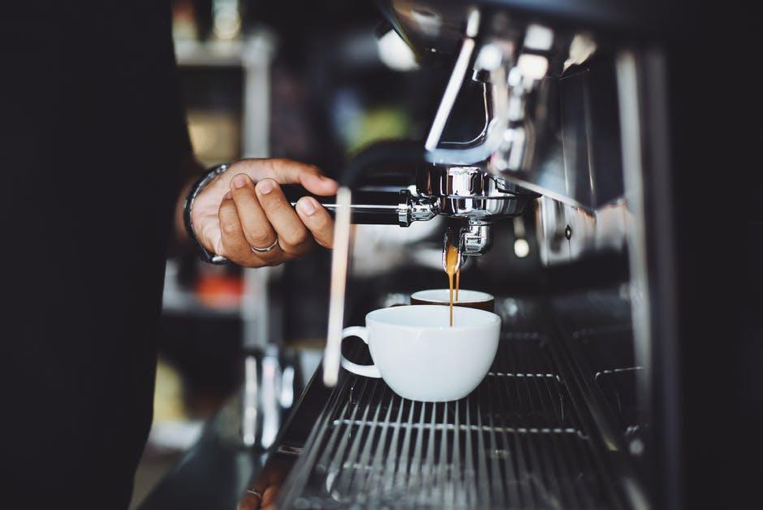 Italians drink their coffee after finishing the dessert, never with it.
Italians drink mainly bottled water despite the fact that the country is rich in mineral springs and the tap water in the country is of good quality. If you're in a restaurant and ask for non-bottled water, you'll get a carafe of water, but remember that this water may be chlorinated.
Smoking in food establishments is prohibited in Italy.
An interesting fact is that the Italians hold their hands on top of the table. This tradition is of medieval roots, as the people sitting at the table used to show that they were not hiding any weapons under the table.
When at a restaurant, the Italians avoid sharing food from their dishes.
It is unacceptable to call to the waiter at the other end of where the table is.
Scooping the remainder of the meal with a piece of bread is considered to be a respect for the chef and as a sign that we liked the dish.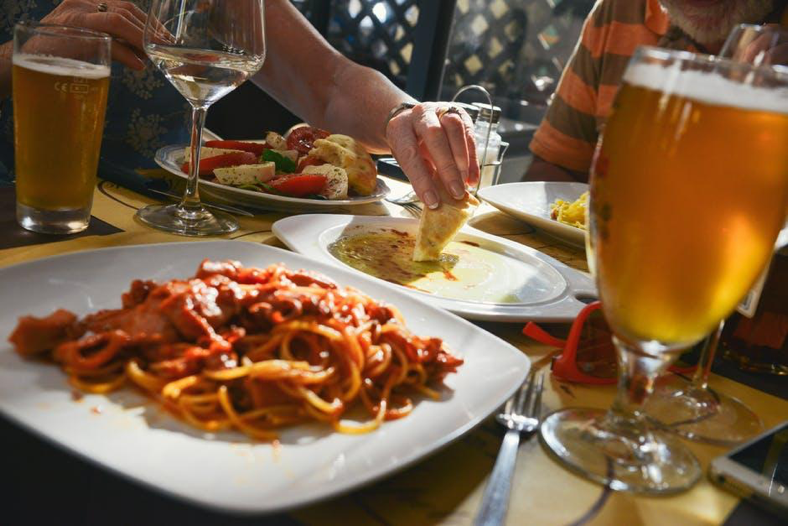 Italians are not particular lovers of cocktails or huge beer pints. Beer, wine and other alcoholic beverages are consumed along with the meal. Exaggerated consumption of alcohol is looked disapprovingly on.
In self-service bars and cafés, cleaning the table after a meal is highly appreciated.
Remember that "Pane e coperto" means the charge for bread and a table per person. Bread is always served at the table and you will be charged for it regardless of whether you eat it or not, with the service (servizio) fee on average being € 1.00 – € 2.50. Just an Italian tradition.
If you order extra bread, it will not be charged. If you are in Tuscany, do not be surprised if you are served salt-free bread because it is the main local dish. This bread is meant to be eaten along with dried meats and spicy sauces.
Payment in Italian establishments is usually in cash. Italians are traditional and rarely pay with credit cards in a restaurant. Tips are always given in cash and are not mandatory unless you have paid for a servizio. In that case, it is good to give a 10-percent tip.
The amount of the tip depends on the establishment. A hotel reception employee is usually given a tip of €1.00, a bartender in a hotel is given € 1.00 or a little more, for a public toilet a toll of €0.50 is paid.
It is advisable to keep the cash receipt after leaving the establishment, as the Italian financial police strictly monitors whether the institutions issue cash receipts.
When ordering at an Italian restaurant, we can choose different combinations of dishes. No matter whether we are in a restaurant, a trattoria or osteria, the rule is to order at least two dishes, primo (a starter), secondo (main dish) or contorno (vegetable garnish as salad). We can start with antipasto (a starter), followed by first or second course at our choice or a second course (secondo) combined with dolce (dessert).
Here are some types of Italian restaurants
Ristorante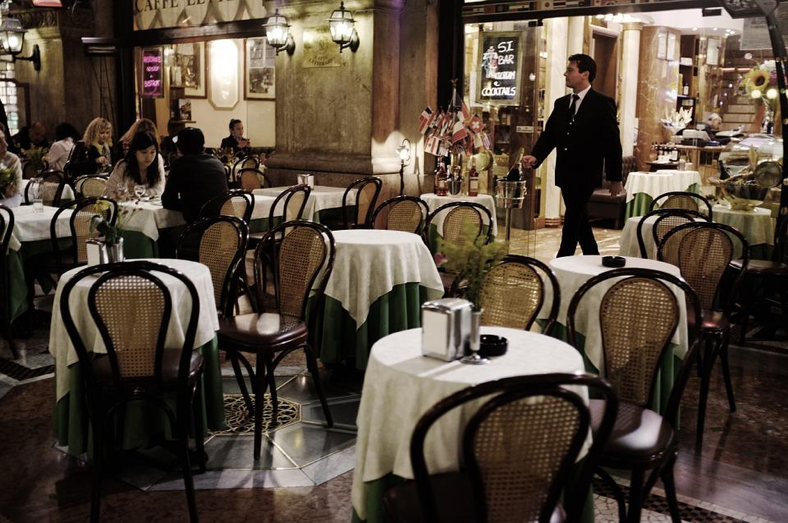 Italian restaurants are characterized by a spacious, elegant style, a rich menu of sophisticated dishes, including both traditional and international dishes and, of course, the obligatory cozy atmosphere.
If you're in a hurry, you better get out of the restaurant and visit a fast-food establishment with a warm display (tavola calda). Good options are restaurants offering menu fisso (menu available only during certain hours).
Trattoria
This type of restaurant is a type of tavern which is more informal than restaurants and is smaller in size, but it is a more formal and of higher class than the osteria. Trattorias are mostly family businesses. But in some cities there are differences between trattorias and restaurants, since a downtown center osteria can offer higher prices than those of a restaurant located on the outskirts of the city. As a rule, they are more elegant and more expensive than other types of establishments.
The trattoria offers traditional Italian dishes of local origin prepared from homemade recipes and differs from those that a professional chef would have prepared. It also offers a selection of cheeses and meats that customers can take for home. The overall atmosphere is relaxed and informal.
Osteria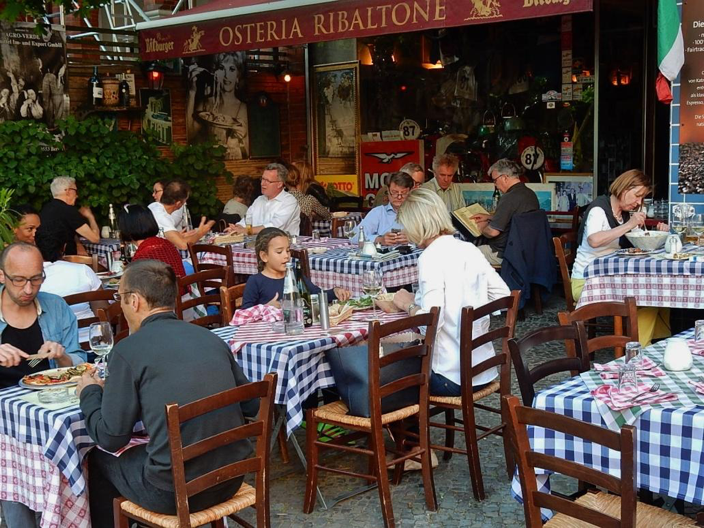 Traditional Italian osterias are now nearly extinct. This is a type of restaurant offering a variety of wines and a short meal menu and works in the hours after the end of the working hours and in the evening and is used as a place to meet.
Originally, the osteria was a small-sized bar that appeared during Italian industrialism and the development of the mining industry, where local workers went during their break for a portion of pasta, a sandwich and wine between 12 PM and 2 PM.
It is very similar to the trattoria with the only difference being that the osteria offers more wine varieties. It serves mostly local specialties such as pasta and roast meat or grilled fish.
The prices in an osteria are relatively low and there is live music and different programs are organized. Some osterias offer only refreshments visitors (usually mainly workers but also students) bringing their own food.
In the region of Emilia-Romagna, Bologna and Ferrara are the oldest Italian osterias dating between the 14th and the 15th century. The interior of the osteria is one of old-fashioned, nostalgic for the past style.
Bottiglierie
This establishment offers its customers the option of filling bottles and thermos flasks from a common barrel, as well as offering wine tasting, similar to an enoteca.
Enoteca
If you are a fan of wine and want to taste or buy original Italian wine varieties, this establishment is for you. The enoteca literally means a wine warehouse and can be defined as a regional wine shop or wine bar where tasting of a variety of top quality wine varieties along with appetizers is offered.
A selection of cheeses is also found in the menu of an enoteca. The idea of a similar type of establishment has spread to other countries.
Pizzeria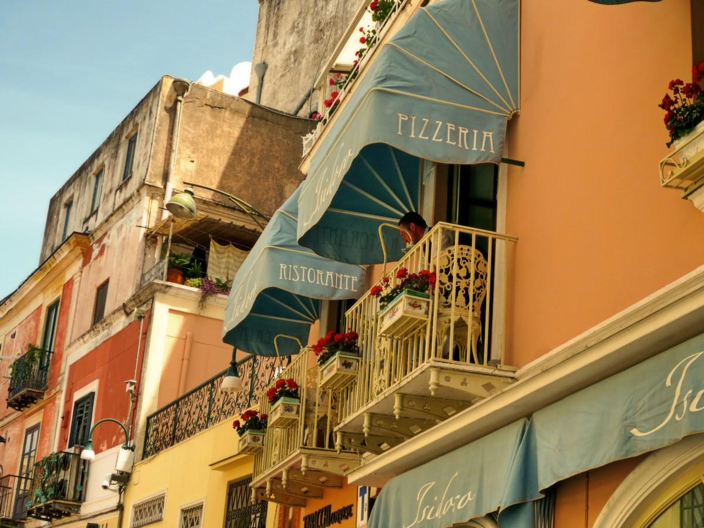 In the pizzeria, as well as in the enoteca in general only one type of dish and drink are ordered. In addition to typical pizzerias in Italy, fast food establishments Pizza al taglio (pizza by the slice) can also be found. They offer a variety of pizzas baked in square trays.
These pizzas in square or rectangular form are sold per kilo or 100 grams. This type of pizza has been invented in Rome and is traditionally prepared in a wood-fired oven.
Pizza al taglio is easy to find but often there are no seats available. There are countless combinations of pizza al taglio and there are also other countries around the world where similar pizza places can be found.
Locanda
It's a type of eating-house, similar to the osteria. These local establishments have appeared for the very simple purpose of offering fresh food to passengers between different cities.
Paninoteca
If you are looking for a place where you can eat something unpretentious, the paninoteca is a good place for this. Panino translated from Italian means sandwich. Paninotecas offer freshly baked Italian bread from homemade recipe, sandwiches with ingredients at your choice such as mozzarella and fresh prosciutto ham, pancetta, grilled sausages, cutlets and others.
Caffe (café)
A typical Italian café is very much like a bar, but there are more tables. Although Italian cafés offer pizza, do not order if you want to try something authentic. Better go to a trattoria.