An essential part of the famous diet, called Mediterranean diet, along with pasta and pizza, are fish products. This is logical, given how long is the coast of the Apennine Peninsula, which is a prerequisite for an abundance of fish and seafood in the menu of the local population.
In this case, however, it is not about fish soup, roasted fish or squid, but about something very different with a breath of sea and a pinch of exoticism. Baccala mantecato, unlike spaghetti and pizza, is little known outside its homeland and is actually a dried pate smashed into pate. Sounds simple, but the result is amazing. You really have to try Baccala mantecato according to an Italian recipe to fall in love with it.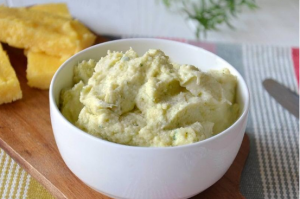 What is Baccala mantecato and how is it prepared?
Fish is revered in Italy and is prepared in many different ways:
like soup
grilled or baked
with the addition of vegetables or sauces.
Most Italian regions have coastal areas and therefore each of them has its own seafood specialties. Baccala mantecato, which is made from cod, is something very different from the standard fish recipes and takes us to one of the most romantic cities of Botuşa – Venice. That is why the specialty is sometimes called Venetian fever. In fact, it is prepared not only in Venice, but also in other places, mainly in northern Italy, for example in the region of Treviso.
In Italy, there is a dispute about the type of fish used. Undoubtedly, this must be a cod, but while in Venice they are adamant that dried fish is used, in other areas they believe that it can be prepared with salted fish.
The dispute is terminological, because in Venice the words for baccalà and stoccofisso have exactly the opposite meaning from the rest of the country. Baccalà in Venice is dried cod, while elsewhere in Italy it is salted cod.
Stoccofisso in Veneto means salted cod, while in the rest of Italy it is called dried cod. For example, there is Baccalà mantecato from Ferrara, which uses salted cod cooked in milk, but it does not break.
If we have to compare Baccala mantecato to something familiar, we can liken it to fish pate or fish snack.
How to prepare this simple but ingenious dish that makes you lick your fingers. The necessary products are few, and it has already become clear that the most important of them is dried cod. First you have to desalinate it by soaking it for 24 hours or more and change the water every few hours.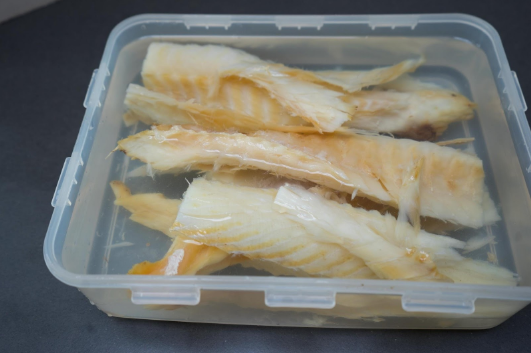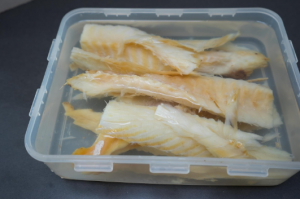 The sour fish is boiled with fresh milk and water and finally whipped into a cream with olive oil or sunflower oil, which are added in a thin stream. The fish can be boiled only in water, without the addition of fresh milk. When cooking, add bay leaf for flavor.
A commonly used spice for delicious groceries is parsley, lemon juice is also added. It can also be flavored with garlic and pepper, but traditionalists believe that there is no need, because the taste and aroma are already saturated.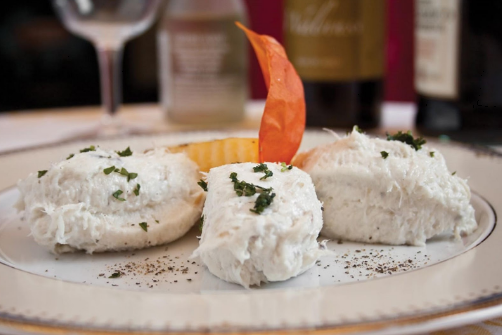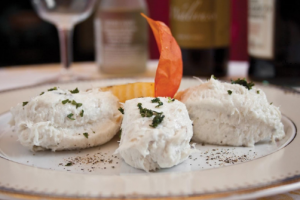 Here are some sample ingredients for one dose of Baccala mantecato:
150 grams of fish (dried cod)
2 bay leaves
125 ml. sunflower oil
125 ml. extra virgin olive oil
sea ​​salt
The juice of half a lemon
Parsley if desired
Boiling water enough to cover the fish one finger
Making baccalà mantecato is like making mayonnaise, but without the egg. It has a creamy texture and looks a bit like Aioli sauce, which is something like garlic mayonnaise and is made from olive oil, eggs, lemon juice and salt. All products are beaten with a blender for a few minutes until the mixture turns white.
The taste and aroma is not fishy as in Baccala mantecato, but it is very rich there are many applications for sandwiches or addition to various dishes.
How is Baccala mantecato served and what is it consumed with?
The creamy Venetian specialty has many uses. It is most often served as an appetizer, but can also be eaten as a main course. It is served on the table in a bowl or in individual plates or bowls. The fastest way to enjoy the delicious fish pate is to simply spread it on bread, preferably on a toasted slice.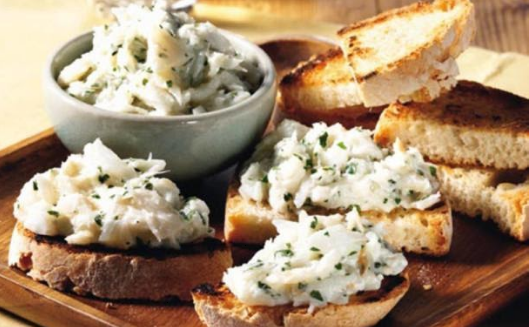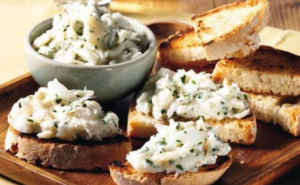 Baccala mantecatо can be presented spectacularly as an appetizer and served with a glass of classy Italian wine.
Extremely suitable combination with polenta. It is a traditional Italian dish made from corn flour, which is similar to our porridge and Romanian mamaliga.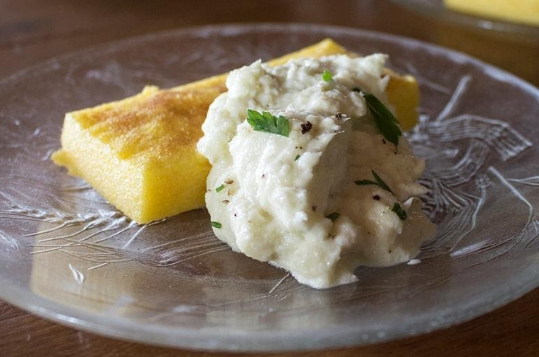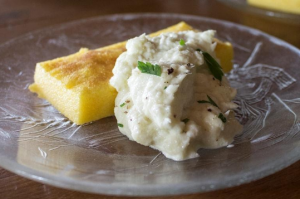 Spaghetti with Baccalà Mantecato sauce
Here is another application of Baccalà Mantecato, in addition to spreading bread and garnishing polenta. There is no way that the crowning Italian dish of pasta is not involved in a culinary story. So it's no surprise that someone thought of turning an exotic fish product into a spaghetti sauce.
The consistency of Baccalà Mantecato, however, is not suitable and must be diluted, but not just with water, but with the broth from cooking the pasta. There are several other additives for flavoring and enriching the sauce.
First of all, half a kilogram is needed cod, ie fillet of salted dried cod. Need * 3 more small potatoes, 2 cloves of garlic, 1 cup of olive oil and 1 cup of milk.
No salt, pepper or other spices are added. Dried fish is cut into pieces and soaked in cold water for a day. It can be soaked at night, but this is not very practical, as it is good to change the water every 1-2 hours.
It is then placed in a saucepan in which the water is one finger above the fish. Allow to boil on the stove until the fish begins to split into pieces. It is then transferred to a colander and rinsed and cooled under running cold water. 
At the same time, boil the potatoes in another pot without peeling. They are also cooled in cold water and then peeled. Then put the fish in a blender and grind briefly, add the milk, potatoes and garlic. Turn on the blender and add olive oil in a thin stream to a smooth creamy mixture, which is transferred to a saucepan or deep frying pan.
Boil the spaghetti with a little salt until al dente. Drain, but do not discard the water, and gradually dilute the previously obtained mixture with it. This procedure is done on a very low heat with constant stirring.
When the sauce is ready, add the cooked spaghetti to it. Stir and are ready to serve. If you like the taste of capers, you can add a little to the prepared spaghetti with Baccalà Mantecato sauce.