We are all already used to Italian pasta and freely handle the names of attractive-sounding Mediterranean cuisines such as spaghetti, tagliatelle, fusilli, foam, lasagna. Do you know how common the pasta varieties are?
It is estimated that they are over 350 different shapes and sizes, and their documented names are even more – over 1300. This is because similar types of pasta may have different names depending on the region and other factors.
For example, it is believed that the cavalcade paste is known in various places by 28 names. Now, though, we're not going to deal with cavatellas or the ability of the Botusha people to remember their own inventions, but we will try to unravel one of the mysteries in Italian cuisine, namely what is the difference between manicots and cannelloni.
What are the similarities and differences between the two?
The two dishes are very similar in finished, ready to eat, look. Cannellons and manicotas are stuffed with various rolls products with sauce, most often baked in the oven. Both dishes can be either meat or cheese, vegetables or seafood. The sauces that are commonly used are tomato and bechamel.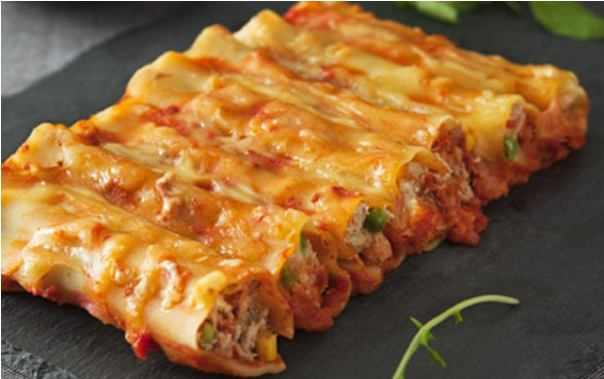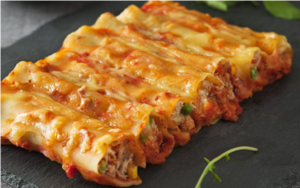 The pasta itself is made from durum wheat and in most cases no eggs are added to the dough. Usually the width of the tubes and 2-3 cm, and the length is about 10 cm. Often cannelloni and manicot are confused, and some consider the names directly synonymous with the same type of paste, but this is not the case.
First, let's see where the names of the two types of pastes come from, which indicate their shape. Caneloni comes from the word "canna", which translates as cane. In turn, "manicotto" in Italian means sleeve.
The cannelloni is probably the more familiar name of the two, since the pasta is available in dry form on our market. You must have been paying attention to packs of large tubes ready for filling. Contrary to popular belief, however, the original cannellons are leaves similar to those for lasagna, which must be rolled up in rolls and not already finished cylinders.
This paste is quite young compared to other types. Its history dates back to the early 20th century, when a restaurant chef probably decided to roll a rectangular roll of lasagna by putting some stuffing on it and finally fixing it with chopsticks.
The relatively recent presence of cannelloni in the Italian culinary tradition can be judged by the fact that the esteemed author of cooking books Pellegrino Artuzi, who is considered the father of contemporary Italian cuisine, did not mention them in his works until 1911. (when he died).
Barely famous Roman writer Ada Bonnie includes several cannelloni recipes in the 1929 edition of her cookbook Il talismano della felicità. This is strange because the idea of ​​rolling a sheet of roll is very simple , and at the same time quite spectacular. In this way, very elegant results can be achieved, which  turns cannelloni into classic banquet dishes.
They are often served at weddings, and also during Christmas and New Year's Eve and other family gatherings. This does not mean that the use of this great Italian pasta should be confined to important occasions. Cannellons can be prepared quickly, especially if you use a pre-filled tubing that is already widespread to fill a blank.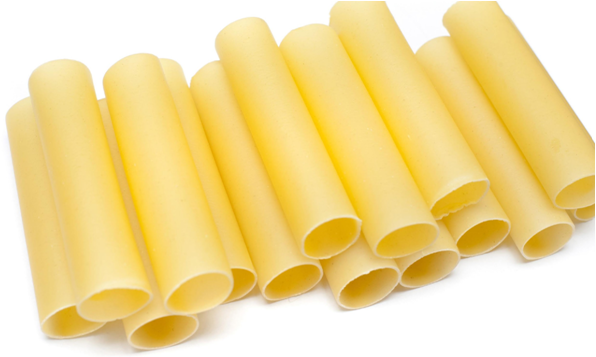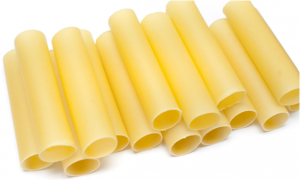 Unlike their more famous European relatives – the cannelloni, the manicot is actually a ready-made dough pipe and is popular in the United States. Often, the tubes are not smooth, but slightly wavy, and a variety of fillings and sauces are used to prepare them, such as cannelloni.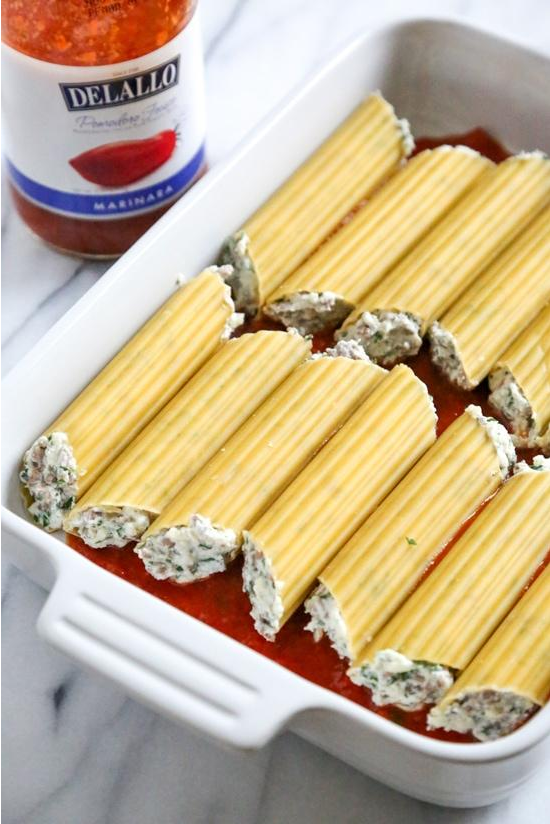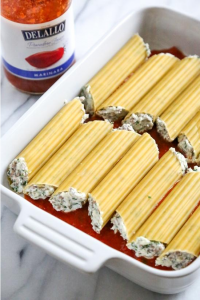 How to prepare cannelloni and manicots?
You can make homemade cannelloni by kneading the dough yourself, roll it thinly, and cut it into rectangles. Boil several sheets at a time for 2-3 minutes in lightly salted water, removing them while they are still al dente. Put them on a damp clean kitchen cloth.
When all the leaves are boiled, you can start filling. As with most other types of pasta, in this case, there are a huge amount of options for fillings and sauces. Cannellons and manicotas are suitable for both meat lovers and vegetarians.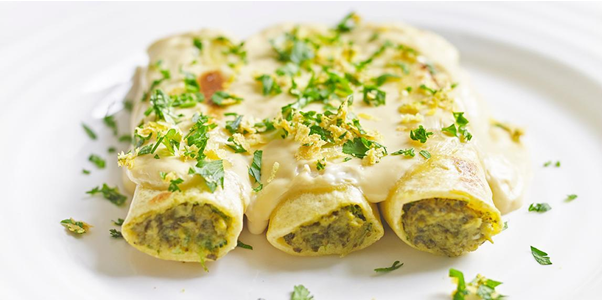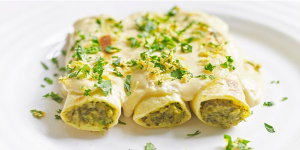 Typically, different products or mixtures are used for stuffing, such as cheese, spinach and cheese, minced or smoked meats, mushrooms, seafood or vegetables. For vegan options, more cauliflower, broccoli, green onions and more can be used.
In each crust, apply the filling on the long side and roll the rolls, which are stacked in the baking tray. Pour over sauce, usually tomato or bechamel, and finally bake.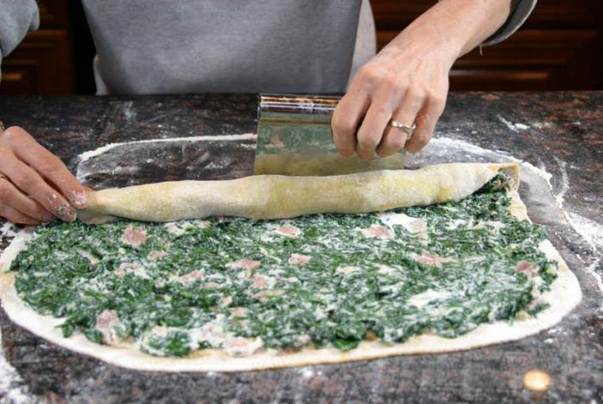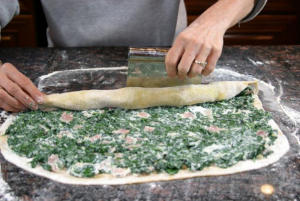 You can buy ready made cannelloni or manicots. Cook them first according to package directions, then fill them. In general, any stuffing can be used for a different pasta, but since they are significantly larger than ravioli and tortillas, larger items such as sliced ​​mushrooms or whole shrimp may be included.
Since the tubes can be difficult to fill, you can use a funnel or pouch as used in confectionery. It is important to remember that the sauce that you fill the cannelloni with should be slightly more liquid than the one you would normally cook for pasta as it will thicken during baking.
What variations are there in different Italian areas?
Like any pasta, cannelloni can have many variations depending on the different regions in which they are prepared.
And here we cannot pass without the 'brand' of Bolognese. Bologna recipe stuffing is prepared with mince, onion, carrot, pepper, tomato sauce, wine and spices, including oregano, savory, ginger  and more. Separately, bechamel sauce is used to pour the filled cannelloni into the pan.
The administrative district of Campania, in which Naples is located, is  characterized by Cannelloni alla partenopea. The original recipe requires the dough to be homemade, but ready-made cannelloni paste can be used. Ricotta cheese, mozzarella, prosciutto and eggs are used for the filling. The sauce is tomato, seasoned with garlic and basil, and finally grated parmesan.
Top recipes for cannelloni and manicot
Caneloni Bolognese
Products:
15-16 ready-made cannelloni
500 g minced meat
1 onion
1 carrot
1 pepper
2-3 cloves of garlic
400 g tomato sauce
2 tsp tomato paste
half a glass of water
half a glass of white wine
1 teaspoon sugar
1 tsp red pepper
salt, pepper, savory, oregano, dried ginger
for bechamel sauce:
500 ml of fresh milk
about 50 g of butter
2 full tablespoons flour
pepper
for sprinkling: 250-300 g grated parmesan or yellow cheese
Preparation:
First, prepare the Bolognese sauce. Put the mince in heated oil and crush with a fork. Fry and add the chopped peppers, carrots, garlic and onions. When done, add the tomato sauce and mashed potatoes. Add wine and water, as well as salt, sugar and other spices. Boil the sauce for another 5-6 minutes.
Bechamel sauce is cooked in another pan by first melting the butter, stirring the flour for seconds and gradually pouring the fresh milk. The sauce is stirred constantly and spices are added to it.
It's time to stuff the cannelloni with Bolognese sauce. Row in a greased pan in a row, pouring the rest of the Bolognese sauce over the top. Drizzle with bechamel sauce over it and sprinkle with grated cheese. Bake for 30-40 minutes at 180-190 degrees.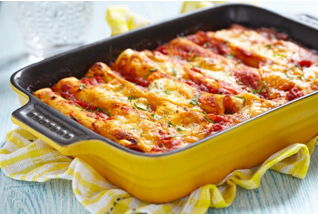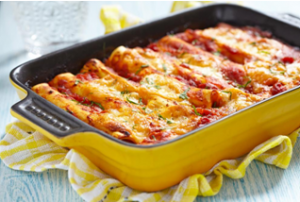 Cannelloni in Neapolitan
Products:
1 box of cannelloni
For the stuffing:
250 g of ricotta cheese,
about 200 g of mozzarella
80 g of prosciutto,
2 eggs,
salt
black pepper to taste
For topping:
300 g of peeled and grated tomatoes
60-70 g butter
about 180-200 g grated parmesan
fresh basil
1-2 cloves of garlic
ground pepper
Preparation:
12-14 ready-made cannelloni are required. Heat in a large saucepan of water with some salt and olive oil. When boiling, place the tubes in boiling water. Do not cook them all at once so they do not stick. Boil for between 2 and 4 minutes, but do not overcook them as they are difficult to fill. Remove boiled cannelloni from water and place in pan.
Prepare the stuffing by stirring the ricotta in a bowl with the diced and diced mozzarella and sliced ​​prosciutto. Add the two broken eggs, black pepper and salt. Stir the mixture and fill the cannelloni with it. Arrange them in an oiled pan.
For the sauce, melt half of the oil over low heat and add the peeled and grated or sliced ​​tomatoes, some salt, black pepper, basil and 1-2 chopped garlic cloves. Cook for about 15 minutes and keep track of when the sauce will begin to thicken.
Fill the cannelloni with the prepared tomato sauce. Sprinkle grated parmesan on top, and put the remaining butter in slices. Put the pan in a 180-degree oven preheated and bake for twenty minutes. So you will finally have the delicious cannabis in Neapolitan origin of this recipe.
Manicotte with ricotta and spinach
Products:
1 box of manicot
2 tbsp olive oil
1 clove of garlic
about 400 grams of fresh spinach
2 eggs
2 hours ricotta, which can be replaced with cottage cheese
finely chopped leaves of fresh basil
salt to taste
4 h. Tomato spaghetti sauce ready
grated permanganese or hard cheese
Preparation:
First, remove the manicures as directed on the box. Drain them and wash them with cold water. Wash and cut the spinach, mince the garlic. In a frying pan with warmed olive oil, stew the garlic, then add the spinach and let it simmer for about 5 minutes.
In a deep bowl, mix the ricotta with eggs and basil  and season with salt.
Add the stewed spinach to them and mix well all the products. Pour 3 cups of tomato sauce into pan and distribute evenly on bottom.
Fill the stuffed manicotas with the spinach mixture in the pan on the tomato sauce. Top the remaining glass of tomato sauce and sprinkle with grated parmesan cheese.
Cover the tray with foil and place it in a preheated oven up to 180 degrees. Bake for about half an hour, then remove the foil and let it simmer for about 5-10 minutes.