There is no doubt that in  Italian cuisine  making sauces is not just cooking but art. They cannot be called just a supplement to the paste. This is a separate dish that requires special attention. The question that excites millions of fans of Mediterranean cuisine is what are the secret ingredients of spaghetti sauce in Italy?
It is thought to be a blend of those foods that are available to any housewife – local fresh produce, of course, or pantry products in the winter months. And so it is.
But in the home of every family and every restaurant, the same recipe can be prepared in different ways, with different sauce, which makes each dish unique. If you believe it, but according to some sources, varieties of Italian sauces number a fabulous figure 10,000.
How have the ingredients for sauces changed over the years?
Initially, spaghetti was consumed simply cooked, which could be added to the spices according to the taste of the cook, or at most sprinkled with grated hard cheese. The fate of  Italian pasta is changing dramatically with the advent of tomatoes in Europe. They arrive on the Old Continent in the 16th century, but do not immediately become a part of local cuisine, and this happens in the next century.
The idea of ​ combining tomato paste came up later and the description of the first Italian tomato sauces dates from the end of the 18th century. The first written record of pasta with tomato sauce can be found in the cookbook from 1790 L'Apicio Moderno by Roman chef Francesco Leonardo.
This also changes the nutrition label. Before the sauce was introduced, the pasta was eaten with your fingers, and then a fork was needed.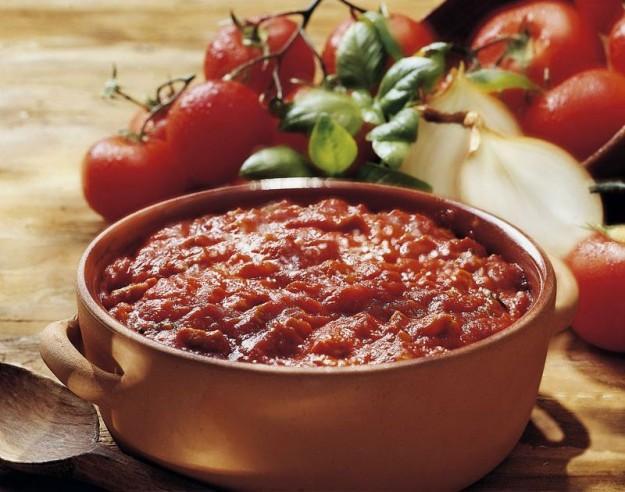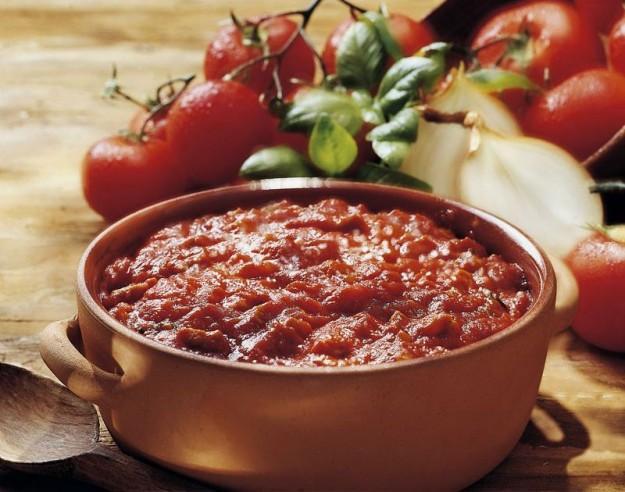 In the beginning, tomato sauce, which was added to spaghetti, was quite ordinary, over the years it developed and began to include various products and spices. Almost anything that is edible can be used as an 'additive' to spaghetti.
Italy's warm Mediterranean climate is suitable for growing fresh vegetables and herbs, which means that the Italians can be creative with a delicious variety of pasta sauces. Tomatoes remain the most popular ingredient in pasta sauce today. There are sauces based on vegetables only, others use bacon or mince and are popular with the addition of seafood.
What are the secrets of spaghetti sauce in Italy?
Making pasta sauces is one of  the most respected 'sciences' in Italy. In the culinary society, the masters who know the most about this subject are particularly valued. Every Italian professional chef or regular housewife has her own secret in the preparation of spaghetti and she usually hides in sauces. In addition to the traditional types of pasta tomatoes, the sauces use cream, olives, capers, wine, eggs, cedar nuts, peppers, mushrooms, eggplant, carrots, hot peppers, anchovies and more.
To get the distinctive appetizing aroma of different types of spaghetti, different spices are put:
garlic, shallots, basil, parsley, pepper, oregano, rosemary, celery, nutmeg
the type of olive oil and the broths used for the sauces are also relevant to the taste
Last but not least, are the cheeses – Parmigiano, Pecorino, blue cheese, melted cheeses, smoked cheeses and many more
As many chefs, so many variations with different combinations of cheeses can exist that ultimately give the final look to an Italian masterpiece.
The other secret to a good sauce is how to get it its perfect consistency. Spaghetti sauce should generally not be very thick. However, if you have a thicker sauce, you may not drain the hot water to the end, leaving very little of it. Mixing the paste with the rest of the sauce with the sauce will help you get the desired density.
And one more tip from Italian housewives and cooks: It is better to cook the sauce in a large frying pan or pot so that the cooked spaghetti can then be picked there. When you have poured the water, do not return the paste back to the same pan, but place it in a saucepan with hot sauce and let it simmer for a minute or two over medium heat. This is done to ensure that the paste has absorbed the taste and aroma of the sauce and become whole with it.
What are the peculiarities of sauces in different regions of Italy?
Characteristic of Italian cuisine is that it is well identified by territory. Different blend additives are used in each of the 20 regions of the country. Since most areas of Italy have a water outlet, seafood is offered in many places for pasta. In the  land 'areas – Valle d'Aosta, Trentino Alto Adige, as well as in eastern Tuscany , spices are based on "gifts" from the forest and farms.
Northern Italian cooking uses less tomato sauce, garlic and herbs, and white sauce is more common. Dishes with light tomato pasta are found in Trentino-Alto Adige in South Tyrol and Emilia Romagna, where Bologna is located. The famous Bolognese sauce, which is named after the city of Bologna, is made from tomatoes, minced veal and wine. According to the original recipe, the Italians use finely chopped meat and the sauce boils for about 4 hours until the meat is tender and almost blends with the liquid.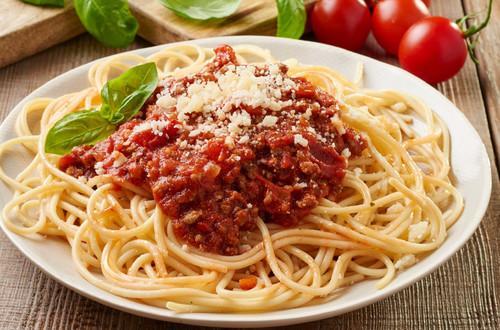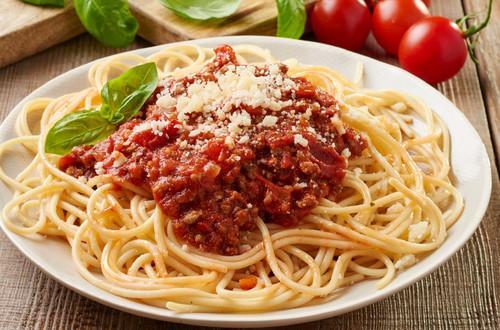 In Siena, for example, the culinary card is spaghetti with a fair amount of mince. This is so from the Middle Ages, when the inhabitants of the fortress repelled the attacks of enemies and the soldiers needed unpretentious, but at the same time, satiating foods.
 In Central Italy  the following sauces are generally popular:
tomato
amatirsian (with bacon and tomatoes)
Arabia (with fresh and dried tomatoes, white wine, garlic, hot peppers and parmesan)
Carbonara based on eggs
Tomato sauces are also found in Southern Italian cuisine where they come from. In southern Italy, more complex variations include spaghetti  with the addition of fresh vegetables, olives, capers or seafood.
pasta standard (with tomatoes, eggplant and fresh or baked cheese)
Palermo con le sarda paste (fresh sardines, anchovies, capers, pine nuts, dill and olive oil)
Spaghetti Aglio
olio e peperoncino (with garlic, olive oil and hot chillies)
Seafood for spaghetti is served on the islands of Sicily and Sardinia: fish, sepia, squid, mussels, crabs, lobsters. In the historical district of Rome – Trastevere, they will offer you spaghetti with "putanesca" – sauce of olives, capers, anchovies and tomatoes.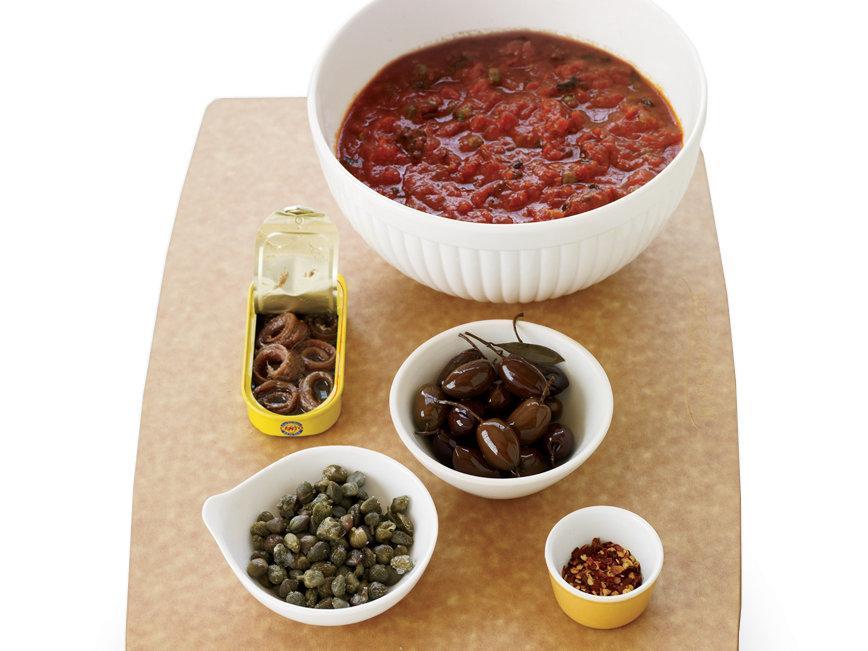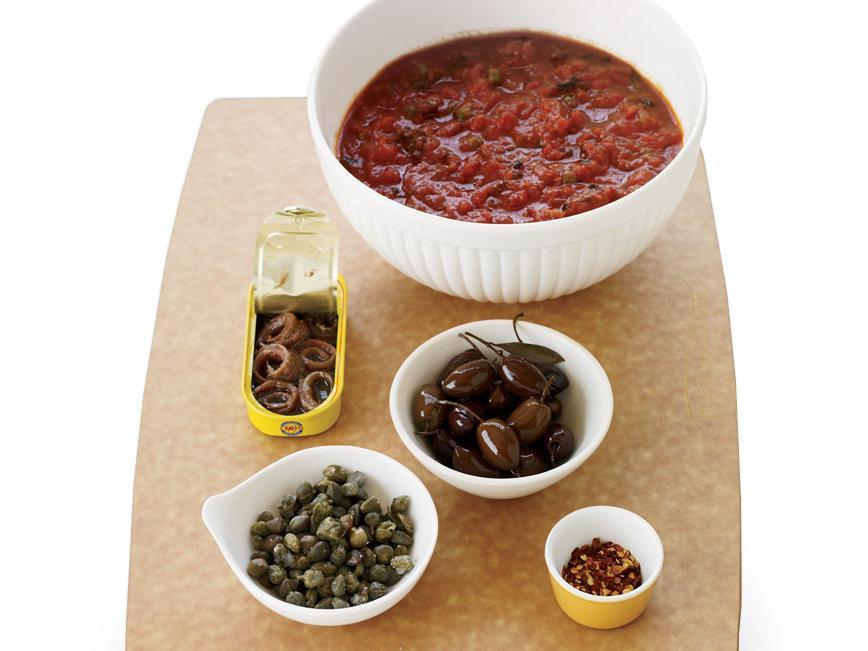 In Genoa, the famous local green spice – pesto ala jovanese, is prepared, consisting of basil leaves, garlic, cedar nuts and sheep cheese. Today, the "Genoese pesto" is one of the temptations of Italian cuisine.
 In the region of Lazio  and, of course, in Rome, the traditional sauce is carbonara – egg sauce, cream, fried guanciale (pork cheeks), ground pepper and pecorino cheese. It prepares the famous Spaghetti al Carbonara.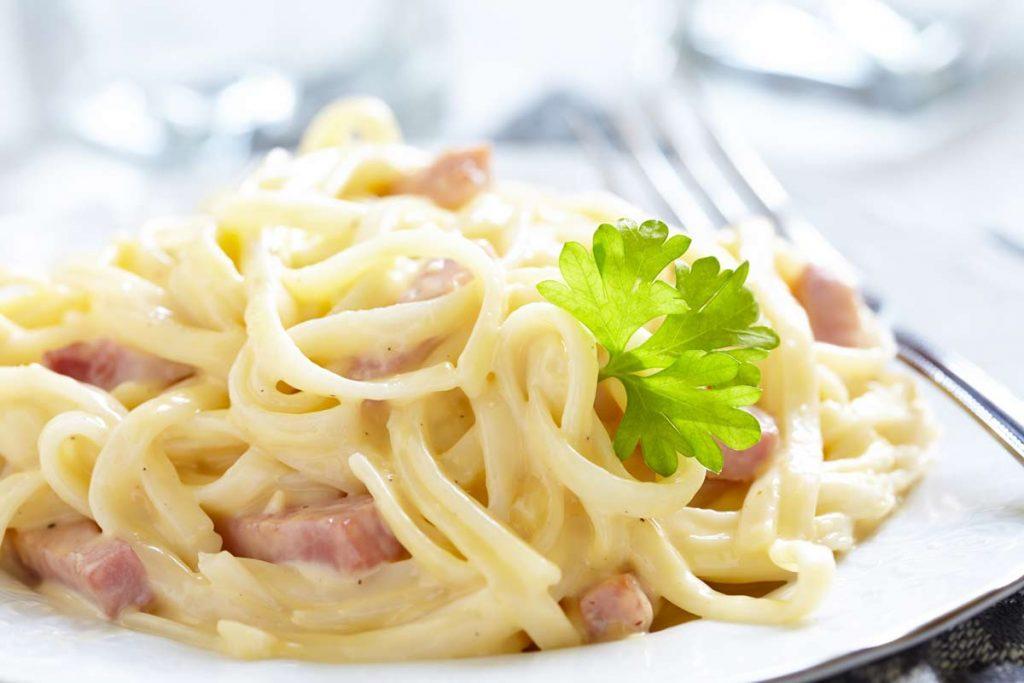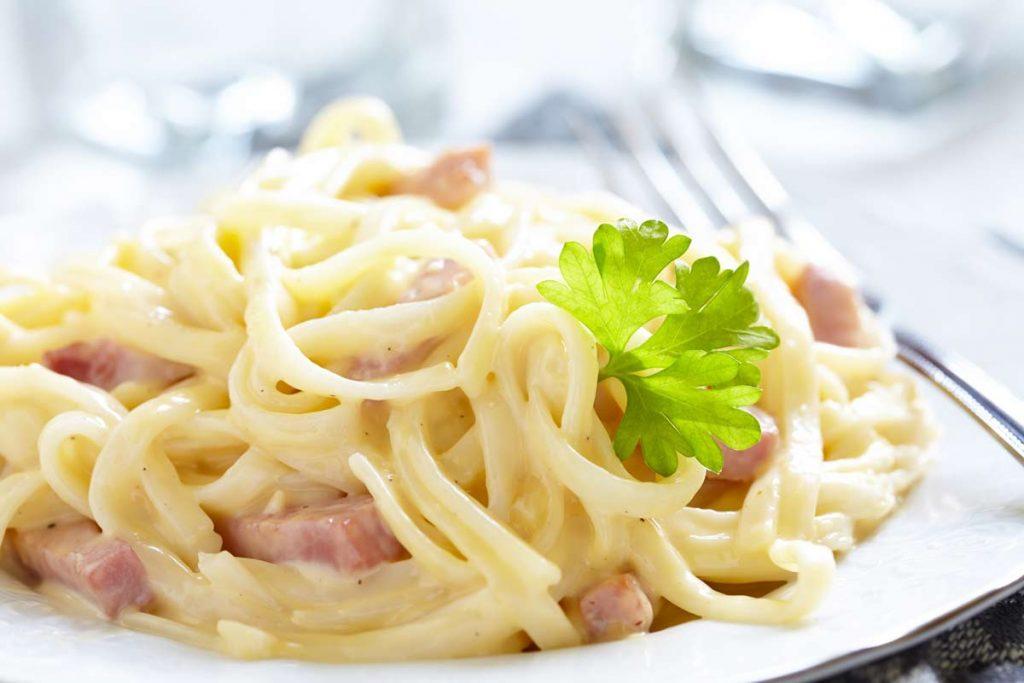 What pasta sauces are used outside Italy?
Initially, spaghetti was only part of Italian and European cuisine. With increasing worldwide popularity,  pasta has crossed international borders and is now a popular fast food and staple product in North America, South Africa and many other places around the world. This is due to the large number of Italian emigrants from different countries, which ensures that spaghetti and other pasta become an essential part of the cuisine in the respective areas.
In Sweden, spaghetti is traditionally served with their own version of Bolognese sauce, called köttfärssås, which represents minced meat in a kind of thick tomato soup.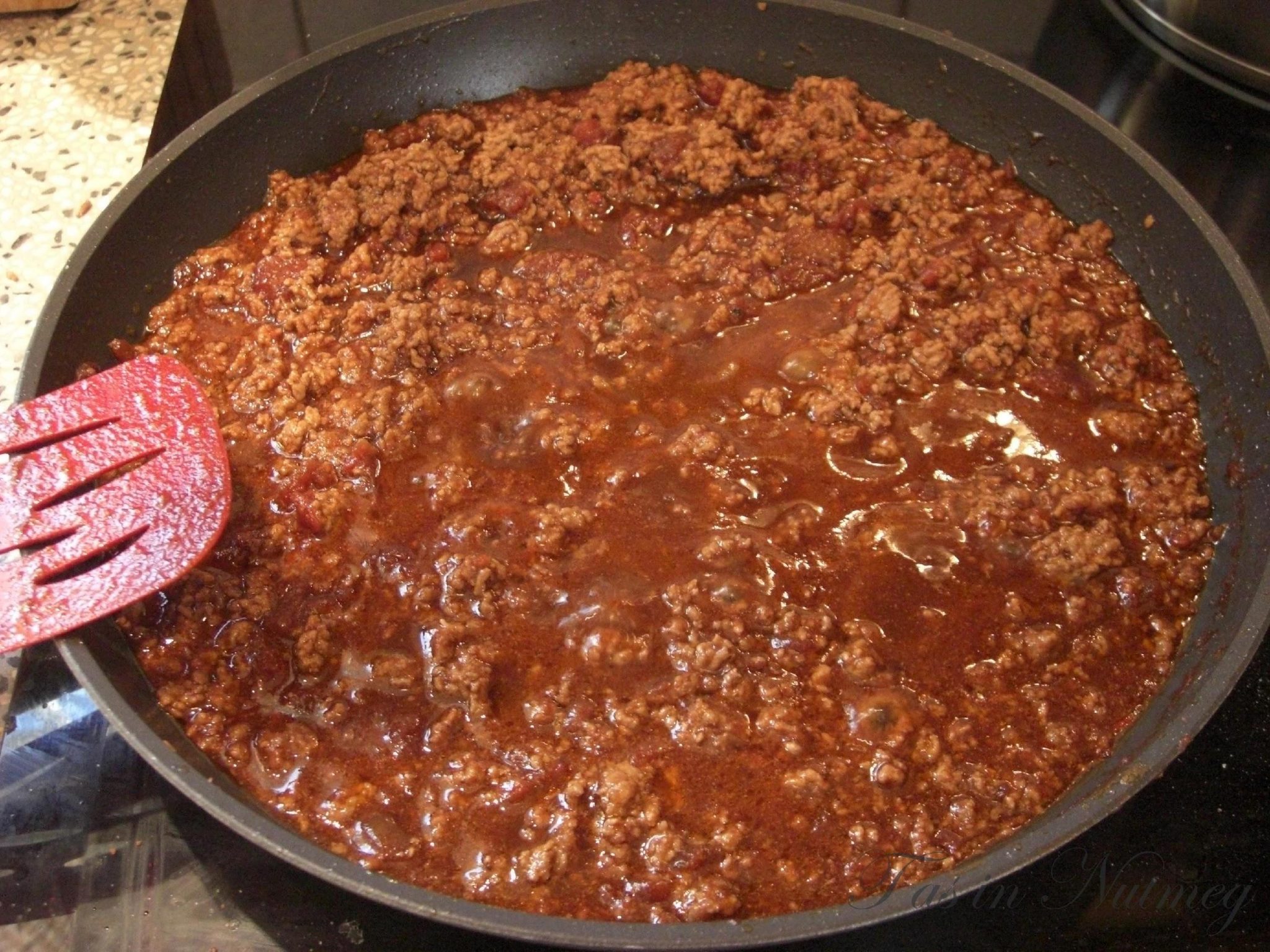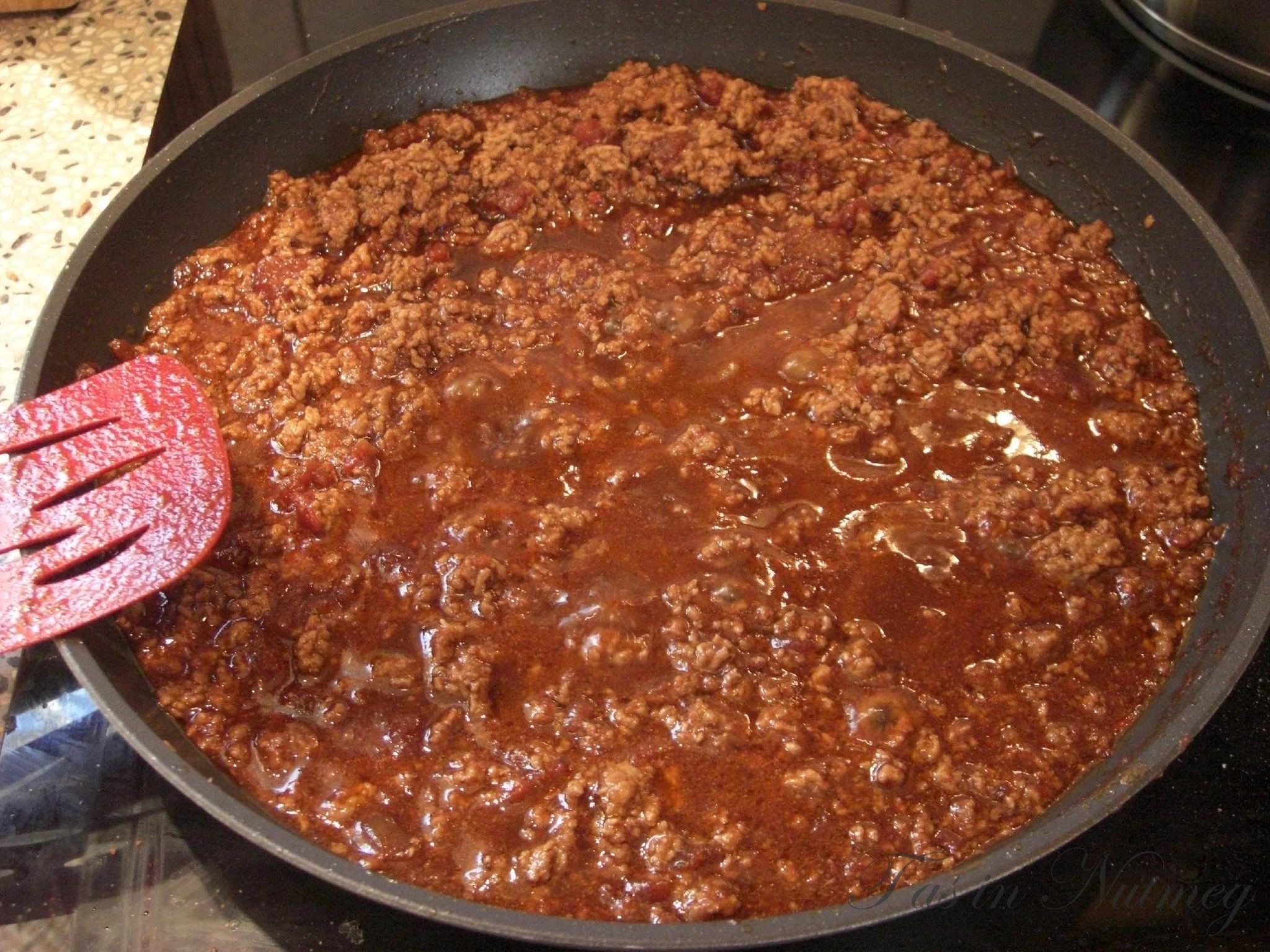 In the Philippines, spaghetti is often served with an emphatic, slightly sweet but delicious meat sauce. Its base is tomato sauce or ketchup,  often contains ground beef or pork and diced ham  Seasoned with a little soy sauce, heavy amounts of garlic, dried oregano and sometimes with dried bay leaf, then topped is grated yellow.
There are other pasta dishes in Filipino cuisine such as spaghetti Carbonara, pasta with Alfredo sauce and more. These dishes are usually prepared for gatherings and special occasions such as family events or Christmas. Fetucini Alfredo with cream, cheese and butter, as well as tomato sauce (with or without meat) are popular Italian-style dishes in the US.
In Australia, the popular Boscaiola Sauce is based on bacon and mushrooms.