If you ask the Italians where the Trentino – South Tyrol region is located, they will most probably answer that it is in the Middle Earth. Indeed, this Italian region is very peculiar both as a culture and as a cuisine, in which Italian, Austrian, German and even Hungarian elements interwine.
Situated in the northeastern part of Italy and bordering Austria and Switzerland, Trentino – South Tyrol is almost entirely mountainous and it is one of the most popular regions in Italy in which you can practice winter sports.  
Until the beginning of the last century, Trentino – Alto Adige, as it is called by the Italians, was part of the Austrian Empire, but in 1919 it was joined to Italy. Today the region has a special autonomous status.
Perhaps you have noticed that the name of the region is written with a dash. Actually, this type of writing is no accident at all. Because Trentino and South Tyrol are two separate areas that, although today form a common region, have different cultures, traditions and cuisine that we want to introduce to you right now.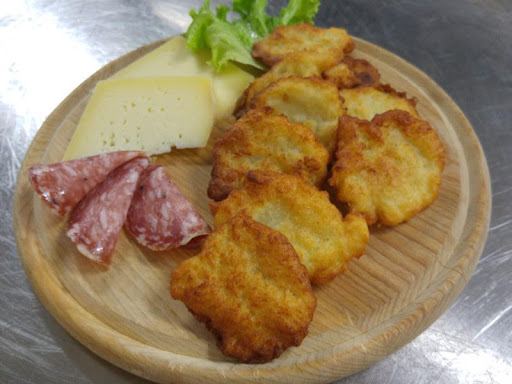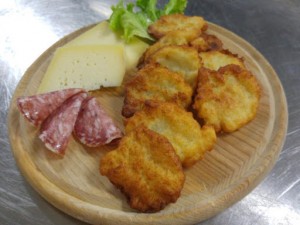 The cuisine of Trentino – Alto Adige
Before we begin our journey through the Italian cuisine – Trentino – South Tyrol, we have to make a clear distinction between the two regions Trentino and Alto Adige. We have to do it because these two provinces have very different cuisines, as each one of them is highly influenced by various cultural influences that these lands have gone through over the years.
Characteristics of the Italian cuisine of Trentino
Trentino's cuisine is rich in dishes that are suitable for harsh winter conditions and low temperatures, which remain low even in the summer, especially in the mountainous part of the area.
This region is relatively poor and its cuisine includes dishes made with products that can be produced from the ground and that can be caught in the rivers, lakes and forests of Trentino.
Popular dishes of the Trentino region
One of the most popular dishes of the traditional Italian cuisine – Trentino – South Tyrol is a dish called Tortel di patate.
Tortel di patate is a kind of potato pancake that is made from grated potatoes, flour and some salt. The potatoes are grated raw, then mixed with some flour and a pinch of salt, and the potato pancake is fried in hot oil until it becomes golden brown. Tortel di patate can be served with meat, with different cheeses, sausages or with sauce.
Polenta is a dish that is prepared in all parts of Italy, and of course, it is also a part of the cuisine of Trentino. But unlike the other parts of Italy, in this region the polenta is prepared both in the traditional way and in the furnace.
Polenta prepared in the furnace is made in layers, as first there is a layer of polenta, then layer cheese, layer meat (minced) and so on. The end result looks like a salty cake with meat and cheese.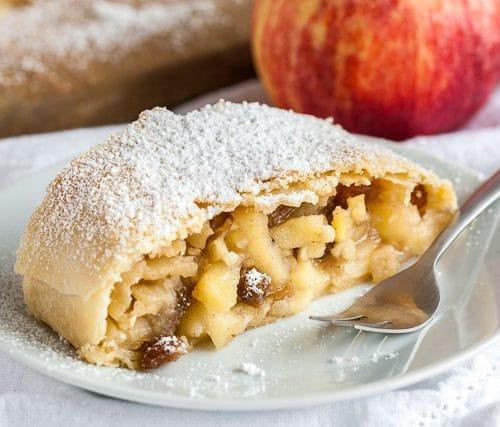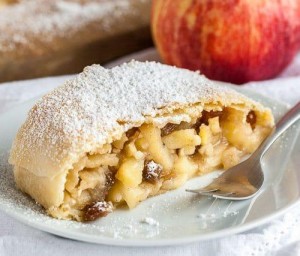 Canederli is a very interesting and tasty dish that comes from Tyrol and, in particular, from the Austrian cuisine.
Actually, Canederli looks like the Austrian dumplings, which are prepared in Trentino from pieces of dry, old bread. First the bread is cut into cubes, then are added different spices, chopped smoked meat or sausages, yellow cheese, and finally this mixture is fried in the form of big dumplings.
The dish is served in different ways. It can be served only with melted butter and garden tea, in broth, with tomato sauce or even with goulash or Sauerkraut.
One of the most often prepared winter dishes of the Italian cuisine of Trentino – South Tyrol is a barley soup with ham. This dish is made with few ingredients and it is very delicious and satiating.
To prepare the barley soup first you have to fry onion, carrots and potatoes in a saucepan.
When the ingredients are well fried, Galbacotto ham is added to them (cut into cubes) and finally the barley. The dish should be cooked on a slow fire for about 35 minutes and then served hot.
The Trentino's cuisine is also rich in dishes prepared with fish, as one of the most often prepared fish is the trout. This fish can be cooked in many ways, fried, marinated, smoked, usually served with polenta or risotto that is prepared in traditional way with rice or in the Trentino's way – with barley.
There are many fish recipes available in the region, but we chose to present to your attention a very simple recipe that you can try to prepare yourself.
Salmon fillet with mozzarella
To prepare this great dish of the Italian cuisine of Trentino – South Tyrol you will need a few fillets of salmon, mozzarella (it would be good if it is Santa Lucia, but if you can't find it on the Bulgarian market, use the brand you have), garlic, parsley and salt.
The fillets have to be placed in a tray with some oil and salt, then baked for about 10 minutes. Then they have to be taken from the oven, the bones have to be removed and the dish can be placed in the plate. But before serving each fillet, the dish have to be garnished with cut parsley, lemon juice and cubes mozzarella. Questo è tutto!
From the Trentino's regional dishes containing meat we will mention Osei escapades (veal rolls with bacon and garden tea), as well as Carne Salada (salted meat prepared from lean beef).
We cannot finish our short tour of Trentino's regional cuisine without the amazing desserts that are prepared here.
The most popular dessert, which is famous throughout Italy is called Strudel. The origin of this pastry is most likely Austrian and just like the popular strudel the Trentino's Strudel is made of dough that is rolled out into a thin sheet, as in in the middle of it there is an apple filling, raisins, walnuts and brown sugar.   
Once the Strudel is baked, it is cut into slices and served with powdered sugar, with whipped cream or with an English cream but it must be prepared at the moment.
Other typical for the region pastries are the pancakes, apple pies, Strauben (pancakes in the shape of a snail), Grostoi (popular local sweeties that are made of flour, brandy, butter and eggs) and of course the incredibly delicious Christmas cookies Vanillekipferl, which are prepared throughout entire Central Europe.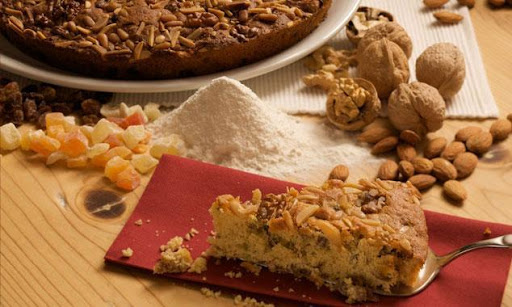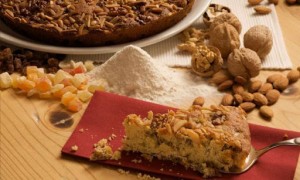 Characteristics of the Italian cuisine of South Tyrol
Unlike Trentino, where the Austrian and German influence is felt less, in South Tyrol the cuisine is very similar to the Austrian one. South Tyrol is also the cradle of the cold smoked meats and hams, as well as of the incredible cheeses and delicious salami.
But let's first start with our tour of the cuisine of Alto Adiges by introducing some of the most popular dishes of this mountainous region. 
Here, as in the Trentino region, you will be offered to try Canederli, but unlike Trentino, in South Tyrol they will be served in broth made of onion and red wine.
Spätzle is called another typical dish for this region that is actually a kind of dumplings prepared in boiling, salted water and garnished with butter and cream. Usually Spätzle is served with various types of meat sauces or accompanied by salad.
Schlutzkrapfen is one of the most popular dishes of the Italian cuisine – Trentinno – South Tyrol. Schlutzkrapfen is a local interpretation of the classic Italian ravioli, but in Tyrol the ravioli are made of rye and wheat flour.
The filling of Schlutzkrapfen can be varied – from minced meat of veal and beef to spinach and ricotta or beet and poppy seed. Typically the ravioli are served as a first dish only with melted butter.  
Gerstensuppe is one of the most loved and most often prepared winter soups in tyrol, which is made from barley, vegetsbles and meat. The soup is thick and very satiating, and it is very suitable for the cold winter evenings in northeastern Italy.
Veal knuckle with Sauerkraut is a dish that is highly inspired by the Austrian and German culinary influence in the region. The knuckle is prepared with salt, black pepper, tarragon, rosemary, thyme and German beer (Bayerisches). The knuckle has to be well spiced, then put in a tray, poured with a beer and finally baked for 2 hours. The dish is served with Sauerkraut.
The desserts that are prepared in South Tyrol are many and very delicious, so it is very difficult for us to choose which one of them to list here, but anyway…
Strudel
In Alto Adige one of the most popular desserts is also Strudel, but here this dessert is prepared as a cake and it is sprinkled with poppy seeds.
Kraffen
The Tyrolean Kraffen has nothing in common with the popular dessert Krafen. In fact, Kraffen is a dish of small ravioli that are filled with a mixture of chestnuts, cooked in milk, cream and rum. Ravioli are fried in hot oil and then served with powdered sugar.  
In the Italian cuisine – Trentino – South Tyrol the apples are present in many recipes, as different varieties of apples are grown in the region. So it is no surprise that the regional cuisine of Tyrol includes many recipes for pie.  
The recipe that we chose to present to your attention, however, is not for an apple pie, but for one of the most popular desserts in South Tyrol – Zelten.
Zelten is a traditional fruit bread that is usually prepared at Christmas.
The products you will need in order to prepare this Tyrolean perfection are:
yeast (one cube);

150 grams of white and 100 grams of rye flour;

2 tablespoons of sugar;

500 grams of dried figs cut into cubes or strips;

250 grams of raisins;

120 grams of mixed nuts (hazelnuts, walnuts, peanuts);

120 grams of pine nuts;

2 tablespoons of butter

50 grams of candied lemon peel;

50 grams of candied orange peel;

50 ml of white wine;

3 tablespoons of rum;

70 grams of honey;

½ grated orange peel and ½  grated lemon peel;

Cinnamon, cloves, nutmeg, anise;

Walnuts, hazelnuts, peeled almonds or candied cherries for decoration

Some water and 15 grams of salt
The yeast, together with the sugar, dissolves in water and has to be left for about ten minutes to "rise". Then the dough is kneaded, as it is made of the yeast, flour, salt, butter and anise, then it must be left for about 30 minutes to rest.
During this time, the honey, figs, raisins, nuts, candied peels are placed in another bowl and "marinated" in rum. Then the "marinated" fruits and nuts together with the lemon peel and the orange peel, the cinnamon, cloves and the nutmeg are added to the dough, which is kneaded again and shaped as round or elongated bread.
The bread is decorated with the nuts or cherries, then it must be baked in a preheated oven. During the baking process it is removed from the oven at least several times to be covered with sugar syrup or honey in order to become dark brown color.
After being baked, Zelten is decorated additionally (if needed) and it is ready to be served.
The baking time is 40 minutes, and if you don't want to waste time in preparing the Christmas bread, you can soak the nuts in the rum on the night before.
We cannot finish our tour of the Italian cuisine – Trentino – South Tyrol without saying a few words about the most popular cheeses and wines that are produced in the region.
So, in the Trentino – Alto Adige region are produced strong and aromatic wines, many of which have the DOC certificate. Very famous are the white wines such as Alto Adige Pino Bianco and Alto Adige Val Venosta Gewürztrainer, Trentino Muller – Thurgau, Pinot Blanc, Sauvignon Blanc, and the red wines such as Trentino Muller – Thurgau.
The local cheeses are characterized by aromatic, rich taste and they are famous and loved throughout Italy. Some of the most popular cheeses that you can try in the Trentino – South Tyrol region are:
Puzzone di Moena DOP
Puzzone di Moena is a cheese that is made from high quality cow's milk.  The cheese stays for at least 90 days on oak boards, and periodically it is treated with water and salt in order to from a solid crust on the outside and to remain soft and fragrant on the inside. Puzzone di Moena has a spicy taste, it has a slight aroma of grass, herbs and baked hazelnut.
Cuor di Fassa – Cher de Fascia
This cheese is characterized by intensive and strong taste and rich aroma. Cuor di Fassa matures for a period between 9 and 12 months, it has round shape (cakes of 10 – 12 kg), and its crust is yellowish.
Vezzena
Vezzena has been produced for several centuries, and by the time of the First World War it was the only cheese that was produced in Trentino. Vezzena requires long period of maturation (between 12 months and two years).
And at the very end… one great fresh cheese La Tosèla, which is produced in the Primiero valley. This cheese is very fresh and it is consumed only a few days after its production. Usually La Tosèla is consumed covered only with olive oil and spiced with Alpine herbs.