Italy is known all over the world for the culinary delights it offers. It is no secret that these warm homemade delicacies are most magical and captivating when prepared by hand at home. Today we will look at panettone – great for breakfast or dessert with soft and tender, fluffy dough.
To your attention – His Majesty Panettone!
This is a type of Italian sweet bread,  which is something like our Easter cake. It can be said that it is the most emblematic of the Milan region.  It is characterized by its cylindrical shape and in its true form reaches 15-20 cm in height.  Some specimens may exceed 1 kg in weight.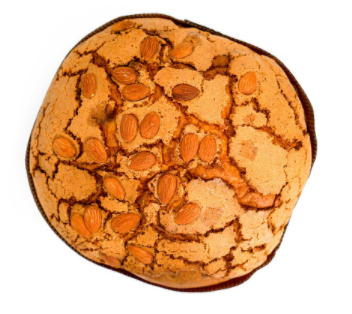 The history of the cake can be traced back to ancient Rome, when it was most often made with honey. During the Holy Roman Empire in the 16th century, the recipe was updated by the famous chef Bartolomeo Scapi. It is believed that the first masters of panettone were Milan bakers.  In the early twentieth century, the cake has gained great popularity throughout Italy.
When is panettone eaten and what distinguishes it from Colombia di Pascha and Brioche?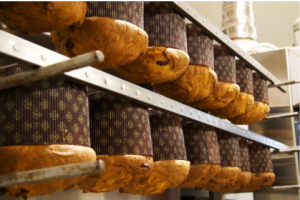 We have all  seen the cardboard boxes with the inscription panettone,  which have traveled so many kilometers to reach us. Even in Bulgaria it is often offered on the market during the Christmas and New Year holidays. In other countries, including ours, it is sometimes released in stores and around Easter.
For Italians, the consumption of panettone in the spring is a bit unusual. At this time it is more common for them to eat the so-called Easter colombs. These are actually quite similar cakes. They differ from panettone mainly in their shape, but also in the fact that their raisins are replaced by caramelized citrus peels.
To some extent, it can be said that panettone is a variation of the popular Italian kozunak brioche.  The difference between the two is in the cooking time and also in the yeast.  Sweet brioche breads need only a few astronomical hours to rise, while panettone takes more than 50 hours. Also, panettone is mixed with natural yeast, while bread is used for brioche. To swell to an enviable height, they are hooked and hung for a long time.
It is interesting to note that not all panettone is produced in Italy.  Producers and traders from South America and even Asia make a steady income from panettone.  Some Italians are not at all happy about this, as they perceive it as an abuse of their culinary traditions.
That is why there is a  heated political struggle there to give it the status of food with a protected geographical origin  (in Italian abbreviated DOP), as have other typical dishes in Italian cuisine. This does not mean that the products and the recipe for this temptation are a secret.
The DOP label would mean that panettone is made only from local products, ie grown in Italy. Unfortunately, this is very difficult in this case, as the country imports most of the flour, sugar, raisins and the huge technological time required for its preparation.
Can we make a mini panettone at home?
Fortunately, there is a way to make sweet, small panettone cakes completely on your own and without going through 50 hours of preparation.
Products
We will need:
500 g flour (type 500)
200 g of soft butter
2 whole eggs, 1 more yolk separately
1 tsp vanilla
200 ml of warm milk
100 g powdered sugar
150 g raisins
pinch of salt.
In this case we will use 2 packets of dry yeast, 30 g of almond flakes.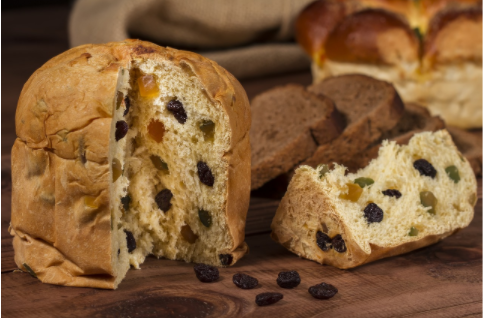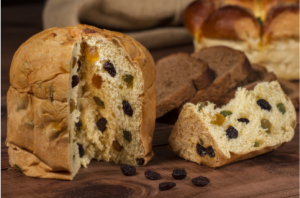 Method of preparation
Beat the two egg whites and the three egg yolks with the vanilla. We prepare a large bowl in which to mix the dry products – flour, yeast, sugar and a pinch of salt.
Then add the eggs and milk  to the mixture, starting to stir with a wooden spoon until a sticky dough is obtained. Now we have to cover it with kitchen foil, put it warm and wait for it to double in size.
After the first rising, it is time to add the butter and raisins. Then divide the dough into small balls and leave them to rise for the last time before baking.
Now we can turn on the oven at 180 degrees  and finalize our mini panettone. We use paper muffin tins. It is best to put them in a silicone or metal mold so that they do not spread.
Before we start baking, spread the mini cakes with milk. They need about 30 minutes to be ready.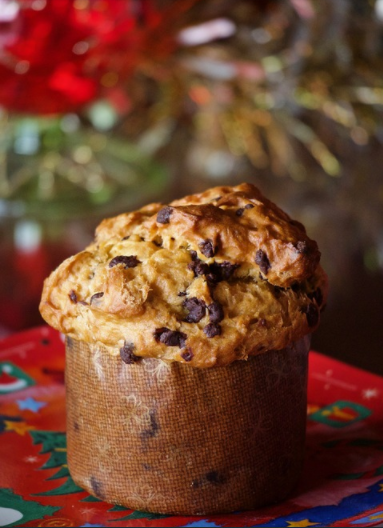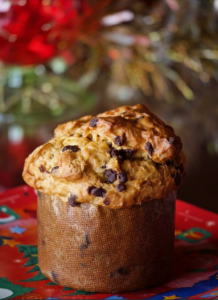 When cool, fluffy panettone muffins are ready to serve . You can offer them to your guests with a spoonful of the famous  Italian gelato or mascarpone,  served on the side, and a topping of chocolate, syrup or marmalade, or you can turn them into real cupcakes by placing cream and topping directly on them.
They can be eaten for breakfast with a cup of coffee or hot chocolate, and also as a dessert or snack in the afternoon.  They go well with Italian wine in the evening.