Getting acquainted with the Italian gastronomic tradition will not be exhaustive without trying Italian sausages, whose names have long been synonymous with refined taste and unsurpassed quality. And the experience will not be complete, if you do not drink a glass of the famous local wines with them.
Only after trying this combination can you fully understand the meaning of La dolce vita (sweet life) in Italian. It delights all the senses and leaves unforgettable memories of romantic dinners, friendly conversations over a glass of wine with an exceptional appetizer and cozy home gatherings.
In order for the pleasure to be complete, it is good to have knowledge of the types of sausages and which of them is suitable for consumption with which wine.

What is the taste of Italian sausages?
Italian sausages, like pizza and pasta, spread the fame of Botusha all over the world. And like other famous culinary traditions, they have countless variations. Many varieties are produced on the sunny side and according to the technology they are raw, cooked, raw smoked, dried, etc. Sausages are made from pork, beef, turkey, lamb, game and other meats. Bacon or by-products are often added.
The tradition of Italian sausages can be traced back to the past. At one time they could only be enjoyed by the privileged classes, but now they are available to everyone.
Some of the sausages are consumed daily, and others we put on the table on a holiday. In both cases, however, wine is a suitable companion to appetizing thin slices of meat specialties.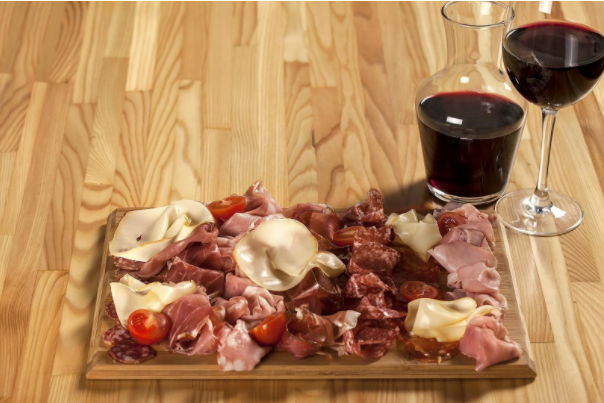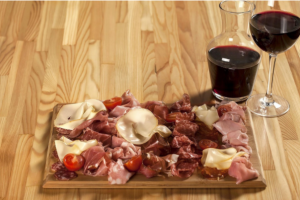 Local producers follow the traditions, so the taste of some products has changed little since the Middle Ages. To a large extent the assortment of sausages is related to the region in which they are produced, but among them there are also national heroes such as Mortadella and Ventrichina, who have long conquered all territories.
Unifying for all species is the quality of the products that are used in them and especially the meat. Their unique taste is due to the used spices, which are very diverse – black pepper, nutmeg, dill, rosemary, allspice, sweet and hot red pepper and others.
More nuts and fruits are added, for example pistachios, dried myrtle fruits, orange peels.  In the production of some of them good Italian wine is used.
They say that even the climate and air in the area are the reason for the high quality of meat products and give them a specific taste.
Types of sausages and which of them with which wine is suitable to consume?
In order to get sophisticated pleasure, it is recommended that the different sausages be consumed with the appropriate wine. The choice of drink depends first on the type of meat product, as heavier, smoked and fatty sausages are combined with red wines, and lighter go with white wine or rosé.
An extremely good combination is obtained when the wine is from the same region where the sausage was produced. There are no absolute dogmas in combining food with wine.
Leading should be mainly your taste and your preferences. So, sausages can be consumed with champagne, if you have a holiday.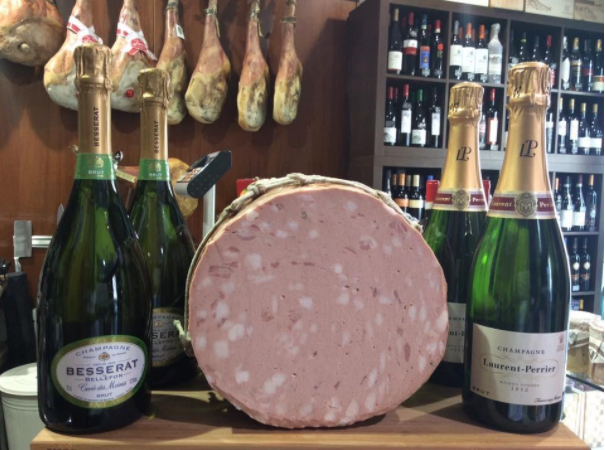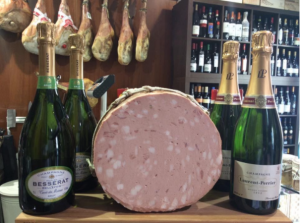 Here are some of the most famous types of Italian sausages that you should accompany with a glass of classy wine:
Mortadella
The homeland of this cooked sausage is Bologna in Northern Italy, but it has long been produced in other regions of Italy. For tourists trying it for the first time, the mortadella amazes not only with its excellent delicate taste, but also with its impressive size.
The sausage has a cylindrical shape and is usually heavy. Mortadella is made from minced pork with pieces of tender bacon, which makes it look like a mosaic.
Other types of meat are often added to pork: beef, beef or even horse meat. Some options include greaves and offal. As spices are used garlic, black pepper, pistachios, nutmeg, wine and dried myrtle fruits. The sausage is usually cut into very thin slices and eaten with white bread, biscuits or rusks.
Famous brands are Mortadella di Prato and Mortadella Bologna, which is considered a kind of culinary symbol of Bologna. Mortadella is a nice light wine appetizer. It goes well with rose or white wine, but in the end everyone chooses according to their tastes.
The best wine is from the Emilia-Romagna region. In the Bologna region, wine production is well developed, and among the famous wines in the region are Pignoletto dei Colli Bolognesi, Lambrusco di Modena and Sangiovese di Romagna.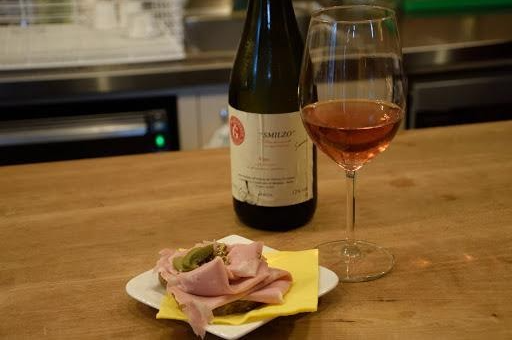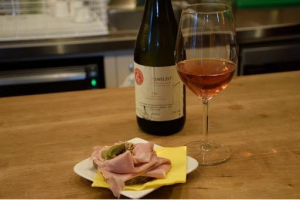 Ventrichina
Ventricina is a very popular sausage in Italy. Its homeland is the Abruzzo region, which is located on the border between central and southern Italy.
The sausage is made from pork and lard, and dill, rosemary, red sweet and hot pepper, black pepper are used as spices.  Sometimes garlic and orange peel are added.
There are two main types – Vasto and Teramo. Ventricina Vasto contains 20-30% fat. All ingredients are not minced, but cut into cubes. Then pieces of meat and bacon are rolled in spices and stuffed into the shell. The sausage ripens within 120 days The final product has a sharp, spicy aroma and uneven red color.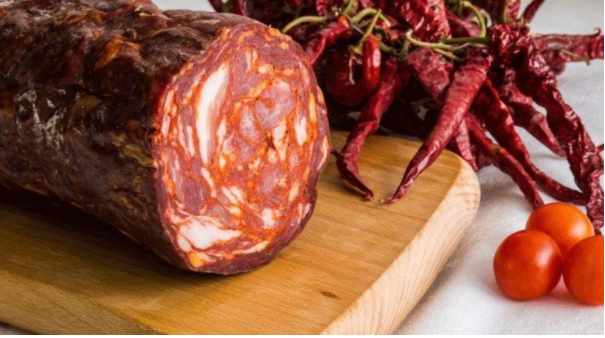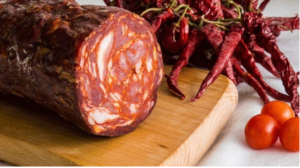 The fat content in Ventricina Teramo is much higher – 50-60%. Includes by-products, and all ingredients are passed through a meat grinder. The delicacy is eaten spread on bread and used to prepare meat sauces. Both types of sausages are named after the settlements where they are produced.
Ventricina is a heavier and spicy appetizer and goes with a nice red wine, but your choice can also be rose or white wine depending on the variety of sausage, the season and your mood. Famous local wines in the Abruzzo region are the red  Montepulciano d'Abruzzo, the rosé Cerasuolo d'Abruzzo and the white Trebbiano d'Abruzzo.
Salsicha
These fatty sausages are produced in many regions of Italy. And in each of the areas the production and the recipe have specific characteristics. In some areas, pork is used as the main ingredient.
In other areas, salsa can be made from turkey, lamb or beef and even with the addition of offal. The ingredients are not cut too finely. A mixture of herbs, fennel seeds, salt, pepper, allspice and paprika are added to the prepared minced meat.
Spices can also vary by region. In some Italian areas, coriander is added, in others – garlic, as well as a little wine and even cheese. The sausage usually has a small diameter.
Salsicha is prepared in different ways. Some species are dried for two months as Salsiccia Stagionata, and others are sold raw as Salsiccia Fresca. Raw sausages are baked in the oven or fried with the addition of white or red wine.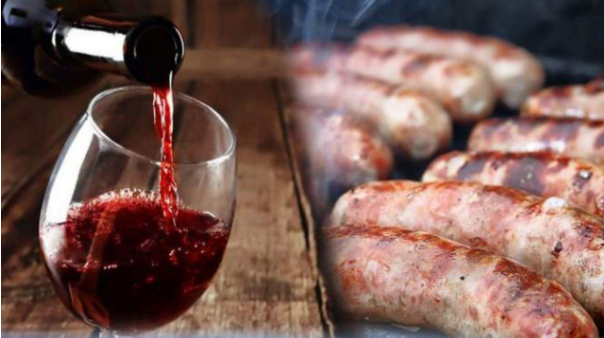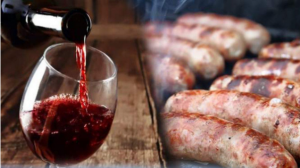 Dried salsa can be added to pizza. Like most dried sausages with rich taste Salsiccia Stagionata is more appropriate to be consumed with red wine.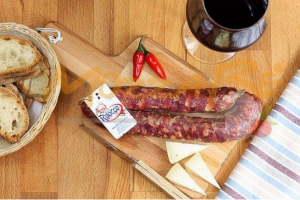 The list of popular types of Italian sausages is not exhaustive The fantastic assortment of these gastronomic products will impress even the most demanding tastes, and their combination with high-class Italian wines are a prerequisite for experiencing many pleasant moments.