It cannot be said that Calabria is a particularly aristocratic region . Long new was one of the poorest regions in Italy . It is for this reason that his culinary traditions have developed a special respect for the modest products and artifacts in the preparation, which allow us to make a rich meal with little and cheap ingredients .
The local population made the most of their livelihoods through fishing, animal husbandry and crop production . But it is probably because of this that today we have the opportunity to enjoy some of the simplest and most wonderful dishes in Italy . If you are on a short break, you will definitely try some of this cuisine. You will be surprised how many culinary wonders this humble region with rich historical and cultural heritage can hide.
Where the Calabria region is today , one of the first local settlers to settle in the millennia ago . Subsequently, the tribes were displaced by ancient Greek settlers, who also conquered several regions of the country and named them Greater Greece .
Calabria subsequently became part of both the Roman Empire and Byzantium , as well as neighboring countries such as France and Spain during different periods. The numerous invasions of the Arab conquerors have never been successful, but they have also left their heritage here. Thanks to them, eggplants, artichokes and even raisins were brought to Calabria , as well as citrus fruits such as lemons, oranges and all kinds of them, some of which are only found in the region today.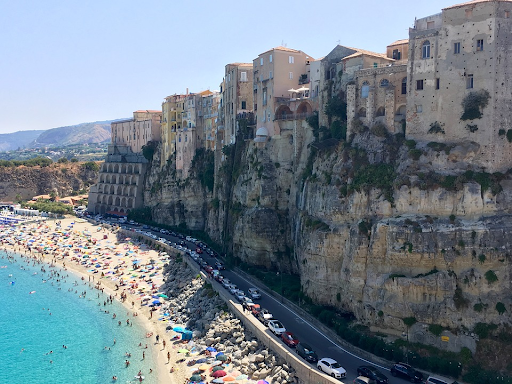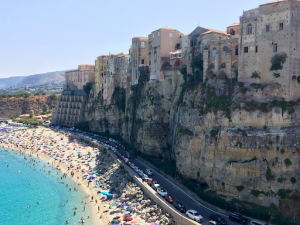 Calabria regional dishes
Calabria has inherited technologies and recipes from many settlers and conquerors in the region, ancient Greeks, Arabs, Romans and more. Today they are an important part of local specialties . They have all bequeathed to the region a fraction of their livelihood and culture or brought seeds of plants that are today part of the local flora.
In local cuisine , the most common are modest dishes such as mortse (also called morzel ). It is most characteristic of the main Calabrian city of Catanzaro . There are several legends about the origin of morzel . It is kind of like a Balkan soup broth , but it also contains other offal, such as the lungs and heart of the calf. Traditionally, this meal is also consumed as fast food served in a pastry.
Calabrian paste
The typical Calabrian paste that you can try in the region is the so-called laguna – something like fetuccini . Most often they are cooked with chickpeas and garlic . It doesn't really matter what the shape of the paste is – the most important thing is that it is natural and homemade .
Mediterranean cuisine in Calabria
But we should not forget that, although poor, the Calabria region is still surrounded by two seas in southern Italy. So don't be surprised that locals eat fish and exotic underwater people like octopus, shrimp and sardines far more often than we do.
The region's favorite seafood delicacies include anchovies, swordfish and more. It can be said that seafood is part of the kitchen of high society . Due to the variety of seafood, people here have mastered and developed different methods for their preparation.
Ever heard of pepper fever?
In Calabria spice peperoncino – hot pepper , served with crushed olive oil to almost any dish and even has a festival dedicated to this plant. It is considered a very popular spice and is thought to have the properties of an aphrodisiac .
This special pepper is a key ingredient in delicious local sauces. The sauce called bomb Calabrese , for example, is reminiscent of something like ours Aubergine . The main products for the dish are eggplant, garlic and red pepper, but anchovy, basil and olive oil are also flavored . Everything is cleaned, salted and left overnight. Finally vegetables and spices Strain , but not too finely.
In Calabria, homeowners often tie dried peppercorns to a geranium and hang them somewhere in the kitchen or along the side – a decorating hat, as well as being a cooking hand. Peperoncino's city is Diamante . At the end of the twentieth century, E. Monaco established an Academy for the study of spices.
The local Calabrian pasta nduya is prepared with lots of spices and hot pepperoni . Some locals conserve pepperoni stuffed with ndua.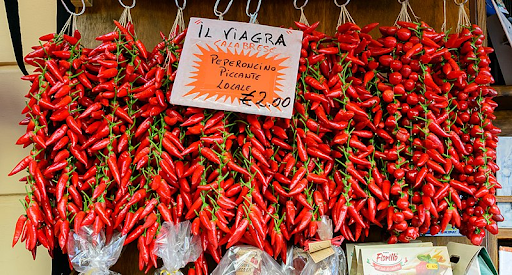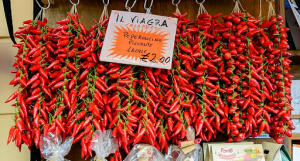 Calabria sausages
Capocolo sausage – also called the king of dried sausages – is also typical of Calabria and has a trademark of origin . Capocolo matures slowly and carefully from the local butchers. It takes over 100 days to prepare . Even so, his taste would not have been the same if he had not been flavored with a fragrant bouquet of aromatic spices .
Be sure to try the local pepperoni-flavored local sauce as well .
Vegetables are an integral part of all cuisines in Italy
Tomatoes

are a favorite vegetable of locals in Calabria.

Margarita pizza tomato sauce

should always be of high quality. It is also often used for paste

Garlic and mushrooms are also fairly present in recipes in the region, as are all other fruits and vegetables, as the soils here are particularly fertile.

The

stew

is made with

eggplant, parmesan cheese and olive oil

. Of the legumes, the Calabrians particularly respect the

cormorant

.
Spices are a complement to any dish in Calabria
The main spices preferred by the Calabrians are oregano, basil, rosemary and more. But most Calabrian dishes get their unique flavor thanks to a secret ingredient – and that's the red onion (from Italian Chipol rose ). It is a major flavoring element, for example, for the liqueur dish , a middle ground between a thick sauce and a simple vegetable soup .
Olive oil is used mainly as fat in meals
Of course, like all Italians, in Calabria, locals grow olives and use them in a variety of recipes, marinated or in the form of extracted olive oil. In fact, there is rarely another type of fat used here for cooking. Although Tuscany is a better-known producer around the world, almost 25 percent of the olive oil nationwide actually comes from this region. In Calabria you can try stuffed olives with meat or seafood . Often, a plate of marinated olives is served as a side dish .
Fruits in Calabria
There are also many fruit trees in the region that are also used in the kitchen to make various desserts and even alcoholic liqueurs . The locals dry figs and preserve them for the preparation of various sweet temptations. One newspaper alabriyskite delicacies is ricotta cheese with dried figs, honey and walnuts . In the confectionery industry, a plant with a rootkit (also called a licorice ) is also widely used .
Exotic fruits such as sugar apple and citrus bergamot (a unique orange variety ) and cheddar (also called citron – a kind of lemon ) also grow here . Cheddar is the key ingredient in many recipes for a wide variety of dishes, but it is also used to make the liqueur of the same name.
Black truffles are found in the forests around Santa Domenica Talao . Collectors in the region traditionally use specially trained dogs , not pigs, to hunt them . Thus, in the kitchen of this poor region, such expensive products as truffles are sometimes present .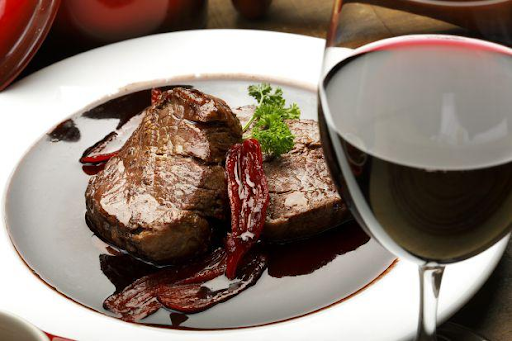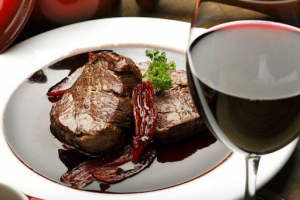 Typical wines in Calabria, Italy" width="640″ height="426″ />
Typical wines in Calabria
Typical of Calabria wines include Savuto , Lamezia , Greco di Bianco, Chiro , etc. The Greeks once brought their varieties of grapes to the local province of Cosenza , and still do some of the most magical wines in the world.
Distinctive liqueurs for the region are:
limoncello

bergamot

Cheerful

Amaro del Capo.
There is no way to miss a glass of wonderful white wine or any other type of plate of cheese .
Here it is eaten and cooked with:
Cachocavallo Silano

Silan's failure

Pecorino del Monte Poro and del Polino

Junk

ricotta

,

salted or sweetened. Sweet ricotta is most often made with fruit in the form of various light desserts
Still, one of the most delicious things in Calabria is undoubtedly the simple rural hand-made bread . Around the bakeries at every corner is the aroma of freshly baked home-made bread, one of the symbols of the Calabrian hearth .
Desserts
A favorite dessert of the Calabrians is the so-called tartufo (letter truffle ). It's like an ice cream bomb filled with liquid chocolate and sprinkled generously with cocoa. Be sure to try the small fried sweet canaries with honey or chocolate as well.
In Christmas time , Calabria prepares for raisins with raisins and orange peels ( panettone ) and gingerbread ( mustache ). Other favorite desserts of the locals include:
Tortured

sidewalks

rosaries

sorbet