The most popular dishes in Italian culture naturally include tempting pizza and a huge portion of spaghetti. But in the world of famous Italian cuisine there is much more. In many regions of Italy the distinctive Italian dishes are with chicken!
You don't have to look for a table in a restaurant to enjoy fabulous Italian food. These restaurant-worthy chicken recipes will satisfy your appetite for a special dinner at home – without much expense at the end of the evening.
Here are some tempting recipes and specialties coming directly from Italy:
Chicken parmesan
Ingredients:
1 teaspoon dried basil leaves
1 teaspoon dried parsley leaves
1/2 teaspoon ground oregano
1 tablespoon olive oil
2 skinless and boneless chicken breasts, cut in half, for 4 fillets
1 teaspoon ground garlic
1/2 cup Marinara tomato sauce
1-2 teaspoons of Italian spice (according to your taste)
1/2 cup grated mozzarella
Salt and freshly ground black pepper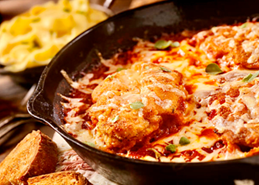 How to prepare it
Preheat the oven to a high temperature.
Mix the spices in a shallow bowl with salt, pepper and oil. Grease both sides of each chicken fillet with oil. Put a large pan on high heat. Add the fillets and fry in the pan on each side until golden (about 3 minutes on each side).
Add the garlic in the same pan and let it fry for about 30 seconds. Put a spoonful of tomato sauce on and around the chicken. Add the Italian spices to the sauce and stir. Sprinkle 2 tablespoons of mozzarella over each chicken fillet, transfer to the oven and bake until the cheese is melted and the chicken is well cooked (for about 3 to 5 minutes).
Garnish with freshly grated Parmesan cheese on top and serve with rice, pasta, stewed vegetables or salad!
Spaghetti with roasted chicken and peppers
Ingredients:
350 g of spaghetti
2 medium boneless chicken breasts
1 tablespoon olive oil
1 medium onion, finely chopped
2 peppers (red), cut into quarters
2 cloves of garlic, finely chopped
1/4 cup grated Parmesan cheese, plus a little more to serve
A handful of fresh basil or chopped parsley
60 g of skim mozzarella, grated
Salt and pepper to taste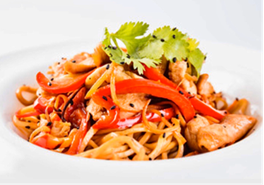 How to prepare it
Prepare the pasta according to the instructions on the package.
Meanwhile heat a large skillet over medium heat. Season the chicken with 1/4 teaspoon of salt and pepper. Pour olive oil into the pan, then the chicken, placing it on one side and the onion on the other. Cook for about 5 minutes, stirring the onions from time to time until the chicken is browned.
Turn the chicken and put the onion with the peppers, garlic and 1/4 teaspoon of salt and pepper  in a baking tray. Put in the oven and bake for 8 to 10 minutes until the meat is fully cooked and the vegetables are tender. Then transfer the chicken to a cutting board and cut it into smaller pieces.
The spaghetti should be ready, so add the parmesan, adding a little more water if the pasta looks dry. Now add and mix the chicken, roasted vegetables and basil into the spaghetti, then serve with a little grated Parmesan cheese on top if desired.
Chicken with potatoes
Ingredients:
1/2 tablespoon olive oil
4 small chicken legs
500 g of potatoes
2 tablespoons olive oil
2 small onions
A handful of Brussels sprouts
2 sprigs of fresh rosemary
Salt and pepper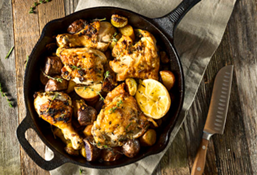 How to prepare it
Heat olive oil in a large skillet over high heat. Season the chicken with 1/4 teaspoon of salt and pepper. Add the chicken to the pan with the heated olive oil and cook until the chicken is golden brown and slightly crispy, for 4 to 6 minutes on each side. Transfer the chicken to a plate. Repeat with the remaining chicken pieces.
Wipe the pan of excess oil and put it on the stove again, over medium heat. In a bowl, add the potatoes with a little olive oil and season with 1/4 teaspoon of salt. Transfer the potatoes to the pan. Arrange the potatoes and cook until golden brown and crispy for 6 to 8 minutes.
Then add onions, peppers, Brussels sprouts, rosemary and mix together. Cook covered, shaking the pan from time to time for at least 5 minutes.
Return the chicken to the vegetable pan and cook under a lid, shaking the pan again from time to time for 5 minutes.
Now remove the lid and cook a little more until the liquid evaporates and the chicken and potatoes soften.
Serve with fresh rosemary stalks and / or half a lemon.
Chicken lasagna
Ingredients:
1 box of lasagna sheets
1 tablespoon olive oil
Chicken breasts without skin and without bones, cut into small pieces
2 teaspoons dried oregano
Freshly ground black pepper
1/4 cup balsamic vinegar
4 large cloves of finely chopped garlic
3 tablespoons butter
3 tablespoons of universal flour
Grated mozzarella
Grated parmesan
Ricotta cheese
1/2 cup milk
1 large egg
6 rum tomatoes, finely chopped
Fresh or dried basil leaves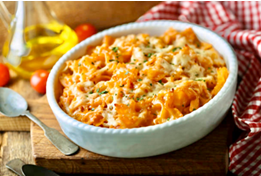 How to prepare it
Preheat the oven to 275 ° C.
In a large bowl with salted boiling water boil the lasagna leaves. When ready, drain the water. Meanwhile, in a large skillet over medium heat, heat the olive oil. Season the chicken with oregano, salt and pepper.
Add them to the warm oil to cook until golden brown for about 8 minutes. Then add balsamic vinegar, a little chopped garlic and stir until the vinegar thickens slightly. Now transfer the flavored chicken to a plate.
Make the sauce:
Put the pan on medium heat and melt the butter. Add the remaining garlic and cook for 1 minute. Add flour and cook until golden for another 1 minute. Gradually add milk, while stirring, then simmer until thick as a cream. Then add parmesan and mozzarella, stirring until melted. Season with salt and pepper.
In a small bowl, mix together the ricotta and egg and season with salt and pepper.
Now, in a large baking dish, spread a thin layer of sauce. Add one layer of lasagna leaves, cover with about one third of the ricotta mixture, one third of tomatoes, one third of basil, one third of chicken pieces, another layer of sauce and one third of mozzarella. Repeat the dish in a total of three layers, finishing with mozzarella on top.
Bake for about 25 minutes, until the cheese is completely melted and becomes slightly golden.
Of course, cooking at home is fun and inevitable, but if you want to try Italian chicken according to a true original recipe, visit the classy restaurant "Leonardo" in Bansko. We assure you, your pleasure will be complete – as if you were in restaurant directly on Botusha.