If you want to arrange an unforgettable romantic night for a loved one, you should go to Italian restaurant "Leonardo" in Bansko. Moreover, it is located right next to Lucky Bansko Aparthotel so you can enjoy a great weekend: cosiness, relax, five-star comfort, extraordinary views and experience in a uniquely beautiful mountain scenery.
This piece of paradise is located on 160 km from Sofia, with 120 km highway route.
Actually, this luxurious restaurant in Bansko is the perfect place for all kinds of gatherings – family celebration or, for example, class reunion, company party, etc. "Leonardo" has 65 seats and is open year-round.
Both food and setting in "Leonardo" are unique – everyone is praising the variety of tasty dishes and the nice atmosphere, as well as affordable prices. You will definitely be impressed by the service as well – discreet and at the same time taking care of you throughout your stay, so you don't worry about anything. Because the staff is trained using modern methods – including by psychologists for behavioural patterns in customers to easily guess their wishes.
This way, the guests won't have time for any problem – the staff is there to help, even when there's hesitation in the selection of dish, wine, etc. Customers themselves have said that it seems that the kind and cheerful staff is working happily.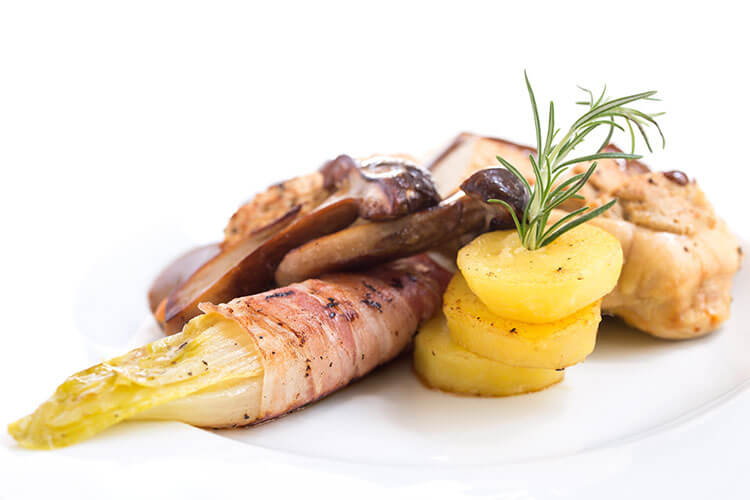 Everything in this prestigious restaurant in Bansko is designed and made to make the customers feel relaxed and nice and to create a cheerful mood. It is light, spacious, with modern furnishing and comfortable tables and chairs and a lot of greenery everywhere. There are also corners with special soft lighting, background music, pleasant scents… The interior even combines colours for mood setting – relaxing sea blue, warm brown, stimulating yellow, etc.
The food, as we already said, is unique. Because it's genuine authentic Italian food. Prepared using authentic recipes with genuine Italian ingredients and spices supplied by renowned verified Italian suppliers.
The preparation of the dishes itself is also very important. It is led by Head Chef Gani Pavlov. Recognized master, he has graduated from the international Tuscan Culinary Academy, specialized in national and Mediterranean cuisine and his 15-years career is only in elite restaurants. Chef Gani Pavlov keeps his reputation and does not compromise on even the smallest details, like missing a spice or not following proportions.
All this makes "Leonardo" one of the best restaurants in Bansko and a great choice for Italian cuisine lovers, and not just for them – it is also open for the people who love tasty food and want culinary adventures to discover something unknown. And there is plenty of selections in this restaurant in Bansko – both classic Italian and Mediterranean dishes.
There is also a really tasty BBQ – JOSPER, where only ecoproducts with certified origin are used. Part of the emotion in "Leonardo" is the opportunity to witness show cooking – guests may see live how their dish is made.
In brief: romantic evening, family celebration or company gathering – the place is known, Italian restaurant "Leonardo" in Bansko.
You choose when.