Bansko is one of the leading resorts in Bulgaria, which are internationally renowned and are visited all year round. This has greatly developed the culinary tradition of the city and the region as an attraction along with other entertainment and entertainment to attract tourists. In fact, culinary is one of the most important things that are the basis of tourism here, because even the biggest attractions would not have a lasting success without good food.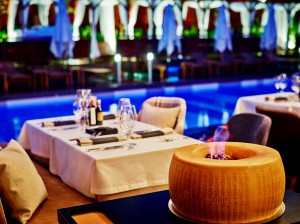 The good food, with a wide choice, in Bansko is guaranteed to all tourists. Unique Bansko dishes, however, attract interest not only among foreigners but also among Bulgarian tourists. The glory of Bansko cuisine has spread along the many international sports and other events in Bansko.
That is why many tourists come to taste local specialties, see their preparation, learn something from the tradition. In this way, learn more about the culture in the area, because culinary is an inseparable part of it – the kitchen shows the cultural identity. For a curious tourist, traditional dishes and the technique of cooking can "tell" about customs, rituals, beliefs, tastes in different historical periods. In practice, they, in an attractive way – through food and preparation, study culture and history. For this reason in Bansko are very popular culinary exhibitions of local dishes.
Food in Bansko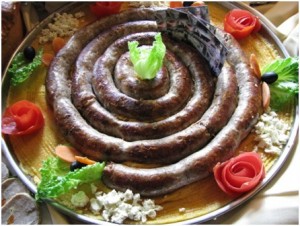 The food in Bansko is in line with the numerous tastes and requirements of tourists from different nationalities. Besides the guests from the country and abroad, who have come to rest, all the seasons of the resort attract participants and audiences in numerous national and international festivals, competitions, theater and opera festivals, sports competitions, etc. These are unimaginably many tastes, preferences, habits and at the same time attitudes to look for something different.
Bansko food meets all this. It is much varied, while tourists here can experience a whole culinary adventure. The choice of restaurants is rich and varied. There are a number of self-catering restaurants, taverns, wineries that accompany luxury hotels in the hotels.
There are also classic and specialized restaurants – for fish, game and more. Served freshly prepared dishes of proven ecological products – the area is ecologically clean. It is also thought of for people with some specific eating regimes – the Bansko food also includes a vegetarian menu.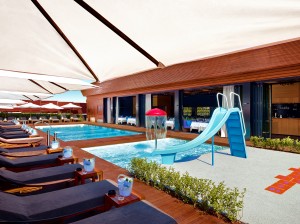 Due to its wide variety, Bansko has been designed to create a culinary map for tourists. Thus they will be easier to find among the numerous offers and will be able to choose from the food in Bansko.
Traditional local, regional and Bulgarian dishes offered in Bansko are specially prepared and extremely tasty, attracting both foreign and Bulgarian tourists equally. At the same time, establishments specialized in different national cuisines can be found here.
Leonardo Restaurant in Bansko – for example – offers delicious authentic Italian food prepared with original Italian products and Mediterranean cuisine. In addition, visitors can watch the preparation of meals alive – there is a section where show cooking is offered.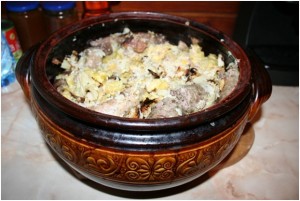 In Bansko there are periodical tastings, which are presented by leading, internationally known chefs. Filippo Saviozi, who is presenting unique dishes, including veal with tuna sauce, octopus salad with vegetables and potatoes, Italian goulash style, which is prepared with red wine and herbs, is served by such a tasting evening from Tuscany, and is served with Kachamak, and others.
Along with its authentic Italian restaurant, Aparthotel Lucky Bansko SPA & Relax is preparing to open a Swiss restaurant.
The variety of food offered in Bansko is enormous, along with the traditional dishes for Bansko and Bulgaria in general, here you can also find Greek, Arabic, Russian cuisine, of course – both European and international.
The tourists themselves often show culinary skills and give local food experiences and ideas to Bansko. Here they have recently prepared delicious candies with a Bulgarian rose essence, hand-made. The idea came from a guest of Lucky Bansko SPA & Relax, who was in an Israeli group. The woman was a chocolate maker and spontaneously organized a master class to show her impressive skills.
There are also numerous culinary excursions in Bansko, where tourists see little ways of preparing them – how to prepare a barbecue on stone and charcoal, and how delicious it is. Another attraction is the preparation of specialty game and domestic animals in the fire and in antique furnaces.
Local Bansko cuisine
The local Bansko cuisine attracts and fascinates with its authenticity and its unique taste. It is famous for its unique appetizers and stewed meals. The emblems are the Kapama, the lamb specialties, the Chomlek, the Katino meze, the Kustureta, Bansko's Old Man and others. They not only sound exotic, but their preparation is specific and they are truly exotic to the visitors. The local Bansko cuisine uses old-fashioned recipes and home-made, purely produced products, revealing the local lifestyle and traditions.
Cooking in the local Bansko cuisine is unusual for other regions in Bulgaria. For example, capamas are made with pork, veal, chicken and rabbit meat, and a puddle. Other products are used, naturally – sauerkraut, rice, etc. And when cooked, they are baked from 5 to 10 hours depending on the strength of the fire in a clay pot, sealed with dough. A unique taste is to be experienced, this experience is remembered by every tourist.
No less delicious and interesting as a dish is Bansko Chomlek. It is also prepared in a clay pot. Put a bacon, peeled small potatoes, onion, chopped, garlic, add spices, pork fat, tomato puree, red wine, vinegar, water. The lid is closed, it is also sealed with dough and, as a boil, it is allowed to suffocate for about 5 hours of moderate fire.
From the dry appetizers of the local Bansko cuisine, perhaps the most popular is the so-called Bansko-Old-Man, which is made from ground pork tenderloin and spices. With these appetizers, it is especially important to behave in a room with proper ventilation to get it right.
Popular banquets can taste seasoned homemade wine or brandy and the Sunday market. Here are also honey, sweets, dairy products and other local produce.
Familiar with home made specialties are the women from the town of Dobrinishte, 6 km away from Bansko. Tourists often go there specially to taste local culinary masterpieces.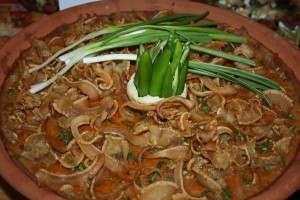 Very delicious is the beans-dried bean dish that has been boiled for at least 6 hours with bones of bone, ears, legs – this is from the emblems of the local Bansko cuisine. Fudula is made from water, flour, eggs, lard and cheese. Kachamak is generally known, but here they prepare it so that it has won the name "Dobrinishki Kachamak".
Rich culinary exhibitions of dishes and specialties from the local Bansko cuisine are held every year from 17th to 24th of May, when the summer season is opened. Then is the week of the Bansko tradition showing the countryside and culture. Such exhibitions for the local Bansko cuisine are also held at the various international sports cultural forums, which are saturated with the Bansko calendar.
There are also farm and bio-markets where visitors can buy guaranteed organic products. Balkan cuisine "conquers" Bansko in the first days of September – then Bansko Balkan Fest is held – a festival of Balkan music and culinary art.
Wine tourism
Bansko has developed and wine tourism. There are wines and beverages from all over the world. Many connoisseurs, however, come to wine tourism because of the unique experience of enjoying collections of elite and boutique Bulgarian wines with selected appetizers and folklore program. People come to wine tourism and because of local production. Vine-growing in the area has been a livelihood for centuries, locals have old traditions in wine production. Mature local wines can also be found on the cooperative market.
Besides the town, wine tourism is organized also to Melnik. Melnik wine is unique because it is made from a vine that can not grow elsewhere – in other climatic conditions and soils. That's why Bansko specially organize a visit and a tasting at the Kordopulov House. It has its cellar and a 150-meter tunnel carved in the rocks and can store up to 300 tons of wine. Tourists who have come to wine tourism can tour the labyrinths to see the largest barrel of 12.5 tons of wine.
Culinary traditions of Bansko from the Old World
Although the Bansko Bulgarian municipality was founded around 1850, the culinary traditions of Bansko have accumulated for centuries, they originated in antiquity. There have been different cultures and influences here, as well as culinary art.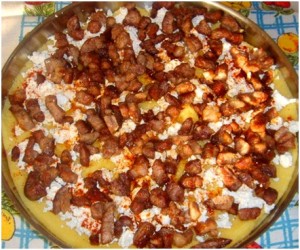 The archaeological excavations show that the Thracian, Roman, Byzantine and Slavic cultures have grown in the Bansko area in the distant past. There are also reports of human activity dating back to 5000 BC – even before the Thracians. Thus, customs, rituals, crafts and livelihoods have intertwined over time, which have also been reflected in the culinary tradition of Bansko's culinary traditions. Livelihood directly related to the culinary traditions of Bansko is livestock, as well as viticulture.
The effects over the centuries have not stopped. The people here lived in an area bordering the Greek and Turkish population, during the National Revival, the inhabitants of Bansko have kept busy trade with the whole of Europe, many of them have opened stores there. And in the near cohabitation of the ethnics, it is easy, naturally, to penetrate the dishes, ways of preparation, etc. In this way the culinary traditions of Bansko have begun to develop in ancient times and have been enriched with the centuries to reach today and to attract numerous tourists.