When you think of Italian cuisine, you will hardly think of soups first, as they remain in the shadow of their far more famous compatriots (or rather diners) such as pizza, pasta, lasagna, risotto… In fact, there is a soup, which rivals them in fame and that is Minestrone. Even if you haven't tried it, you've probably at least heard it. But she is far from the only representative of the Italian soup tradition. It turns out that the hosts from Botusha can prepare not only excellent pasta, but also very tasty soups. Therefore, all lovers of good food should be aware of which are the most popular Italian soups.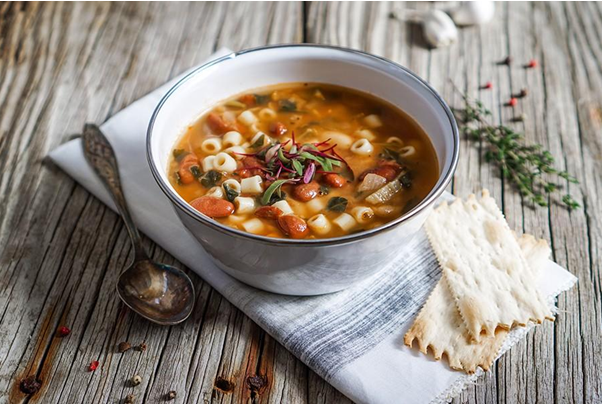 History of soups
Soups are a simple and nutritious food that caresses the palate and warms the body. They have long won their place on the tables of all nations.
Their history certainly begins before the Roman Empire, but hardly anyone is hired to determine the exact historical moment.
The dish in ancient times definitely did not look like today's soup. It was prepared by soaking crushed cereals baked on stones. It was only after the advent of pottery that boiled soups began to be made. The oldest culinary recipe that has survived so far is from the IV century.
It is said that in the Middle Ages it was customary for nobles to eat meat and other foods with large pieces of bread. At the end of the meal, the leftover bread and meat were given to the servants, who put them in pots of vegetables and water to make soup.
One thing is for sure: soup is definitely becoming a popular food everywhere in Europe and therefore the term is similar in many languages: zuppa in Italian, sopa in Spanish, soupe in French, suppe in German, soup in Russian.
The components of the soup have changed over the centuries under the influence of many events. But the 16th century was definitely very important in the development of food, especially soups. Once potatoes and tomatoes arrived in Europe from South America, they immediately became ingredients in recipes and are still among the most commonly used products for soups.
Types of Italian soups
Like all other traditional Italian foods, the soups are very tasty, varied and worthy of praise. Meat, fish, vegetable and milk soups are prepared.
There are soups that are a national treasure, such as Minestrone. The products for this thick soup are most often beans, potatoes, celery, carrots, tomatoes, garlic, zucchini, pumpkin, onions. Characteristic of it is that it usually includes some small pasta or rice. It can be seasoned with basil, pesto sauce, parmesan, wine and tomato paste. Minestrone is not only prepared in a vegetarian version. Italian soup can be cooked with meat or prosciutto, add chicken broth and pieces of chicken or add cheese. The end result is a thick and rich-tasting soup.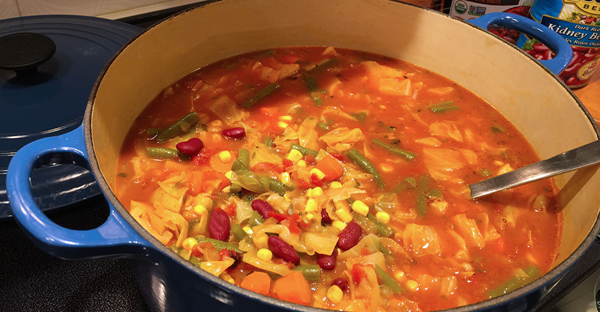 Varieties of Italian Minestrone are distinguished at different times of the year because it uses seasonal vegetables. That is why there are spring, summer, autumn and winter Minestrone.
The specific recipes depend to a large extent on the region. Typical of Liguria is Minestrone ala Giovanese, with both ripe red beans and green beans. Season with more aromatic herbs and pesto.
A famous variety is Minestrone in Tuscan with ripe beans, peas, potatoes, zucchini, carrots, onions, garlic, celery, tomato paste, basil and pasta or rice.
Summer Milanese Minestrone is another regional variety of traditional Italian soup. Potatoes, green beans, carrots, spinach, celery, onions, rice, tomato paste, chicken broth are used for its preparation. Serve sprinkled with grated Parmesan cheese, pieces of basil and olive oil.
Very popular in Italy is the so-called Wedding soup or Minestra Maritata. Its name is misleading because it is not served at weddings and weddings. In fact, the "newlyweds" are beef and spinach. Its name means that green vegetables and meat coexist well.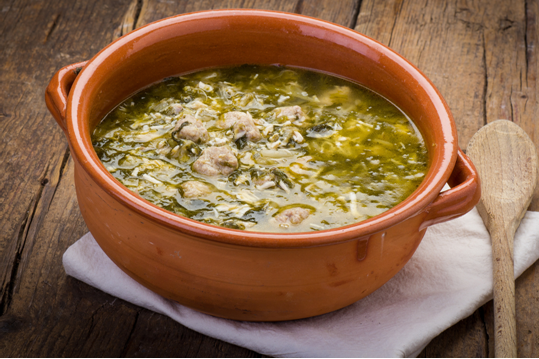 Italian Wedding Soup is made from meat, spinach, onions, endive leaves, orzo pasta, meat broth, carrots, basil, bread. Peppers or tomatoes can be added. Meat can be replaced with minced meat or even sausages. When serving, sprinkle the soup with Parmesan cheese. It is believed to have originated in the Rhodes region, but the Italians consider it their offspring. In the different regions of Botuşa they are naturally creative and you can find it as Tuscan wedding soup, which is something like spinach ball soup. There is also Neapolitan wedding soup, which is considered a festive dish for the Christmas or Easter table. In the past, even pork legs were placed in it. By the way, there is no exact recipe and the products depend on the currently available ones.
An interesting lean but very filling soup is part of the Venetian culinary tradition. This is Zuppa di ceci e castagne or in our language Chickpea and chestnut soup.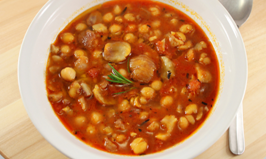 The Veneto region is also characterized by another nutritious lean soup, which combines beans and pasta, called Minestra di fagioli borlotti. It is prepared mainly in winter, when there are not many fresh vegetables.
Recipes for traditional Italian soups
Italian wedding soup
Products for the balls:
300-400 g of minced mixture
2 tablespoons breadcrumbs
1 egg
Spices: oregano, basil, salt and pepper
Soup products:
2-3 tbsp. olive oil
2 carrots
1 onion
2-3 cloves of garlic
1 stalk celery
2 tsp chopped spinach
fresh basil
vegetable, chicken or beef broth
1 tsp chopped tomatoes or juice
1/2 tsp pasta orzo
salt and pepper
oregano at will
Preparation:
Knead the minced meat with the egg, breadcrumbs and spices and form small balls.
In a large saucepan, heat 2-3 tablespoons of olive oil and place the finely chopped onions and carrots. You can also use chopped red pepper.
Pour a little water and simmer on low heat for 5 minutes. Add finely chopped garlic and stew for another 1-2 minutes. Add the chopped celery stalk and the chopped tomatoes, but you can do without them.
Add the broth or hot water and bring to a boil. If you use water, don't forget to add salt. Put the balls and orzo in boiling water and simmer for about 15 minutes. Then add the spinach and basil and cook the soup for a few more minutes. Finally, sprinkle with black pepper and, if desired, grated Parmesan cheese.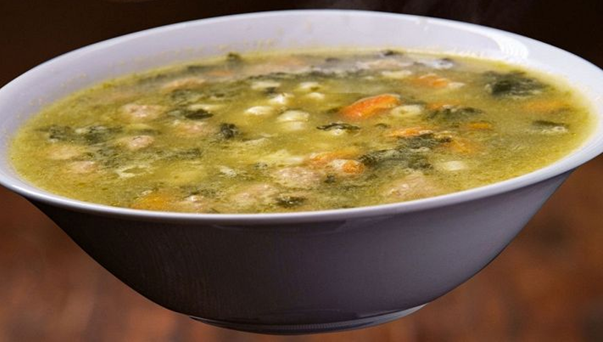 Minestrone
Products:
150 g green beans
400 g canned white beans
1 onion
2 cloves garlic
1 stalk of celery or celery
2 carrots
400 g chopped canned tomatoes
vegetable broth
100 g of fine pasta
basil, rosemary, oregano
sol
ground black pepper
olive oil
Preparation:
Finely chop the onion and garlic cloves. Cut the celery and carrots. Put a large saucepan with 2-3 tablespoons of olive oil or vegetable oil on the stove. Put the onion in the heated fat, after a minute add the chopped garlic and carrots, season with salt and cook for another minute. Add the tomatoes, celery and broth. When it boils, add the chopped fresh green beans and simmer until soft. Add the ripe canned beans and pasta and simmer for another ten minutes. Add the spices and remove from the heat. Serve the soup sprinkled with grated Parmesan cheese and fresh basil leaves.