Do you think ravioli is just an Italian dinner dish? You are obviously wrong! Ravioli are not only a salty pasta, but also a dessert. These chocolate temptations are served on a canapé of raspberry puree and or other sauce, such as pears. Garnish with fruit and chopped nuts. Sweet ravioli is a favorite dessert of the Italians and will surely impress you if you try them.

Origin and types of ravioli
Today, ravioli is one of the many types of Italian pasta that has gained popularity all over the world. However, their beginning is shrouded in various legends, and you choose which one to believe. There is a theory that the recipe came to Europe from China in the 13th century. And, of course, the main suspect in this culinary transfer is the great traveler Marco Polo.
The first officially known mention of ravioli is in the personal letters of the merchant of Prato Francesco di Marco Datini in the 14th century. In Venice, the Libro per cuoco manuscript, which dates from the mid-14th century, describes ravioli made from green herbs mixed with egg and fresh cheese, boiled in broth and seasoned with aromatic spices.
According to old Italian recipes, the dough for this dish is made only from durum wheat flour. Eggs are now added to the dough, and turmeric is sometimes added to emphasize their pleasant yellow color. The filling can be different – from spinach and cheese to meat and fish.
Depending on their heat treatment, ravioli can be cooked, fried or stewed in a sauce and are usually served as a main course. As it turns out, however, the classics are no longer what they used to be. Now ravioli can successfully appear on the table as a dessert. Sweet ravioli offer a large selection of varieties.
Among them are Chocolate ravioli with mascarpone and marsala cream in strawberry sauce, Chocolate ravioli with caramel filling, Chocolate ravioli with raspberries, Sweet ravioli with vanilla sauce. There is even Chocolate Ravioli Tiramisu, which is known to be a trademark of Italian desserts.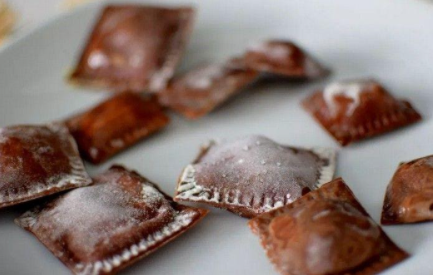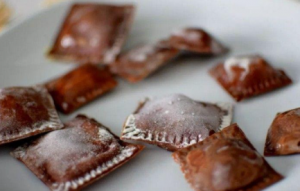 Just imagine how you can make a themed evening dedicated to ravioli: for starters ravioli with spinach, for main course ravioli with meat and for dessert – chocolate ravioli. It sounds intriguing, but I think only the most ardent fans of this cute Italian pasta would survive, so maybe it's better to eat different types separately.
How to make chocolate ravioli?
If you like Italian pasta and chocolate, it will not be difficult to become friends with this variety of ravioli. In fact, there is nothing extreme in this dessert and it is far from as surprising as, for example, the sweet and spicy bacon with chocolate glaze.
For the chocolate ravioli dough you need flour, eggs, unsweetened cocoa powder, a pinch of salt and a little powdered sugar. The practical part is that you can fill these ravioli with many things. A delicious filling is made from some kind of soft cheese, such as mascarpone or ricotta, dark or white chocolate can be added or simply seasoned with vanilla.
Ravioli do not have a mandatory shape and everyone can make them to their liking. They can take the shape of a square, circle, rectangle, ellipse, semicircle and even a heart for more romantic occasions. If you have a special device for cutting ravioli, it is good, but if you do not, you can always apply the tried and tested old method of making circles from the dough with a cup.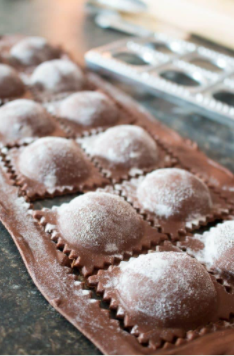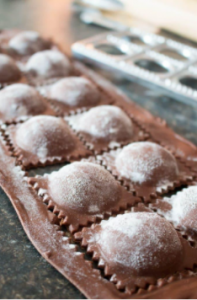 You can prepare these ravioli one or several days before you have to serve them and freeze them.
One of the most commonly prepared combinations is chocolate ravioli with raspberry sauce, garnished with fresh raspberries, fresh mint leaves and crushed nuts.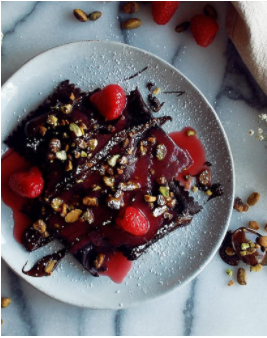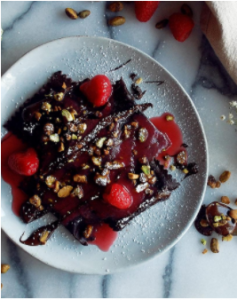 Now, however, we will present you a different kind of Italian sweet pasta – chocolate ravioli with cream cheese and fragrant pear sauce. The combination is amazingly harmonious and worth the effort to prepare.
Recipe for Chocolate ravioli with cream cheese and pear sauce
Products:
2 1/2 tsp flour
1/3 cup unsweetened cocoa powder
2 eggs
Between 1/3 and 1/2 cup water
cream cheese or mascarpone in sufficient quantity for the filling
3-4 tablespoons of sugar
1/2 teaspoon vanilla extract
for pear sauce:
200 ml. liquid unsweetened animal cream
200 ml. milk
100 ml sweetened condensed milk
80 ml. pear liqueur or pear schnapps
2 egg yolks
2-3 soft pears, cut into small cubes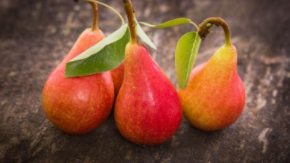 Preparation:
In a large bowl, place the flour, cocoa, 2-3 eggs, powdered sugar and a pinch of salt. Using your mixer, start beating slowly and then turn on a higher setting. Gradually add water to the mixture until a dough ball is formed. Switch to a dough mixer or knead by hand. Wrap the dough in plastic wrap and refrigerate for at least 1 hour.
While the dough rests, make the filling. Cream cheese should be at room temperature, two more egg yolks and chocolate of your choice are needed. If you want the filling to be light, use white chocolate, and if you like the brown filling, choose dark. Melt the chocolate in a water bath and leave to cool briefly. Cream cheese and egg yolks are mixed and chocolate, a spoonful of sugar and vanilla are added to them. Everything should be mixed very well and put in the refrigerator.
Divide the cooled dough into 4 pieces. Using a pasta machine or by hand, roll each piece into a thin layer. Keep the remaining pieces covered and in the refrigerator until you are ready to use them.
To assemble: Lightly sprinkle the work surface with flour and place a sheet of dough on it. Spoon the filling a short distance along the entire strip. Spread a beaten egg or egg around the filling. Place another sheet on top and press around the filling to seal.
Using a ravioli cutter or pastry wheel, cut out the tins. Place the ravioli on baking paper and continue with the rest of the dough. The finished paste is left to dry for half an hour, and if it is frozen, it is put directly in boiling water without thawing.
To boil the ravioli, heat water and 2 tablespoons of sugar over medium heat. Add ravioli, but do not cram the dish, but do it in batches. When the ravioli surface, leave them for 4-5 minutes. Remove the ravioli with a slotted spoon.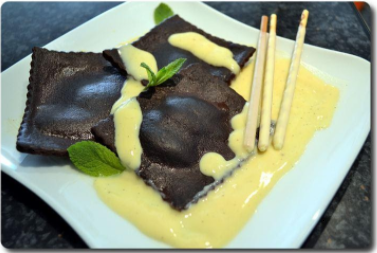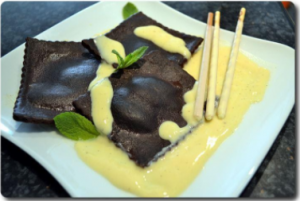 Meanwhile, prepare the pear sauce. Pour the cream, milk, condensed milk and liqueur in a small saucepan and place on the stove. Add the peeled and diced pears. Allow to heat over low heat, but without boiling. Beat the yolks aside and add a little of the hot mixture, stirring. Put the mixture back on the stove and stir until it starts to thicken slightly. Then remove from the heat and strain.
Immediately before serving, pour pear sauce into a plate and place boiled ravioli on it. They can be decorated with grated chocolate and pear slices or just a sprig of mint.