If you're in Rome and want to fully immerse yourself in its atmosphere, don't just visit the historical sites in the tourist guide.
To get acquainted with the peculiarities of life in this great city, stroll through the beautiful streets of the Italian capital and try the authentic cuisine, which plays an important role in local cultural traditions. It will not be difficult to convince yourself that Rome is the capital of Italian cuisine.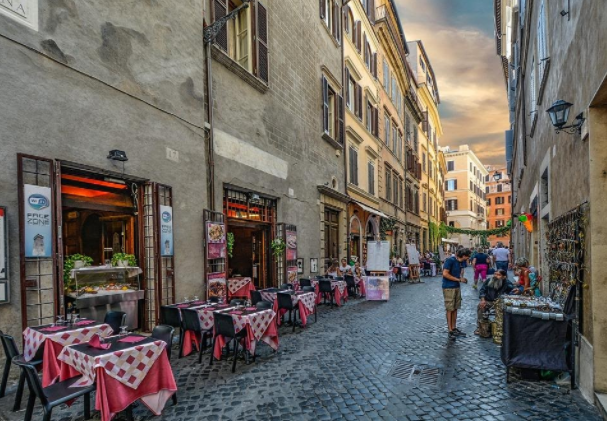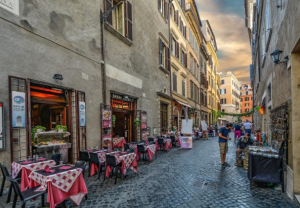 Rome – the city you can't miss
They call Rome the Eternal City, and it's no coincidence. The capital of Italy has already passed the "mature" age of 2,700 years , but over time it still remains beautiful, unique and a bit mysterious . Rome has an incredible concentration of historical sites that fit well into the frantic rhythm of modern life.
This is where the past, present and future intertwine. The Colosseum, Piazza Navona, the Pantheon, the Trevi Fountain and many other historical monuments coexist harmoniously and next to the lively streets, where there are modern restaurants and business centers.
You can enjoy architectural masterpieces, shop in some of the boutiques of the world's most famous fashion designers or relax in the shade in cozy a café over a fragrant espresso. And if you're not tired of visiting the many attractions during the day, immerse yourself in the romance of night Rome.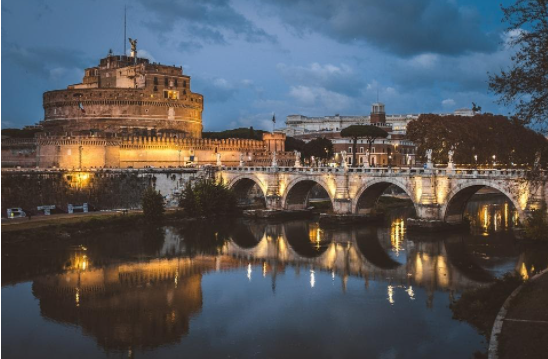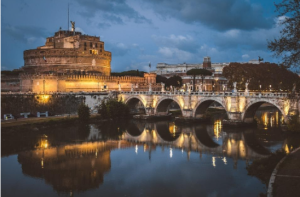 History of the Roman Culinary Tradition
Originally the food of the ancient Romans was very simple, the culinary art in Rome began to develop in the 3rd century BC. Roman cuisine has changed over the centuries and has gone through many periods of social, cultural and political upheaval.
Rome was an important gastronomic center in antiquity, for which there is much evidence.
The treatise has reached our time "Ten books on cooking"  of Mark Gavius ​​Apicius , who lived in the time of Octavian Augustus and Tiberius. The author is considered to be the first to try to collect the Roman cooking tradition.
Among his extravagant culinary experiments was the feeding of trout with dried figs, to enlarge their liver.
It has recipes stuffed with nightingale or flamingo tongues as well as pork udders. Apicius used a wide variety of spices, including saffron, cloves, cinnamon, bay leaf, black pepper, basil, mustard seeds, anise , savory, coriander, cumin, cumin, mint, poppy.
The cuisine of Ancient Rome was strongly influenced by the ancient Greek , and with the growth of the Roman Empire in it manifested different traditions of the newly acquired territories. Initially, the differences between social classes and their food were not significant, but they increased with the growth of the empire.
There is much evidence in history of the lavish feasts of the Roman emperors and their entourage. Emperor Vitellius (69), for example, is said to have given three and sometimes four meals a day. The most famous was a feast at his brother's house, at which they were served 2,000 selected fish and 7,000 birds.
During the Renaissance, Rome became well known as a high-end culinary center, as many of the best chefs of the time worked. for the popes.
One of the most famous among them is Bartolomeo Scapi , chef at the Vatican of several popes and author of the cookbook Opera dell'arte del cucinare, published in 1570 г. In it he presents about 1000 recipes from the Renaissance cuisine.
Roman cuisine
In Rome, you can enjoy excellent Italian cuisine . Traditional dishes in Rome are usually easy to prepare, but are based on many high quality and fresh products.
These are mostly local vegetables (aromatic tomatoes, artichokes, peas and beans), meat (lamb and goat) and cheese (ricotta and pecorino romano). Broccoli and chicory are also popular vegetables.
Pasta is one of the main dishes that can be found in almost every restaurant (unless it is for Asian cuisine). Rome even has a National Pasta Museum .
You can choose Spaghetti Carbonara or Fetucini Alfredo , but you can you also risk something more spicy by ordering Cacho e pepe, which means "cheese and pepper". This is a pasta with sheep cheese and very large black pepper.
Pizza in Rome, unlike the Neapolitan version, is very, very thin and crunchy . In Rome you can find a more unusual version of pizza – Pizza Bianca (White Pizza). It's basically an empty pizza sprinkled with olive oil and salt.
It can be found in every bakery and pizzeria in Rome. The swamp can be quite fluffy, more like a focaccia. Your pizza can be spectacularly garnished in the colors of the Italian flag – green, white and red.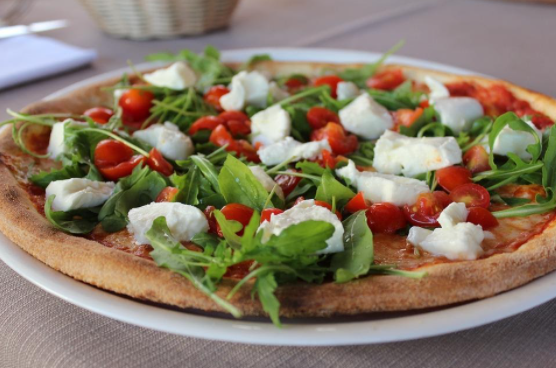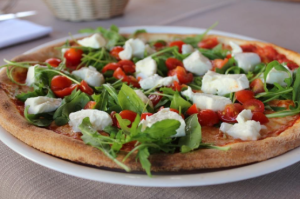 Caprese salad is a classic of Italian cuisine, including Roman. It consists of soft mozzarella cheese and sliced ​​tomatoes. They are flavored, sprinkled with olive oil and balsamic vinegar and garnished with fresh basil leaves.
Artichoke is the king of vegetables in Italy . Carcofi alla romana is one of the most popular orders in Roman restaurants. In this dish artichoke heads are boiled in water with added olive oil and white wine and stuffed with garlic and spices.
Bruschettas are also an integral part of Roman cuisine. They are very easy to prepare, as the toasted bread is usually lightly rubbed with garlic and covered with sliced ​​tomatoes. with onions and herbs, and sometimes olives are added.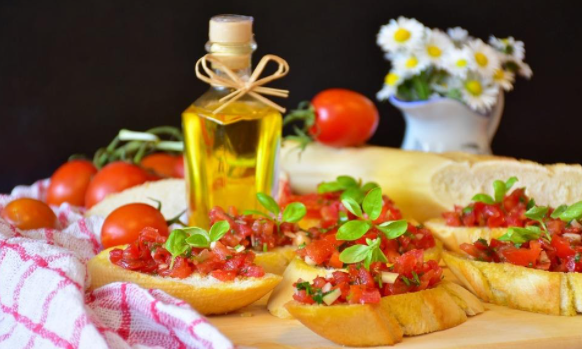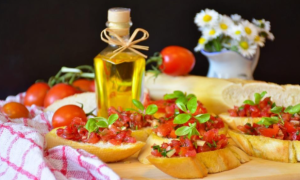 If you want to eat something lighter and without meat, you can choose Nnocchi alla romana. These are dumplings made from potato dough, baked with bechamel sauce and cheese. Traditionally, in Rome, Thursday is gnocchi day . This delicacy is always on the menu of most restaurants once a week.
Most of the main dishes in Rome, called Secondi, are meat.
Saltimbocca alla Romana is a typical Roman dish
with prosciutto and sage. Saltimboca literally means jump in the mouth. Served with white wine sauce.
Scaloppine alla romana is fried beef with fresh artichoke shoots Coda alla vacuinara is a stewed veal tail with tomato sauce, celery, cloves and dark chocolate. It is a traditional dish of Roman butchers, prepared from leftovers, which they receive for free. The tails are stewed in tomato sauce for 4 hours. Cocoa and pine nuts are added to the sauce for depth.
Another dish known since ancient Rome is Trippa . This is a tripe made with tomato sauce and wild mint, flavored with pecorino cheese.
Lamb is one of the most popular types of meat, in which the Italians are great. Fresh meat is prepared with aromatic herbs for incomparable aroma. Coratella d'abbacchio con i carciofi is a typical example of such a dish and is a combination of lamb cubes with artichokes.
The culinary pleasure will not be complete if you do not try the perfect desserts in Rome. You can choose Crostata di ricotta. Ricotta crostata is actually a cheesecake with ricotta cheese, seasoned with lemon or orange and Marsala wine.
You can always bet on the safe and eat the traditional dessert of mascarpone cookies – Tiramisu or Profiteroli – small round eclairs filled with cream and chocolate sauce.
If you want to cool off with something sweet, you will find Gelato everywhere in Rome. This is the Italian ice cream for which the locals claim to be the tastiest in the world.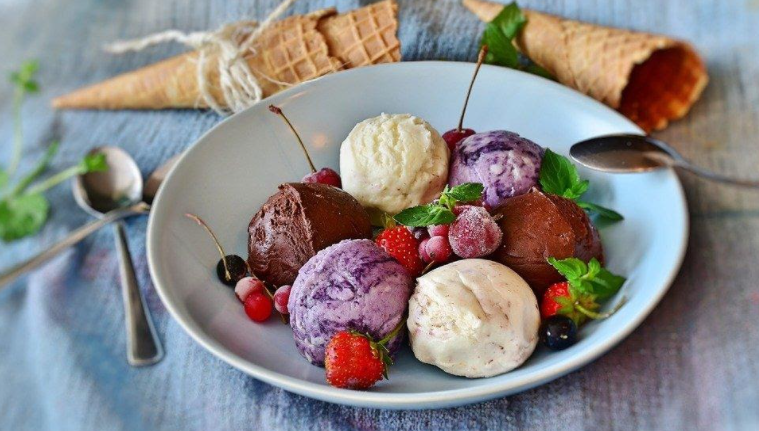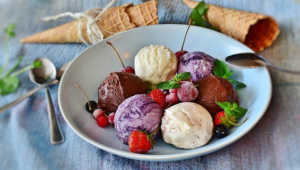 Be assured that whatever your choice is from the Roman menu , it will be very tasty, but to make your lunch or dinner truly unforgettable, you must combine it with one of the classy Italian wines. Their assortment is huge and their quality is guaranteed.
Photos: pixabay.com