Exquisite European cuisine and elegant Mediterranean interior. These are the distinctive features of a popular Italian restaurant in Bansko , whose motto can rightly be "Restaurant Leonardo – style and class in plate ". Its menu can satisfy even the most demanding taste, and the service is according to the highest world standards.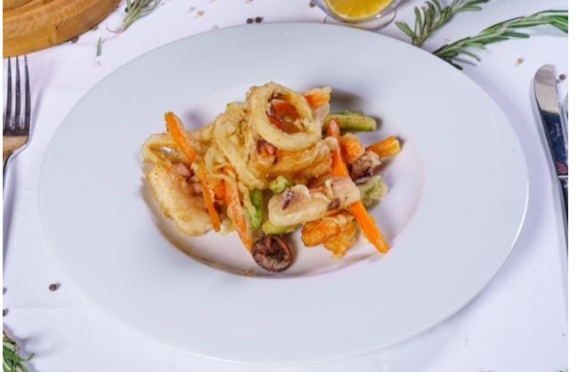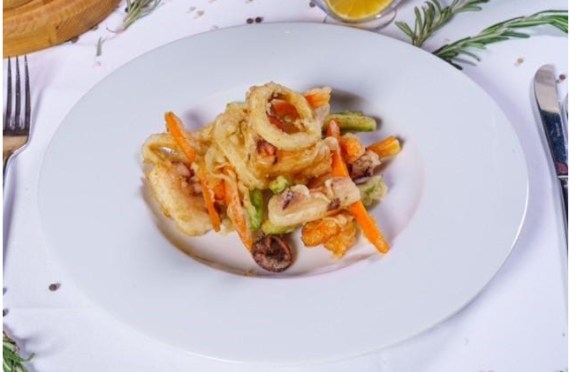 Leonardo Restaurant is a tradition
In Bansko you can find a romantic piece from Italy, which you will captivates with its unique atmosphere and menu in the spirit of the best culinary traditions of Botusha.
Leonardo Restaurant is one of the hit restaurants in the resort town at the foot of Pirin . It is part of the open aqua complex of the five-star Aparthotel Lucky Bansko SPA & amp; Relax.
In winter, the glare from the fireplace creates coziness, and in summer the entire wall of the restaurant opens to the outdoor pools and you can enjoy the crystal clear mountain air.
The interior of the restaurant is decorated in warm colors, and the furniture is a combination of wood, wrought iron and other natural materials.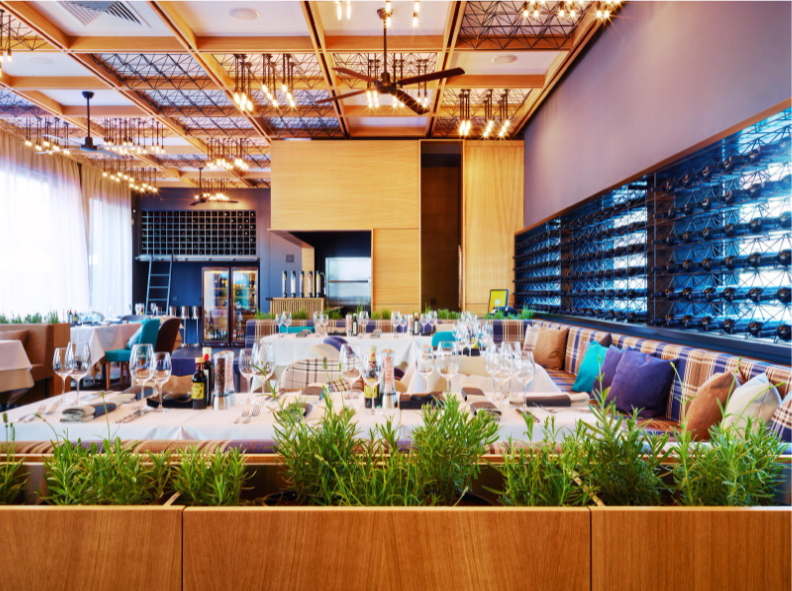 The perfect service in a pleasant atmosphere will make you feel like a welcome guest. One of the attractions for the guests is cookie show. It is a tradition in the Italian restaurant in Bansko to welcome everyone with freshly baked focaccia for welcome, the food in Leonardo presents the best of traditional Mediterranean cuisine.
Style and class on the plate
The team of professionals at Leonardo Restaurant has prepared a really very attractive menu for its guests . It competes with classic recipes from Italian cuisine with modern culinary temptations that delight the senses.
The dishes are not only incredibly delicious, but the good presentation and decoration are proof of high class. They add sophistication to any dish coming out of Leonardo's kitchen and turn it into a culinary masterpiece.
All dishes are prepared at the time of the order, and the products used are with guaranteed quality . The menu allows for a wide selection of salads, soups, pizzas, pastas, risottos, meat and fish dishes and desserts. Many guests come to the Italian restaurant especially for the exceptional fresh pasta prepared on site.
Connoisseurs express admiration for masterfully prepared Linguini with shrimp with dried tomatoes and arugula, from Fettuccine Bolognese with beef stew with onions, carrots, celery, tomatoes, rosemary and fresh sage and from Penne rusticana with chicken fillet, broccoli, light garlic, cream, parmesan and gorgonzola.
Very attractive and fragrant dish is Spaghetti ala guitar with truffle, prepared of square spaghetti and pasta of white truffle and fresh black truffle.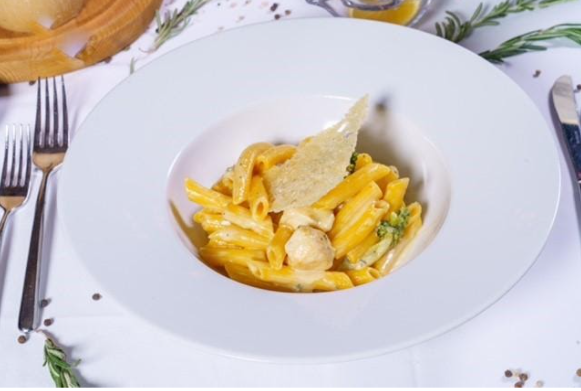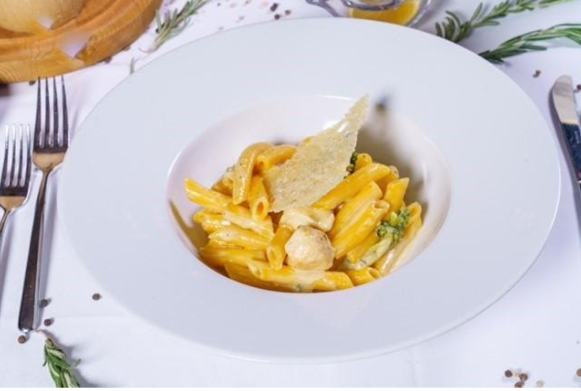 The fans also have delicious pizzas made from original Italian products. What they all have in common is the thin bread, which gives them the name "crispy" pizzas. Fresh tomato sauce, mozzarella and fresh basil and oregano are used to prepare them.
Among the most sought after by Italian classic lovers are
Margarita with tomato sauce and mozzarella

Capricciosa with prosciutto, pickles, olives, mushrooms and artichokes

Four cheeses with Gorgonzola

Asia

Mozzarella

Parmesan and cream

Pepperoni with spicy Ventricina sausage, hot peppers and mozzarella.
Pay special attention to Truffle Pizza with white truffle cream, cream, mozzarella, arugula and seasonal black truffle. Leonardo is also ready to welcome guests with special food requirements , because the menu also includes vegan pizza, wholemeal and gluten-free pizzas. .
The risotto in the Leonardo restaurant will not leave anyone disappointed and successfully competes with the offers in the most prestigious Italian restaurants.
You can choose between Risotto with salmon and ricotta, Risotto with mushrooms, white truffle cream and grated black truffle and Seafood and saffron risotto. What they have in common is that they are made with organic Arborio rice from the Lombardy region.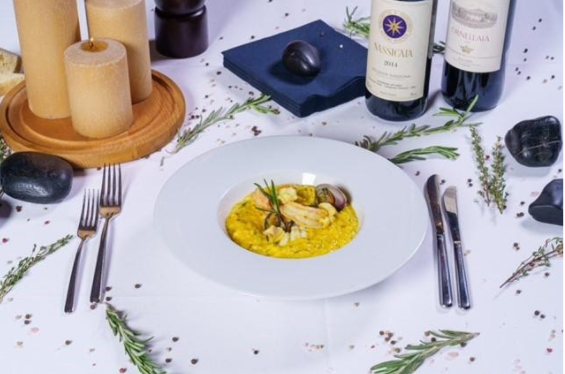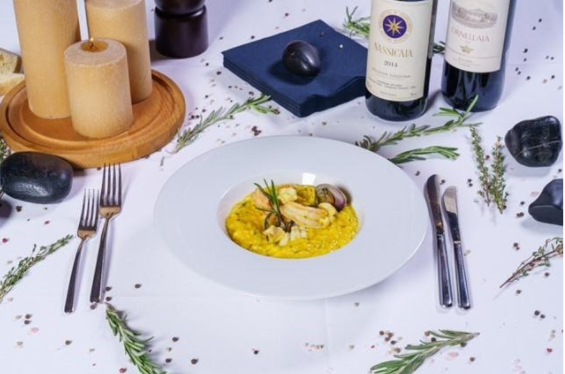 There is also variety in soups, appetizers and salads. We offer the most classic Italian soup Minestrone , prepared with vegetables, spiral fresh pasta, parmesan and pesto sauce.
If you are a fan of fish appetizers, you can order a rich portion of four times a ton.
Behind this intriguing name lies a combination of 4 delicacies:
Capers tartar, lemon dressing and orange sauce

Arugula salad, lolo roso and green salads with tomato confit, quail eggs and a piece of tuna with poppy seed peel 

Goulash with tuna, two types of sesame and Teriyaki sauce

Terin with aromatic bread
Along with the most famous Italian Caprese salad, the menu includes and the interesting Panzanella salad of tomatoes, cucumbers, peppers, red onions, green olives, garlic croutons and basil. An excellent choice is fresh Burata salad of cherry tomatoes, olives, capers, arugula leaves and parsley pesto.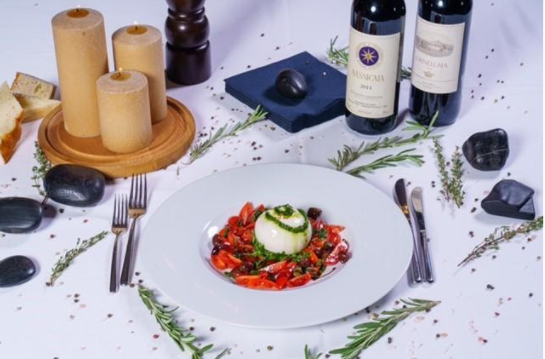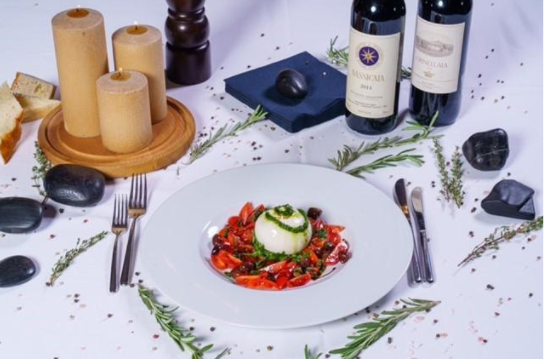 Among the most preferred specialties in the restaurant are steaks made from tender veal of the Black Angus breed . They can taste smoky if made with Josper , or have a natural taste enhanced by fresh spices if they are prepared by Suvid technology.
The fish section of the menu also contains interesting suggestions, including wild sea bass fillet, tuna steak, organic pink salmon fillet with herbal rind.
The worthy finale of this feast for all the senses , of course, must is one of the remarkable Italian desserts. Along with the classics Tiramisu and Panacota, we recommend that you pay special attention to "Chocolate Surprise".
It is a sphere of white chocolate, around which there are fresh fruits – strawberries and blueberries. Serve on a large plate and pour hot chocolate in front of the guests.
Serving the dessert itself is a real attraction. The white sphere begins to melt and reveals the delicious core of chocolate brownie with hazelnuts and fragrant vanilla ice cream.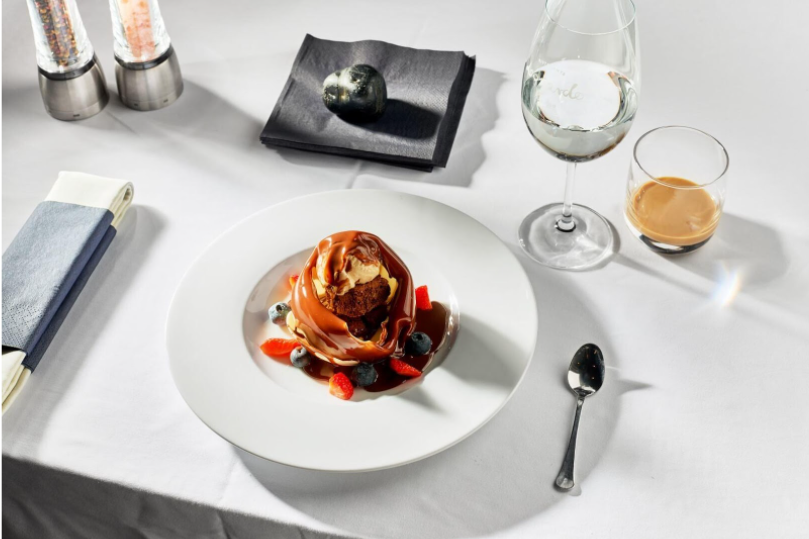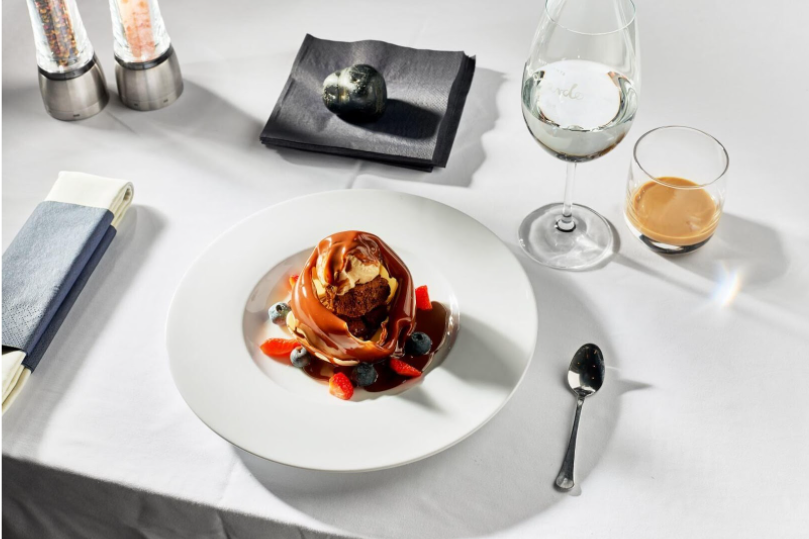 Touch our divine dishes, combining them with perfect family vacation in Bansko
The names of many of the dishes in Leonardo's stellar menu sound melodic, like Italian canzonettes. How about Tagliatelle Talia do Vitello or Tagliolini Fruti di Mare.
The first dish is pasta with Black Angus beef fillet , wild forest mushrooms and cream sauce, and the second is pasta with garlic, pepperoni, shrimp, mussels, squid, octopus and tomato sauce.
Behind the name Vitello tonato hides a tender beef served with tuna mousse, capers and quail egg, and fritto misto are a combination of octopus, squid, shrimp, zucchini and carrots, breaded in tempura.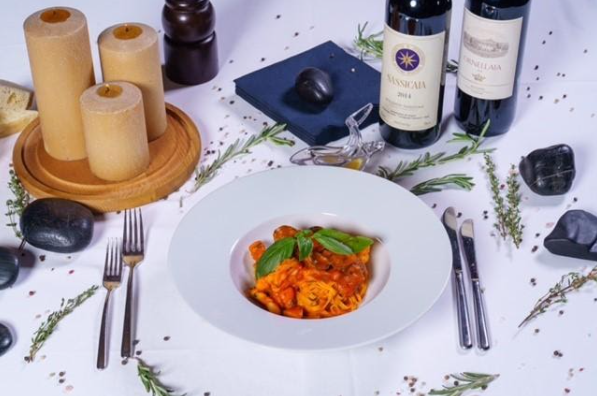 Joy for vegetarians is Parmigiana , which is roasted eggplant with tomato sauce, mozzarella, parmesan and homemade basil pesto.
The divine dishes in the Italian restaurant can be combined with a wonderful vacation in the modern aparthotel Lucky Bansko . It practically combines the five-star atmosphere in the studios and apartments with the convenience of having a kitchenette with ceramic hobs, microwave, toaster, coffee maker and utensils.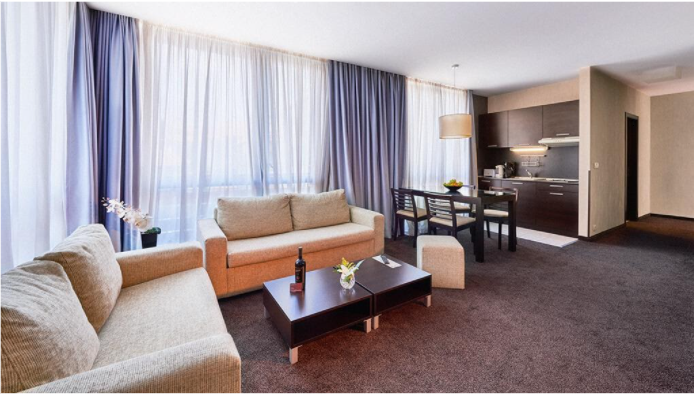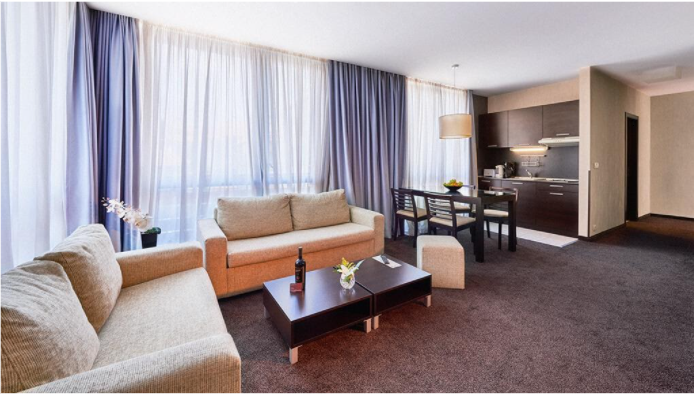 The hotel is very suitable for a family vacation, as accommodation for the most small is free. They can have fun in the kids 'club, computer areas, children's pools and playground.
Lucky Bansko has wonderful conditions for water activities and healthy procedures. The innovative spa awaits a large pool with a pleasant temperature of 33 degrees and a small salt pool with Dead Sea salts.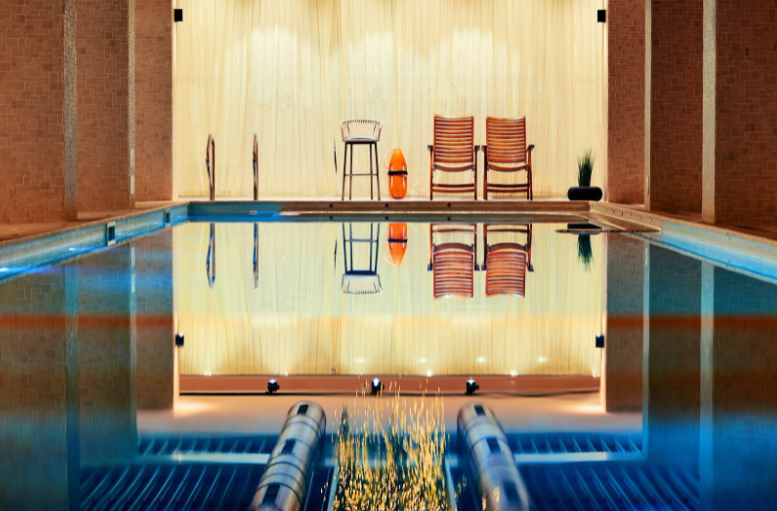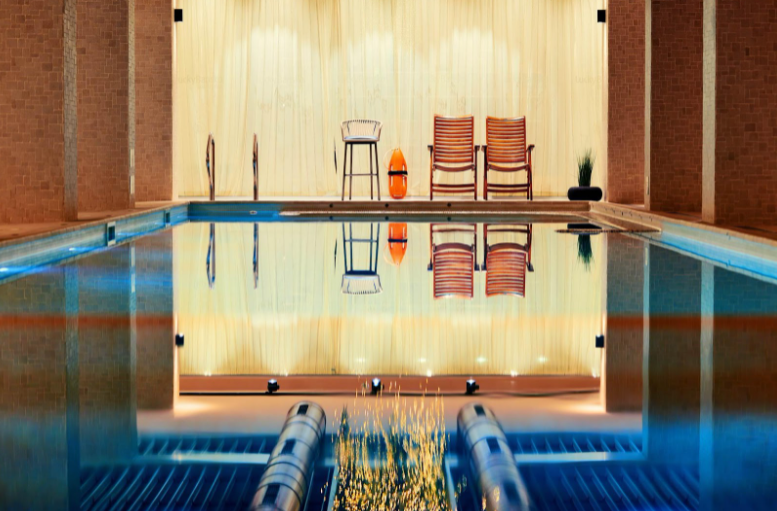 In the SPA center you can pamper yourself with hydrotherapy , and the possibilities include Jacuzzi, contrast, adventure and hydromassage shower, modern therapeutic bath for pearl, whirlpool and tangential massage. For lovers of hot treatments are two Finnish saunas, an infrared sauna and two steam baths.
Photos: leonardobansko.bg