The beautiful valley  Valle d'Aosta  is the most mountainous and smallest region of Italy, located in the Alpine region of northwestern Italy, nestled between France and Switzerland and completely surrounded by the peaks of the  Alps: Monte Bianco, Matterhorn, Monte Rosa and Grand Paradise. The latter is in the center of a magnificent national park.
Numerous glaciers feed a dense network of streams and the distinct Alpine nature of this region can be seen in the pine forests at quite high altitudes, where they give way to  vast pastures. Many small alpine lakes are nestled between majestic mountain landscapes.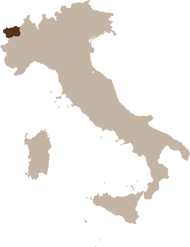 Aosta is the capital of the region, with a special statute that recognizes Italian and French as official languages. Important traces of the Roman era can be found on the  city walls of Aosta, theaters, the Arch of Augustus and the Praetorian Gate. Visitors can admire the Romanesque cathedral, dating from the eleventh century. The Church of Sant Orso  is a good example of medieval architecture.
There are many fortified castles in the Aosta Valley; most are in perfect condition and open to visitors; many have been turned into historical museums. The most famous are the castles of  Fenis, Aymavil, Issogne and Verres.
Apart from the breathtaking natural landmarks, snowy mountain peaks, incredible wildlife and crystal clear lakes, its local food cannot be mentioned.  Valle d'Aosta combines cultures, languages ​​and culinary influences  derived from the neighboring countries of France and Switzerland, which have also left their influence on the medieval cathedrals and quaint castles in the region. To this day, the valley hosts migrants from different countries.
Even small, this region is one of Italy's most famous centers. Here is the first national park in Italy with some of the most impressive peaks in the world:  Cervino, Monte Rosa, Gran Paradiso and Mont Blanc  – the highest mountain in Europe. The oldest Gran Paradiso National Park is tucked away between mountains and valleys – an ideal place for breeding animals in their natural habitat – wild goats, eagles and marmots.
The Aosta Valley connects Italy and France. The grand modern tunnels of the Grand San Bernardo, passing to France, are a classic example of the existing connection between Italy and the rest of Europe.
Traditional food in the Aosta Valley
According to tradition, the people of Valle d'Aosta were experienced hunters and farmers, which is also due to the excellent qualities and variety of their food. They  prepared various types of bread and pasta with rye or chestnut flour , which was the main ingredient in cold soups.
Two indispensable regional specialties you should try are Carbonada: Stewed, Salted Beef with Wine, Onions, Spices and Moche – a dried beef dish flavored with mountain herbs.
Meat plays an important role in the Valle d'Aosta cuisine, mainly because of local hunting traditions. Most foods have a  French influence  There is also a fantastic variety of quality cheeses in the Aosta Valley.
Some of the most famous are:  DOP Fromadzo, Reblec and Séras . Many would agree that the best is Fontina DOP, a cheese made from cow's milk, which is used for many traditional recipes like Fondue.
Fondue is usually served before or after the traditional soup, prepared with savoy cabbage, Fontina cheese and matured rye bread.
Polenta is also a rather popular Italian dish here and is often served with melted cheese. * Chnéf-fléne  is another  traditional alpine dish  with the main ingredient – cheese, melted on dumplings made from flour and milk.
Another delicacy in the region is the salami. Mocheta is a unique regional sausage made from beef or wild goat. The famous Arnad Lard is made from boiled potatoes, spices and ham. This spicy dried pork labeled "Valé d'Aoste Jambon de Bosses" has been awarded the PDO status (European Union designation of origin).
Typical Valle d'Aosta dishes:
Capriolo alla valdostana: Deer stewed in red wine with vegetables, herbs, grappa and cream
Carbonada  is a rich stew with salty, dried beef, onion and red wine
Minestra di castagne e riso:  thick rice soup made with chestnut milk.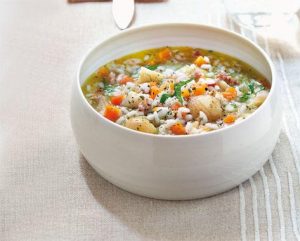 Minestra di castagne e riso
This dish is of medieval origin, consumed for dinner served in clay bowls. A recipe option also includes the addition of sugar or honey to make the dish suitable for children.
Ingredients  (for 4 servings):
200 g rice
1 liter of milk
1 cinnamon stick
300 g dried chestnuts
1 bay leaf
tea leaves
1 stalk of rosemary
nutmeg
30 g butter
salt and pepper
■ Preparation
Put the dried chestnuts in warm water for 1 hour, then boil them with a pinch of salt and spices in 2 liters of water for about 1 hour at a moderate temperature. Remove the spices and add the pre-cooked milk. Cook for another 15 minutes and add the rice, oil and salt if needed. The soup should be light pink, thick and creamy. Serve it hot with freshly ground black pepper.
Instead of dried chestnuts, you can use fresh but peeled and pre-cooked ones.
Polenta alla racard: corn porridge cooked, chilled and sliced ​​ then baked with Fontina slices and beef stew and sausage.
Risotto alla valdostana: cooked with cheese  Fontina, Parmigiano Reggio and butter.
Seupa de gri: barley soup with potatoes, onions, seasonal vegetables, salted pork.
Fresh fruits and nuts are grown here, which are the perfect finish to your diet.  The famous Martin pears, walnuts, chestnuts, Rene apples, as well as aromatic honey, are all locally produced. The microclimate of the high mountains and the atmosphere are ideal places for wine production.
Bino
Aosta Valley (Aosta Valley) is the smallest area in all of Italy where wine is produced and as a northern Alpine region it has a strong  French influence in everything  – culture, language.
The region produces up to 20 different types of wine, including: Arnad Montzhovet, Enfer d'Arvier, Blanc de Morgue and more. Salle and Donna.  The area is also known for  Genépy des Alpes,  a wonderful herbal liqueur that is traditionally drunk with a wooden cup.
Valle d'Aosta has serious wine-making traditions that date back to Roman times. Unfortunately, phylloxera (like aphids) damaged most vineyards in local farms in the 1860s, wiping out much of the region's wine heritage.
However, the wines produced today are still elegant, perfectly reflecting the beauty of the stunning landscapes and colors of the valley. The taste of wine captivates your palate with every sip. International varieties are gradually filling the void created by  phylloxera.  New wines are produced mainly from  Fumin, Priè Rouge, Priè Blanc  and many more.
Although the smallest area for wine production in Italy, the Valle d'Aosta remains an important wine region.
Although seafood is not usually part of the Valle d'Aosta cuisine, trout from mountain streams are considered a specialty. A typical fish recipe for the Aosta Valley is stuffed trout fillet covered with ham and then a box of white wine.
The fruits of the Alps are very sweet and many desserts are prepared with locally grown apples and pears. These fruits are often cooked with red wine.  Fragrant local honey  is used for baking a tegole – a tile-like cookie.  Torcetti  are ring shaped biscuit bags that are flavored with honey before being dusted with powdered sugar.
Although this region is the smallest in Italy, the rich soups and other dishes will completely satisfy the most demanding taste.