Umbrian cuisine has Etruscan roots and is characterized by simplicity, freshness and excellent taste, relying largely on seasonal, local products such as cereals, vegetables, mushrooms, wild asparagus, fresh herbs and more. And, of course, the traditional liquid gold – olive oil . These healthy products can be found in the rich soil of the region, in lakes, lush forests or grown on local farms.
Umbrian cuisine is rural, often called 'culinary belief' or 'rural cooking' , which means that it is built entirely on traditional Italian dishes , created with a minimal amount of products and easy cooking methods. The traditional way of cooking in Umbria has been passed down from generation to generation . Even today, the same simplicity that has arisen in Etruscan times is maintained .
Umbria also relies on its highly prized truffles , which grow throughout the region. They play an important role in many Umbrian dishes, including appetizers such as 'crostini al tartufo' or 'crostini alla norcina' prepared with anchovies, truffles and chicken livers. Dishes with pasta and risotto are also served with grated black or white truffle .
Simple, delicious frit is a popular entree made with cheese, sauteed greens, fresh spices and vegetables. In spring, it is often served with fava beans, olive oil and pecorino cheese , while in the fall, when the olive oil is harvested, entrees may include Pinzimonio , fresh vegetables dipped in flavored olive oil or Fettunta – slices of baked bread. grilled with fresh olive oil and sprinkled with sea salt crystals.
Probably the most typical Umbrian paste is strangozzi 'strangozzi' , often served with black truffles or spicy tomato sauce, coming specifically from the settlement Spoleto . Other pasta dishes include "umbricelli" sauce "Trasimeno" , fish sauce, shallots ( resembling onions ), garlic and cayenne pepper. Other pasta dishes contain 'papardel ale lepre' , a wild rabbit or duck stew seasoned with bacon and cloves or thick tomato sauces.
And let's not forget the delicious Umbrian seasonal soups with vegetables, dried fava beans, lentils and chickpeas, faro , spruce or chestnuts. These rich, rich soups are served with a drop of delicious Umbrian olive oil and can be eaten both for dinner and for lunch.
Umbria is a region also known for its abundance of meat dishes , especially lamb, pork and game grilled, skewered or cooked , with plenty of dried or fresh spices. But perhaps he is best known for his roast pig , which is cooked on a skewer in a wood-burning oven, which is filled with liver, heart and lungs, red pepper, garlic, salt and wild dill.
As the only region in Italy without a coastline , Umbria is not very famous sea dishes, although local lakes, especially Lake Trasimeno ( Lago di Trasimeno ), delivering a variety of fresh lake fish such as carp, trout, chub, pike and perch.
The main fish specialties of Lake Trasimeno are Regina in Porchetta , a carp roasted in a wood oven in the same way as "la Porchetta" and "Tegamaccio" , which is something between fish soup and rich stew of all the fish that can be found in the lake, with the highest quality olive oil, aromatic white wine and fragrant spices and for the most exquisite taste.
Umbrian cheese is made from both cow and sheep's milk, and includes fresh ricotta, cachio, ravioli, pecorino and various other truffle flavored cheeses. Pecorino cheese (Pecorino ) by Norris, which tasva from 60 days to one year , is one of the most popular cheeses of Umbria and can be used in various dishes or just enjoy it with a glass of good wine "Sagrantino" .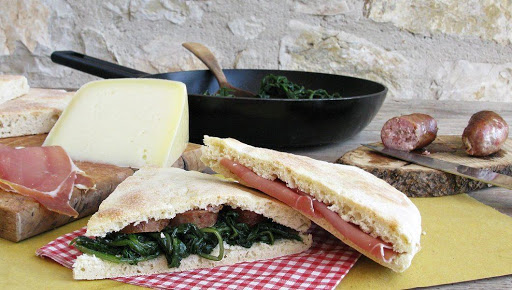 Each region in Italy has its own variety of breads , but they also vary significantly across regions. For example, Umbrian bread types are very saltless. This tradition dates back to the 16th century when the Pope imposed a tax on salt.
One bread that is particularly preferred throughout the Umbria region is Torta al testo . It is a flat, thin loaf made with a griddle that resembles a pyadin and is often filled with dried meats, sausages or sauteed vegetables. Another bread that is traditionally served on Easter is cheese bread , often called Torcoletti , made with pecorino cheese and baked in a ring.
Usually for special annual celebrations or long religious ceremonies, traditional Umbrian desserts are almost always baked in an oven and include ingredients such as almonds (or other nuts), honey, candied fruits. The two largest cities of Umbria – Perugia and Foligno, are famous centers of sweets and their worshipers. Two of the most famous pastries and pastries include the Corso Vanucci Sandro in Perugia and the Muszi in Foligno .
Among the many delicious desserts to noteworthy are:
Torciglione

–

a snake-shaped pastry

made of ground almonds, flour and sugar

Baci di San Fransesco

(

St. Francis Kisses

)

Biscottini delle Monache (cookies of the little nun)

"Ciaramicola" (sweet cake) is pink and contains the meringue branded Alchermes liqueur. This cake is traditionally associated with Easter and love and is usually

baked by a young woman for a loved one

.
Umbria has a long history in the chocolate industry . Chocolate Factory in Perugino , founded in 1907 by a family Buytoni, rose to international fame and popularity with his famous Baci chocolate "Baci ", made of ground hazelnuts and dark chocolate. It was originally called "cazzotti" , but the name Baci was given to it by the decadent, Italian poet Gabriele D'Annunzio.
The machines originally used in the production of chocolate in Perugia still exist and are on display in a museum dedicated to the history of the factory, which opened in 1997 under the name of the Museo Storico Perugina.
In 1988, Perugina was incorporated into the holding of the Swiss multinational company Nestlé . Today the factory can be opened in San Sisto, not far from the city center. Every year, the city of Perugia hosts Eurochocolate , an  international chocolate fair that attracts a huge number of people from all over the world.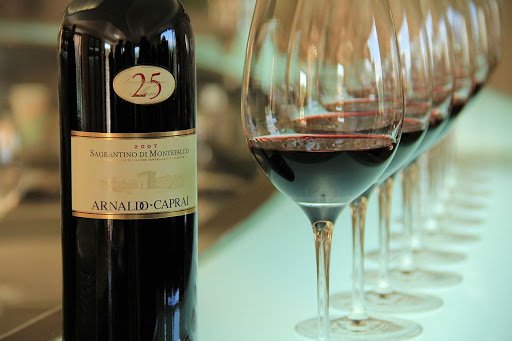 Wine plays a particularly important role in Umbrian cuisine. Due to the excellent conditions for growing grapes in the region , the production of wine in Umbria can be traced back to ancient times. The most famous wine in the area is the white wine produced by the "Greco" rose , which is most commonly found in the fields of Orvieto, but the red wines of Umbria, especially the Sagrantino di Montefalco, are quickly gaining popularity.
Some of Orvieto's more popular white wines exported from Italy are those from Antinori and Lungarotti wineries, while Umbria's red wines like Arnoldo Caprai , Colpetrone, Anronelli, Bea and Tabarrini are beginning to draw the attention of the rest of the world to the exquisite brand of the superb Sagrantino di Montefalco.
Umbrian cuisine tastes very good, fresh and simple . The rich soil of the region provides its residents with an unlimited number of great seasonal produce that is simply forged to emphasize the true taste of any dish. Traditional methods still used in the manufacture of such typical foods such as cured meats "Norcia" ( "Norcia" ), regional artisan cheeses, regional wines and meat grown in private farms, deliver superior quality of these products. The Umbrians have always relied on the area's natural resources from their fields and forests. 
Umbria is just a great place under the sun!