After a long day of work and running errands, whenever we get home we wonder what a delicious, enjoyable, and fast "alluminous thing" we can stop before we sit down and finally rest from stress. The following ideas are also suitable when unexpected guests come to you and you do not have time to shop or to make long preparations.
First of all, we will offer several types of Italian frit because it is well saturated, very tasty and absolutely unpretentious for cooking because it is made from what you have in the fridge or something left over from your dinner, it also does not take long in preparation. Then I also offer two roasted Italian, alamini sandwiches and one quick, light salad. You'll love it!
The frit
The frit is an Italian dish – something between an omelette filled with vegetables or with products you like or those left in the fridge. Unlike French omelette, when fried, the filling is put when the eggs are baked.
A frit can be offered for both breakfast and dinner. To prepare it, you must have a small Teflon pan or pan with a removable handle and oven.
Fry with tomato sauce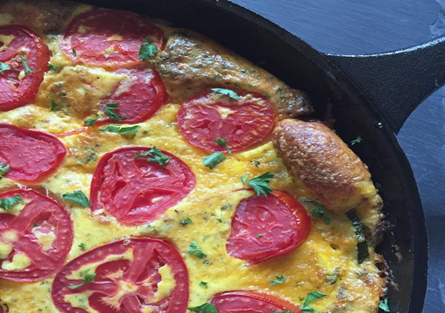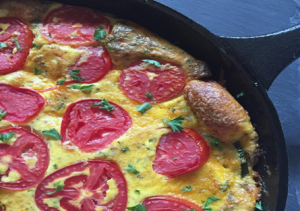 Ingredients:
8 eggs
100-150 g of cottage cheese
2-3 tablespoons liquid cream
butter
salt and pepper to taste
2 strips of bacon
2 tomatoes
1/2 head of onions
2 tbsp olive oil
2 tablespoons white wine
1 clove of garlic
1 teaspoon of oregano
a pinch of basil
a pinch of sugar
How is it done
The eggs are broken and spices are added to the eggs. They break well. Melt butter in pan, pour 1/4 of the egg mixture and fry just below. The resulting omelette is folded in two, the curds are put in and two more folded.
Grate onion and tomatoes . The olive oil is fried in a frying pan, frying the grated onion for about 30 seconds. Add the chopped strips of bacon and the crushed garlic  and pour the wine in a few seconds if you like. Once it begins to boil, add the tomatoes, stir and boil for another 2-3 minutes.
Put the omelets in the pan with the finished tomato sauce and bake for about 10 minutes at 220-240 degrees. Optionally, the dish can be sprinkled with grated cheese.
Fried with peas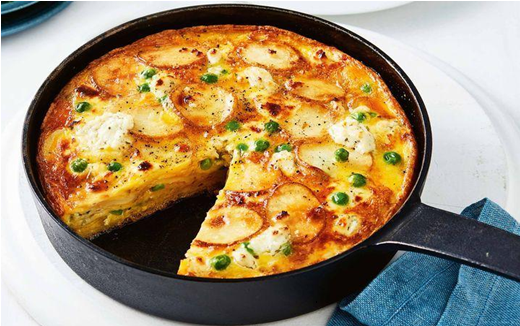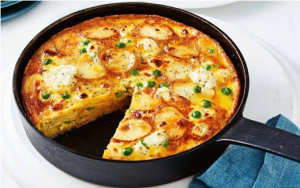 Ingredients:
1 p.m. canned peas, frozen or pre-cooked until soft
1 bunch green onion
cottage cheese to the taste
spices of your choice
eggs
How is it done
Stew the green onions, finely chopped in a little butter, in a large enough pan to hold all the irrigated produce. Add eggs, peas, cottage cheese, spices and stir. Allow to heat until thickened. Transfer to a grill pan or bake in the oven. Cut into quarters and serve with fresh tomato salad.
The potato frigate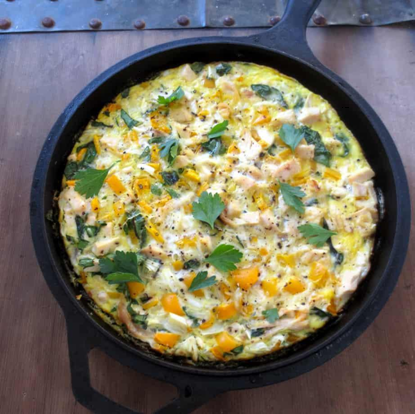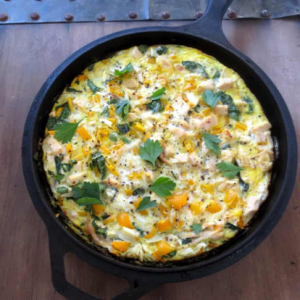 Ingredients:
1/2 kg of young potatoes
cheddar or cheese
spices – savory, basil, oregano, black pepper to taste
1/2 parsley connection
How is it done
Wash the potatoes and chop them. Fry them in a fryer or stew them. Beat the eggs and add the spices to taste. Transfer the potatoes to a large saucepan and cover with the egg mixture. Fry them until the mixture is tight, then put them in the oven. When the frigate is baked, serve it with tomato slices and parsley.
Frigate with ham and mushrooms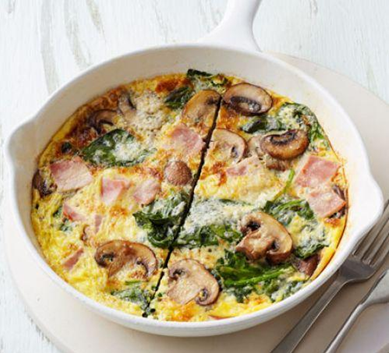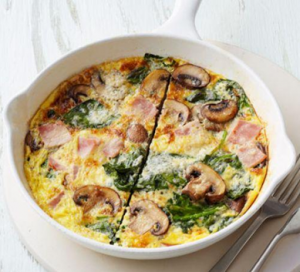 Ingredients:
3 tbsp pure oil
100 grams of ham or bacon
250 g mushrooms, sliced ​​or canned
250 grams of spinach
6 eggs
2 tbsp Parmesan cheese or yellow cheese
spices of your choice
How is it done
In a large frying pan heat the oil. Put the mushrooms, ham and stir until the ham or bacon is fried. Add the spinach and stir for a minute, until soft. Reduce the temperature of the hob and add the broken eggs and spices.
The eggs will tighten in about 10 minutes, but until then, tilt the pan or use a wooden spatula to tighten the mixture evenly. When the eggs are ready, sprinkle them with grated parmesan or yellow cheese  and place them on the pan in the oven for 1-2 minutes, until they are baked.
Serve immediately with fresh salad.
Fry with lots of vegetables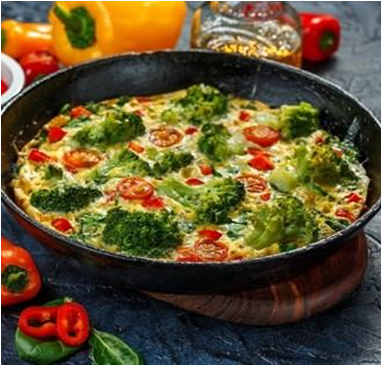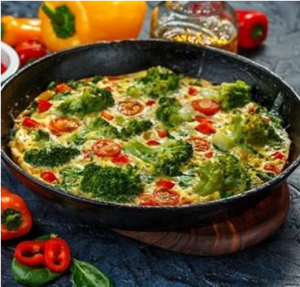 The following recipe has lots of vegetables if you miss something is not scary because the fry is cooked with what you have in the fridge.
Ingredients:
1 cup broccoli boiled, finely chopped
1 red pepper, without seeds, cut into circles
1 onion, chopped finely
2 tbsp olive oil
6 eggs
2 tablespoons liquid cream
a pinch of dry oregano
a pinch of dried rosemary
sea ​​salt and pepper
1 hour glass of grated cheese
How is it done
In a small nonstick skillet  stew the pepper and onion in 1 tbsp olive oil.  Remove the vegetables with a slotted spoon. Beat eggs with spices and cream. Cover the pan and stew over medium heat for another 5 minutes. Sprinkle with cheese and place under the grill in the oven for a few minutes, until the  fry comes out . Cut into triangles and serve.
Italian bread pies with emmental, pesto and dried tomatoes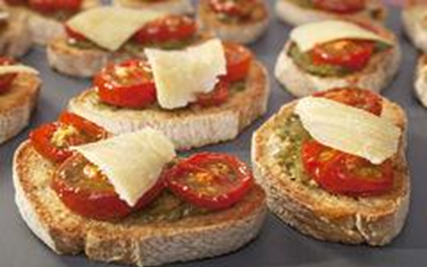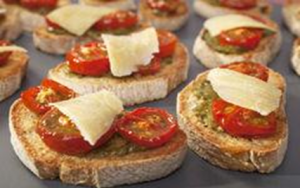 Ingredients:
For 4 poles:
1 black bread
300 gr. Emmental cheese
200 g pesto of dried tomatoes
1 basil link
How is it done
This recipe is part of A Bite of Freshness  – the culinary section of BNT1's morning block 'The Day Begins', featuring  Sandra Alexieva  from our team.
The bread is cut into a slice, only slices are made without dividing it into separate slices. A spoonful of dried tomato pesto is placed in each section, distributing evenly. Also put slices of  Emmental cheese and also fresh basil leaves.  The stuffed bread  is wrapped in aluminum foil and placed on the barbecue for a few minutes until it is warm and stewed evenly and the cheese is melted. Serve hot.
Pancella – Italian salad with tomatoes, cucumbers and croutons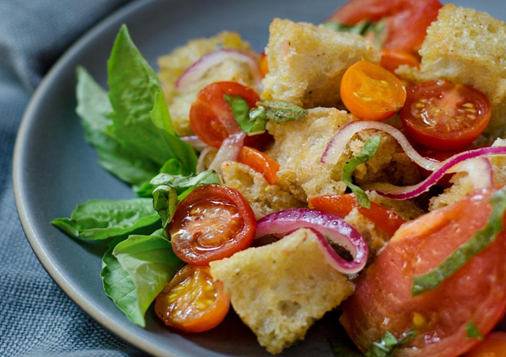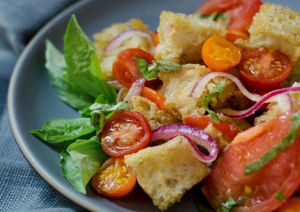 Ingredients:
for 6 servings
3 tomatoes
1 cucumber
1 head red onion
100 g black olives
6 slices of bread
2 cloves of garlic
6 tbsp olive oil
1 tsp dried basil
6 petals of fresh basil
salt
1 pack. tuna fish
How is it done
Tomatoes and cucumbers are washed and cut into large cubes, and the onion is cut into thin crescents.  Olives are cleaned from the stones  and cut into wheels. Mix the vegetables in a bowl and add the canned tuna strained with sauce. Slice the bread into cubes and mix in a bowl with olive oil, salt and dried basil. Everything is mixed very well and placed in a pan. The loaves are grilled for no more than 6-7 minutes. It is important that they become golden and crunchy.
They are then removed and allowed to cool slightly. They are added to the vegetables and the salad is seasoned with salt and pressed garlic. Optionally flavored with a little lemon juice. Decorated with petals fresh basil.
Easy roasted Italian sandwiches with chabata, tomatoes and mozzarella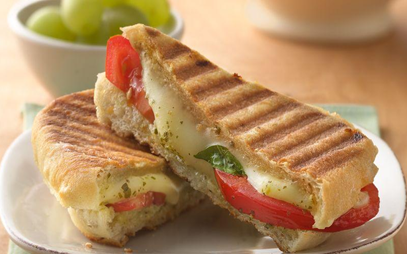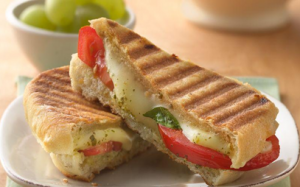 Ingredients:
for 4 servings
200 g. Bread of the sheep
2 tomatoes
100 g of mozzarella
1 tbsp basil
1 pin. pepper
1 pin. salt
How is it done
The two loaves of chaba are cut into thin slices. It is recommended that the loaf of the sheep contains olives. Tomatoes are cut into thin rings and stacked on slices. Top grate mozzarella cheese and sandwiches sprinkle with basil, black pepper and salt. Bake for a few minutes in a strong oven over the top reotan until the mozzarella melts and turns golden. The sandwiches are served warm.