If you are a lover of history, romance and culinary challenges, Florence has every chance to become your favorite city.
The streets of the city still keep the memory of the steps of Michelangelo and Boccaccio , and the atmosphere cannot be conveyed in words. It must be felt with all the senses, because Florence is a place for love and delicious food.
History of Florence
Florence is one of the most famous cities in the world . It is no coincidence that it is considered the cradle of culture and art. Many of the greatest artists of the Renaissance, and in the entire history of mankind, were born and worked here. Florence amazes tourists with its historic streets, with its impressive buildings and rich museums.
This is where the Italian Renaissance in terms of culture, politics and economics . Florence is the engine that helps to get out of the dark Middle Ages. Florentine bankers, thanks to this period, began to partially develop the economy of half Europe .
An unprecedented cultural, artistic and scientific flourishing begins. Thanks to Dante, Petrarch and Boccaccio, the Tuscan dialect influences modern Italian. Michelangelo, Brunelleschi, Machiavelli and Galileo give the world a stream of new discoveries in the field of culture, politics, geography.  The Medici family has a great contribution to the development of Florence. Its representatives are not only patrons of the arts and sciences, but also experienced statesmen and politicians . Catherine de 'Medici, Lorenzo the Magnificent and the elder of the family, Cosimo the Elder, forever associated the family name with Florence.
The beautiful city is an undisputed home of the arts to this day with its many museums and galleries:
Uffizi

Palazzo Pitti

Bargello Palace

Archaeological Museum

The Museum of Modern Art

Museum of the Opera del Duomo

Boboli Garden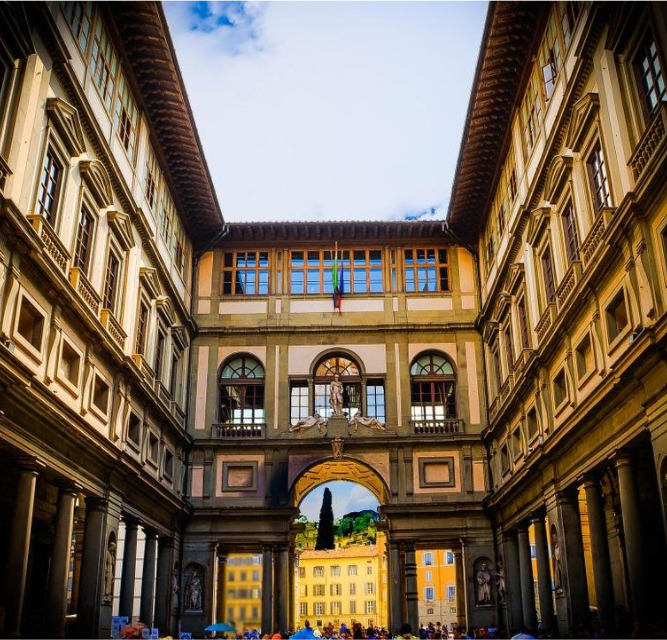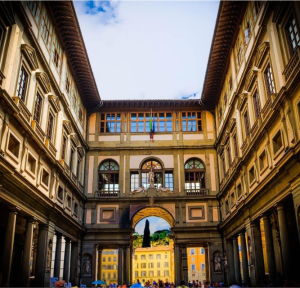 The cathedrals define the noble posture of beautiful Florence. Above all shines the Cathedral of Santa Maria del Fiore . At the time it was completed, it was the largest in Europe in the 15th century , and is now considered the third the largest in the world.
It took 140 years to build , and for decades the cathedral stood with a huge hole in its roof because no one knew how to build a dome with a diameter of 40 m on the already built walls.
The city government announces a competition to build the dome, which wins the young architect Filippo Brunelleschi . He invented revolutionary solutions for his time and managed to build the dome without a supporting scaffolding.
A curious fact is that in practice Brunelleschi creates two domes, the inner one being the support of the outer one. The impressive façade is lavishly decorated with red, white and green marble.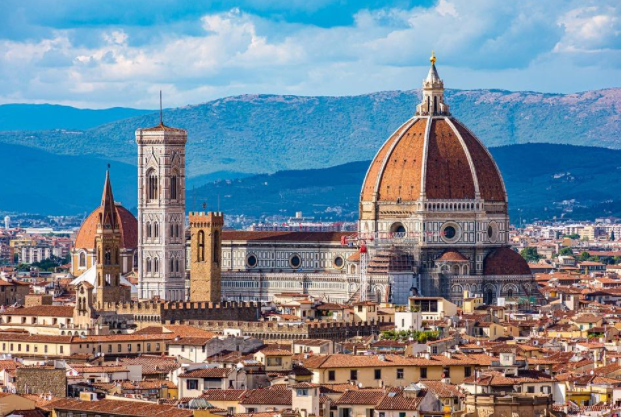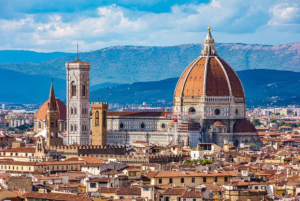 Another world-famous landmark in Florence is the covered Ponte Vecchio over the Arno River. It gets its present look with its shops p rez 1345. Above the shops is the corridor named after Giorgio Vasari , which is a picture gallery .
Designed by Vasari to ensure the safe passage of the Duke Cosimo I of Medicifrom the Uffizi Gallery to the Pitti Palace. Today the bridge is an interesting place for tourists to visit and for lovers to walk.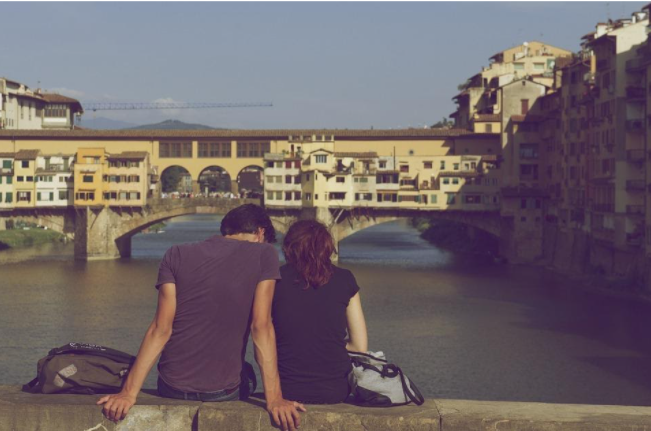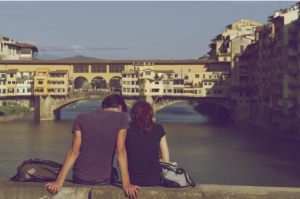 Restaurants
Florence is famous for its many wonderful restaurants where you can try the best local and foreign dishes . The restaurants in Florence are very diverse and everyone can find what they like.
Tourists choose mostly typical local restaurants, offering delicious dishes based on Mediterranean products. Most menus in Florence are based on traditional Tuscan cuisine . Most of the restaurants are located in beautiful old buildings, their interior is stylish, they have small but neat and cozy gardens.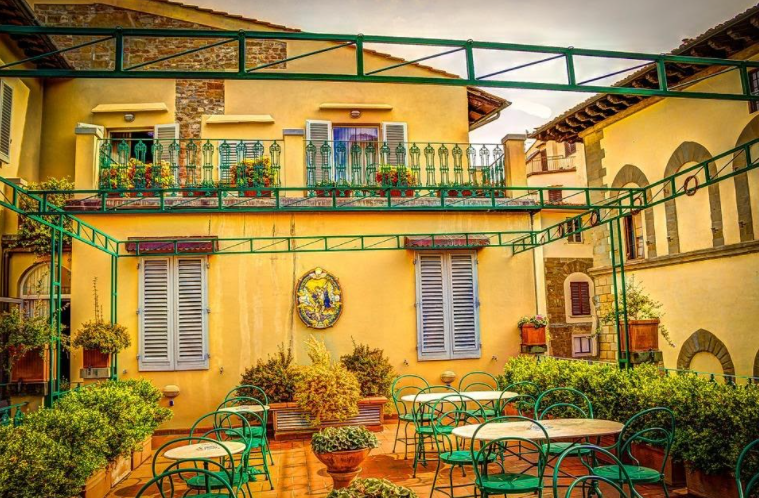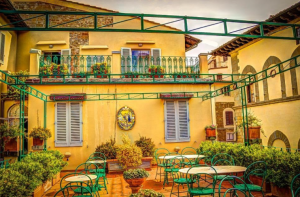 Santa Felicita is on the list of the best restaurants in Florence. The menu offers delicious Tuscan dishes, including chicken in tomato sauce with vegetables (Pollo alla cacciatora). The menu also has excellent ice creams and desserts. The atmosphere is pleasant and on hot days you can dine at tables located on the street surrounded by medieval architecture.
Many consider Cibreo to be one of the best restaurants in Florence. It is distinguished by the excellent quality of the prepared dishes and with a unique interior in a rustic style.
There is no fixed menu, the manager himself tells what dishes are available and their ingredients. Going to this restaurant, it is better to book a table in advance, as there is a possibility that there are not enough free seats.
Enoteca Pinciori is a legendary wine list restaurant,
praised by wine critics, located in an old palace near Piazza Santa Croce. The Enoteca Pinkiorri restaurant has
three Michelin stars
.
Visitors must
follow a dress code
– men must wear long-sleeved shirt or jacket. To cover the full range of the best dishes, you can order a tasting
menu of 9 dishes.
Rose's has earned the status of one of the best restaurants in Florence for its well-prepared food, which you can enjoy almost any time of the day. The restaurant is small and quiet , and the kind hostess welcomes her guests with a lot of care and attention.
Cantinetta Antinori offers its visitors a wide selection of Tuscan wines, perfect for meat and seafood dishes. The restaurant's menu is based on old recipes time-tested, so if you want to experience all the flavors of home-cooked Italian cuisine, welcome here.
Trattoria Angiolino is also on the list of the best restaurants in Florence due to the large selection of Florentine cuisine, which, combined with a friendly and relaxing atmosphere, creates good mood and unforgettable experience. Trattoria is a good choice if you want to try delicious Italian cuisine in a cozy place not far from the main attractions.
Some of the restaurants in Florence are open from morning to night and offer delicious snacks, including continental. Others are open only in the evening and serve delicious meals for dinner. Of course, to save time, you can buy ready-made food or visit a fast food restaurant.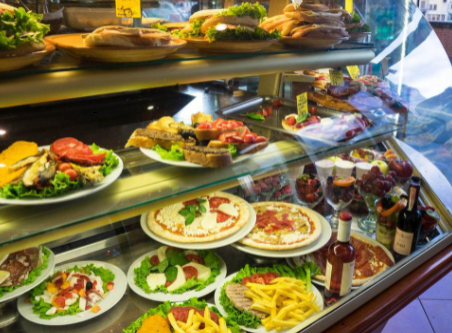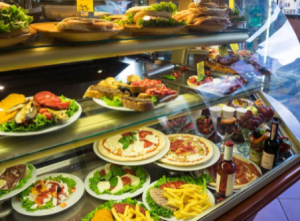 What food to try in Florence?
There are dishes you must try if you want to get to know Florence's gastronomy well. The local cuisine will surely find something to surprise you with. The Tuscan culinary tradition emphasizes the simplicity of the dishes and the quality of the products. So what to try in Florence?
You can start your acquaintance with local dishes with soups . For example, with tasting of ribolita – vegetable soup, very popular in Florence. It contains legumes, cabbage, carrots and other vegetables.
There are no exact rules, in ribollita everything that is left from the previous day can be used, including meat. This soup is usually eaten with a piece of dry bread.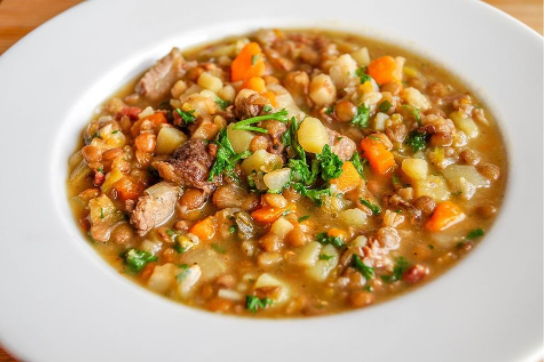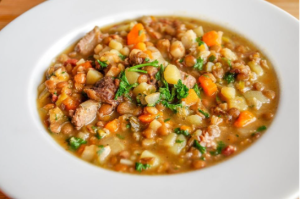 Light food lovers can order panzanella salad . Its main ingredients are tomatoes, onions, olive oil, black pepper, basil and slices of bread, soaked in water with vinegar and then pressed.
When you come to Florence, don't forget to try biscca alla fiorentina. The popular Florentine steak is made from beef with bone, which is baked briefly on embers or barbecue without spices , which are added then. Finally, season with salt, pepper, a drop of olive oil and can be sprayed with lemon juice.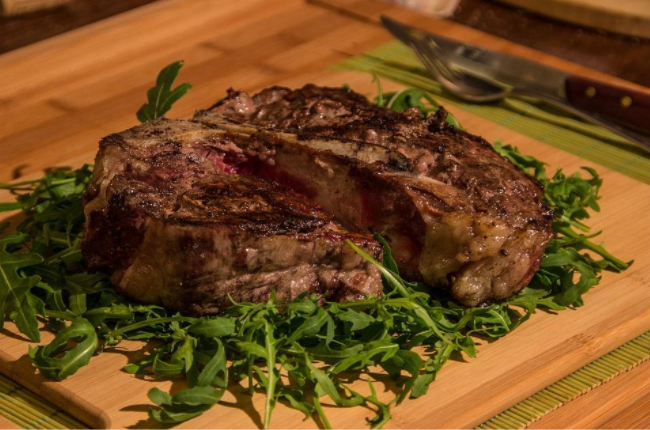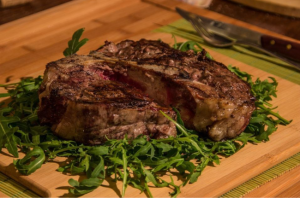 Want to get acquainted with a dish with a story? Then try pollo al finocchio. This dish is mentioned in 14th century cookbooks. It's actually a fried chicken with dill leaves.
A well-known local dish is lamprey. This is a boiled beef belly, cut into pieces and cooked with various vegetables. Served as a separate dish with pesto sauce and is also used for filling buns. Lampreda is also used as a local fast food that can be bought from mobile carts.
Another culinary greeting from time immemorial is cibreo . These are scrambled eggs with meat broth, sage, onion, chicken liver and heart. Catherine de 'Medici is said to have loved this dish
Florence will delight fish lovers as well. You can eat baccala alla fiorentina. This is dried cod in tomato sauce. The locals claim that the taste of the dish is simply divine.
Photos: pixabay.com