Bansko is one of the most popular and visited resorts in Bulgaria, this is a truth that no one can dispute. Whether you are in winter sports or love to enjoy the mountain in the summer, Bansko is the place that can guarantee a good vacation.
The popular resort is really liked and loved by tourists from all over the world because of the combination of a unique location (at the foot of the Pirin Mountains), the incredible winter ski slopes (which overflow the town before the official start of the ski season), the rich history and the unique Bansko cuisine .
The kitchen you can only try here is original, delicious and… homemade. No restaurant in Bansko will offer you dishes that are not homemade, that you can be absolutely sure.
Undoubtedly, people from Bansko are masters of delicious home-made cuisine and it's for a fact, that apart from being a popular resort, the town has become a culinary center and an attractive destination for wine tourism.
The ingredient that Banskalee (people from Bansko) add to their dishes and which makes the Bansko cuisine so original and delicious is simply called… love! The love for food, the finesse and the attention that prepare the dishes here is something that makes it worthwhile to visit Bansko.
Which are the five most popular dishes in Bansko?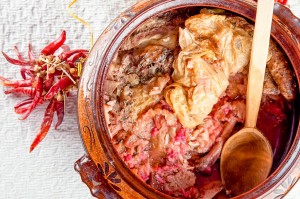 Kapama
The Kapama is probably one of the most delicious and popular dishes that can be tasted in Bansko. Kapama is also prepared in other regions of the country, but the ingredients that Banskalee people use, as well as the way of preparing the "jar" are different and that is exactly what makes the Bansko's Kapama so unique.
Banska Kapama recipe:
* 500 grams of sour cabbage;
* 500 grams of veal;
* 500 grams of chicken;
* 500 grams of pork;
* 500g Banski Sudzhuk (or Banska Karvavitsa);
* 1 cup of rice (white, round);
* 1-2 onions onions.
The Kapama is a winter dish, which many years ago Banskalee had prepared for big winter holidays when the whole family was gathered at the table. Today the tradition continues to be respected, but the dish comes out of the family kitchen and is available in almost every restaurant in Bansko. The traditions are a nice thing, but for those of us who are not from the town it is good that "traditions are no longer what they were" and anyone who is looking for a place to eat in Bansko can enjoy this culinary temptation any given day.
So, let's continue with the way of preparing the Banska Kapama.
Method of preparation:
The potato is cooked in a large clay pot and very slow fire for at least a few hours:
* the sauerkraut is soaked or drained well and chopped finely;
* the rice is fried (or, as they say, in Bansko, "cakes") with finely chopped onion onions;
At the bottom of the clay pot, put whole leaves of the sauerkraut so that the bottom is covered with them. There follows the layering of different layers of products: first the rice ranks, followed by the cabbage and finally the meat (there is plenty of all the "marsh"). Once the meat is made, the spinning starts from the beginning – rice, cabbage, meat and so until the dish is filled. Water is added, spices are added (here every restaurant in Bansko puts different spices according to their own recipe) and the dish is finished, and the whole cabbage leaves are again arranged on top.
The Bansko's Kapama is ready when there's some fat left. Let it be good to you, as Banskalee like to say!
We almost forgot… the Kapama is even more delicious if you add a bowl of Bulgarian or Italian wine.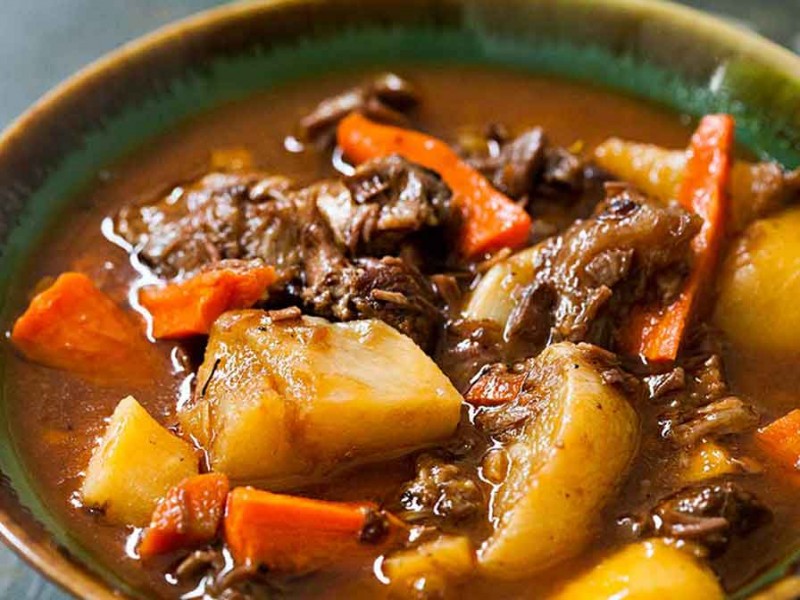 Banski Chomlek
Recipe:
* 1-2 kg of bone meat (preferably calf and pork knuckle);
* 1 kg potatoes (if small are used whole, if big are cut at wholesale);
* Several onions (3-4);
* Carrots (3-4 bigger ones);
* Garlic (whole unpeeled head);
* Wine (white or red according to the recipe and preferences) – about 300 – 400 ml;
* Dry red peppers;
* Bay leaf;
* Pepper;
* Salt;
* Tomato juice or tomato paste;
* Spices (you already know about secret spices)
Method of preparation:
Bansko's Chomlek, like the Kapama, is prepared in a clay pot. At the bottom of the casserole is the tomato paste. Just like the Kapama, the products rank one after another in layers. After the tomatoes, a layer of pork (pre-cut and flavored) is arranged, followed by potatoes, onions, carrots (whole), veal. Spices are distributed between the layers. The dish is cooked on very quiet fire for several hours (if you are patient, the most delicious thing is if the chocolate cooks all night in a 100 ° oven).
Banskalee have been preparing the Chomlek since Bansko exists. This dish, like the Kapama, is completely authentic and is prepared by generations of Bansko's people for big holidays.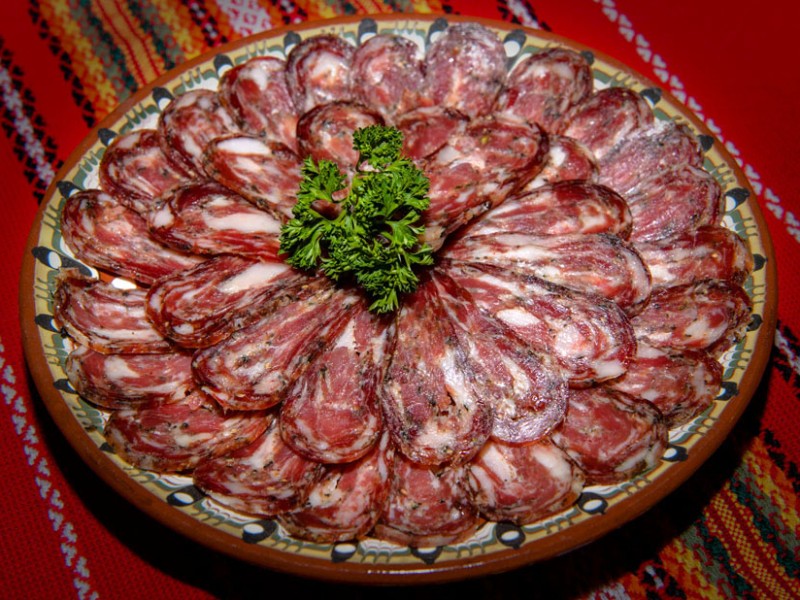 Banski Starets (Bansko's Old Man)
An exceptionally delicious delicacy that only you can taste in Bansko and the taste you will remember for a long time.
Even if you just pass by Bansko, we advise you to stop at a restaurant in Bansko and order from this great taste, you will not regret, but at all. Just keep in mind that the meze is very salty and it is best to spend it with a glass of high-quality Italian wine.
What's in the Bansko's Old Man, which makes it so delicious and unique?
* Pork (about 2 pounds and possibly fat free);
* Slim (about 500 grams)
* Salt, pepper, cumin
* Pork tenderloin (cleaned and prepared for filling)
Method of preparation:
Fry and flesh are cut into very thin strips (do not grind, cut), then season with spices. Mix the mixture well with your hands and fill in a clean, washed and well-dried clump. Once the stump has been filled, it is firmly tied with string and placed between two boards (to get its characteristic shape). The weight is placed on top and the old man is left standing for about a month. After 30 days the weight is removed and the meat is hung to dry in an airy place.
The delicacy is ready for consumption after at least 6 months, so if you visit the city in the summer, surely a Bansko restaurant will sit down and you will have a home-made Bansko old man.
The history of the meze has been lost over the years, but we suppose that the Banskalee have prepared it to provide the livestock breeders who for months were high in the mountain where their flocks were. And there might be some more romantic story, who knows. What is important is that Bansko's old man remains to this day one of the most delicious appetizers that can only be offered to Bansko's restaurants.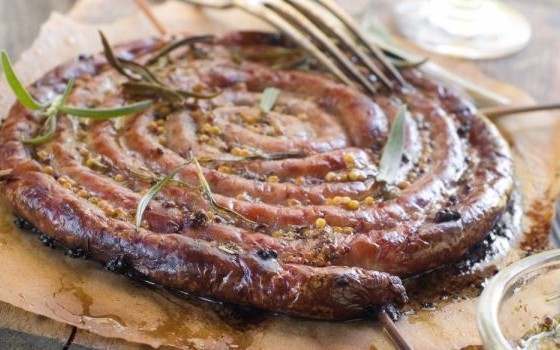 Banski Sudzhuk
Sudjuk is also prepared in other parts of the country (let alone everywhere), but the banana sausage again has a slightly different and original flavor.
The products from which Sujuka is prepared are:
* Pork and veal 7:3 (7 kg pork and 3 veal);
* A kilo of pork liver;
One or two stalks of leeks onion;
* Spices: salt, pepper, cumin and … here is the secret of the great taste of the Banjo Suzhou – savory and dill;
* Swine intestines in which the mixture is filled.
Method of preparation:
Fold the meat with finely chopped onion, chop the onion too finely, add the spices and stir everything very well. They are filled in the intestines and the suds are left in an airy place for several months until they are dried.
The good thing is that if you do not expect to eat a banana sausage like a sconce, you can order fresh sausage (sausage) to fry or bake you. Wherever you choose to eat in Bansko, they will not refuse to prepare your meal in this way.
And do not forget about the wine! Bansko Meze does not try without good Bulgarian or Italian wine! Okay, maybe a live beer!
Kosturetta with "chekane" and "slanina"
The name of this dish is interesting, but it is actually bean with beets (pickles) and lard.
Prepare a white bean to boil in a clay pot. When it boils, its water changes to a new one and starts to spin again. After boiling for the second time the beans are added cut around the head check (beet, which is prepared as a pickle-like popular throughout Bulgaria sauerkraut), pieces of fat and optionally one another dry red pepper. The dish is cooked in a slow fire to readiness, and a "bundle of juice" goes along with a glass of ours or Italian wine.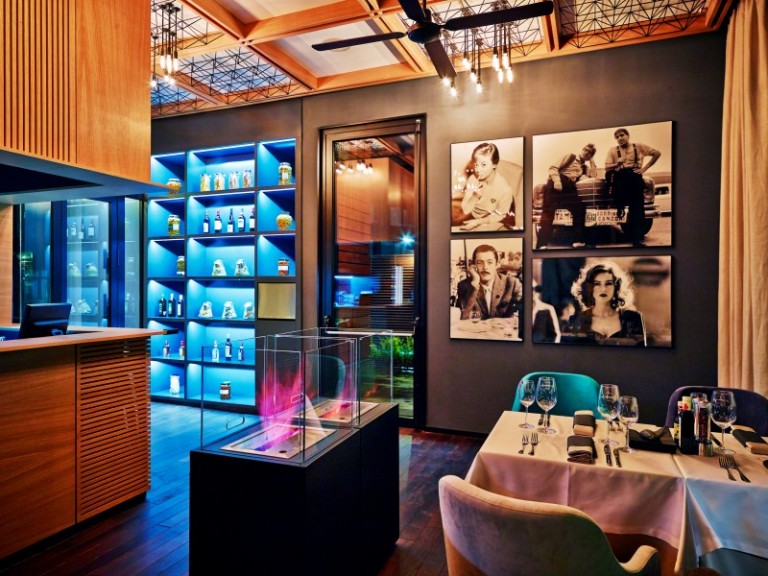 Where to eat in Bansko?
The choice of restaurants is really huge and it is up to your wishes depending on where you will eat in Bansko. Your options are really many, ranging from traditional family taverns where you can try all these popular dishes from traditional cuisine to stylish Italian restaurants where can taste real Italian food and taste of Italian wines come directly from Boots. In addition to traditional dishes prepared with natural products and aromatic spices, Bansko can offer gourmet cuisine, so you can really find here everything that your soul (and stomach) longs for.
Are you looking for a place to relax, where they can offer you, besides lots of fun and authentic traditional cuisine, think of a holiday in Bansko, you will not regret at all!
Your choice of hotels, food and restaurants in Bansko is great, but more importantly, it will entertain and relax well, while guests of the city and will go there with memories that will make you come back again and again.