Food has long since exceeded its original function of satisfying the body's physical needs. It is a joy for the senses, a shared pleasure and adventure.
Visiting a restaurant is no longer just a family event on any occasion, but in itself becomes a holiday. To enhance the pleasure of food, of great importance is the style of the restaurant , which you will see for yourself if you visit Leonardo in Bansko.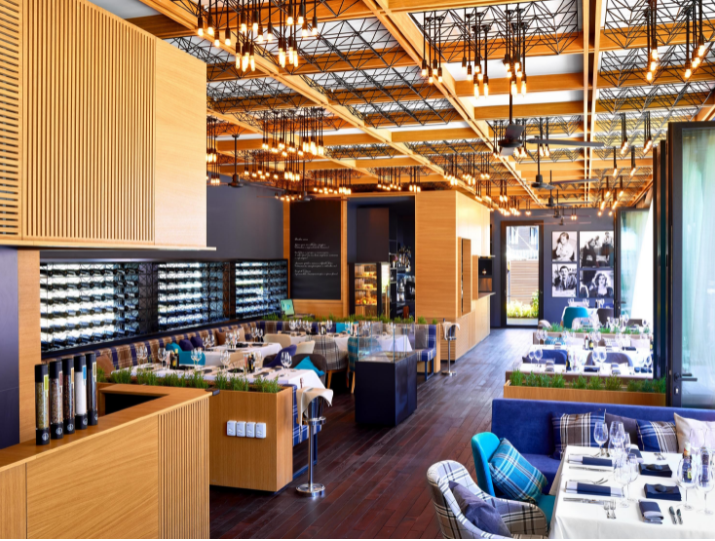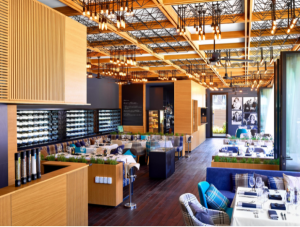 What to expect from Leonardo Restaurant?
The luxury restaurant Leonardo attracts with its refined atmosphere and superb cuisine, which will guarantee you a wonderful dinner . It is located in the five-star aparthotel Lucky Bansko SPA & amp; Relax.
The elegant restaurant has already earned the name of one of the most popular restaurants in the resort town at the foot of the mountain. It impresses with excellent Italian cuisine and perfect service. The interior of the restaurant is stylish, sustained in warm tones , and the furniture is a combination of wood, wrought iron and other natural materials.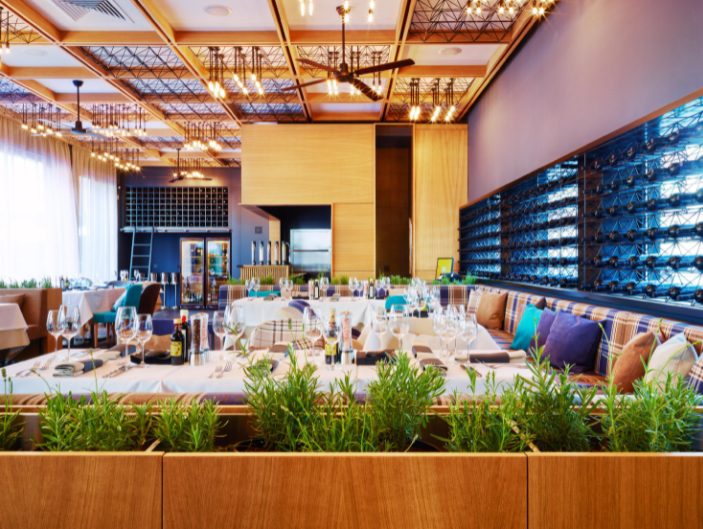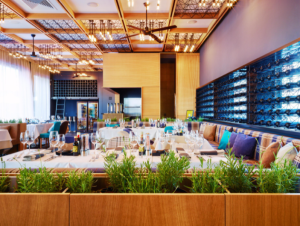 It is open all year round , and in summer you can combine delicious food with the pleasure of cooling off in the outdoor pool and enjoying the fresh mountain air.
During the warm season, the entire wall of the restaurant effectively opens to the outdoor pools. Leonardo offers as an attraction for guests show cooking, and in winter in the restaurant additional comfort creates the fire in the fireplace. The restaurant is separated in different combinations and is suitable for different companies.
The menu of Leonardo restaurant can satisfy even the most demanding lovers of fine food.
No quality compromises are allowed in his kitchen.
Enjoy true pleasure for the eyes and senses
The interior style is in harmony with the Italian dishes and drinks on offer. The menu is perfectly balanced and the dishes are prepared at the time of the order.
Their aroma awakens the appetite, and their taste and beautiful layout caress the senses. The overall atmosphere in Leonardo is a prerequisite for a romantic experience and good mood.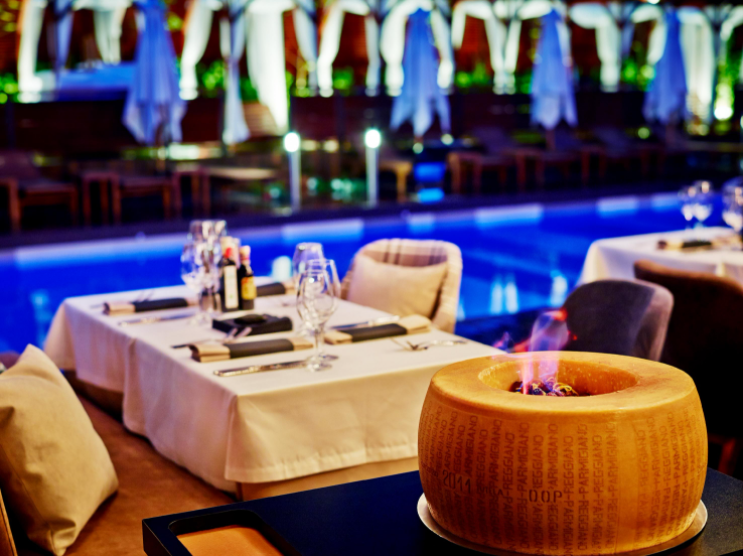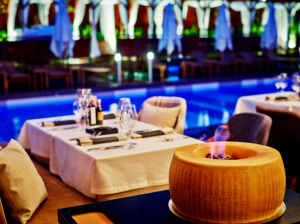 Guests can choose from a varied menu , which includes salads, soups, traditional pizzas and pastas, main dishes, a mix of Italian sausages and cheeses, and finally enjoy wonderful desserts.
The rich menu starts with the classic Caprese salad and the rich Minestrone soup and reaches the most famous Italian d essert Tiramisu.
Leonardo welcomes every guest with freshly baked focaccia with olives and rosemary. The offered italian pasta se prepares entirely from original products , and the sauces are fantastic.
The popular Bolognese sauce is a beef ragout prepared according to a Tuscan recipe with fresh rosemary and sage.
Carbonara is made with pancetta and Pecorino and Parmesan cheeses , slightly spicy Arabia is made from peeled pink tomatoes, and Ale Wongole sauce – with white mussels and fresh cherry tomatoes.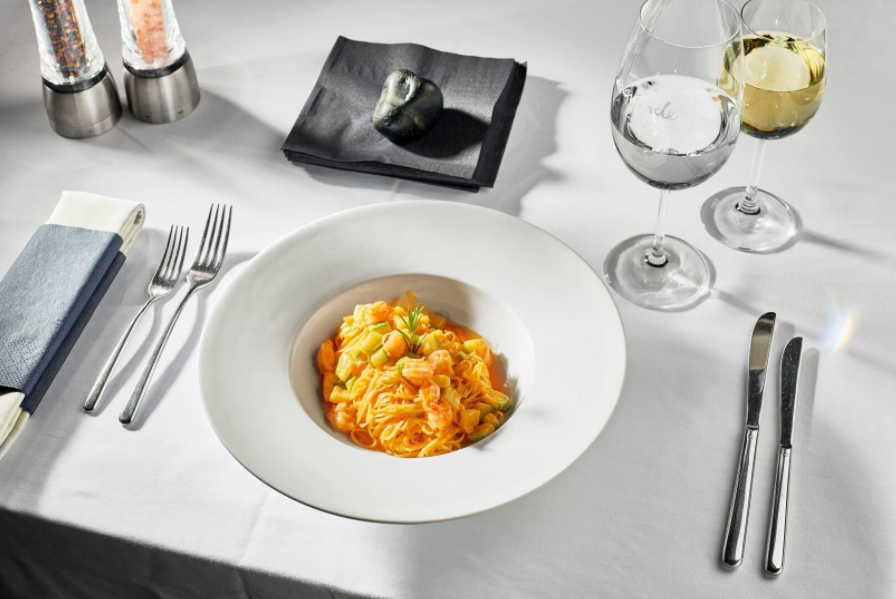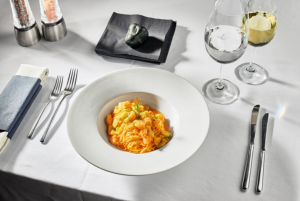 All pizzas in Leonardo are distinguished by their thin bread , from which comes the name "crispy" pizzas. Fresh tomato sauce, mozzarella, fresh basil and oregano are used to prepare them.
There are also suitable suggestions for people with special food requirements. They can order gluten-free pizzas and pastas made with organic tapioca flour and rice.
One of the most ordered specialties is the tender beef steaks of the Black Angus breed , which may taste smoky if you prefer to be prepared on Josper / charcoal barbecue with a temperature of 350 degrees /.
Steaks can have a natural taste, enhanced by fresh spices, if they are prepared by dry technology – at a low uniform temperature of up to 60 degrees.
Another good choice would be Duck breasts cooked su with sweet potato cream , confined celery and hazelnut crocan
You can also choose a main course from the menu:
Milanese beef schnitzel, breaded with Panko breadcrumbs and Parmesan and garnished with baked potatoes with rosemary and dried tomato pesto.

Marinated pork on a barbecue with garlic puree of celery and carrot chips.
In winter you can enjoy the taste of fresh wild fish – sea ​​bass, sea bream, phage, which are delivered directly from Greece. Seafood is also a great temptation. How to pass, for example, Tiger prawns with feathers, black truffle biscuit and emulsion of potatoes.
Delicious drinks are served with delicious dishes , and Leonardo's wine list deserves respect . We offer high quality wines from the Italian regions of Tuscany and Piedmont, as well as Bulgarian wines and wines from Spain, France, Chile, Nova Zealand, Argentina.
With the excellent wines you will have to try the exclusive cheeses and sausages from Botusha. Among the most famous sausages and meat delicacies are Ventrichina, Prosciutto, Pancetta, Salsicha, and their quality is guaranteed.
The list of famous Italian cheeses is long, but we can still distinguish them:
Parmesan

Pecorino

Grana padano

Gorgonzola

Mozzarella and many others
It is best to order Plate with an exclusive selection of Italian sausages and cheeses,
The experience in Leonardo will not be complete if you do not give him a suitable finish – and he comes with dessert. For example, you won't regret ordering Chocolate Surprise.
Serving it is a real attraction, because the dessert is a sphere of white chocolate, around which there is fresh fruit.
Serve in a large plate and pour plenty of hot chocolate , right in front of the guest. The white sphere begins to melt and a delicious core of chocolate brownies with hazelnuts and vanilla ice cream is revealed.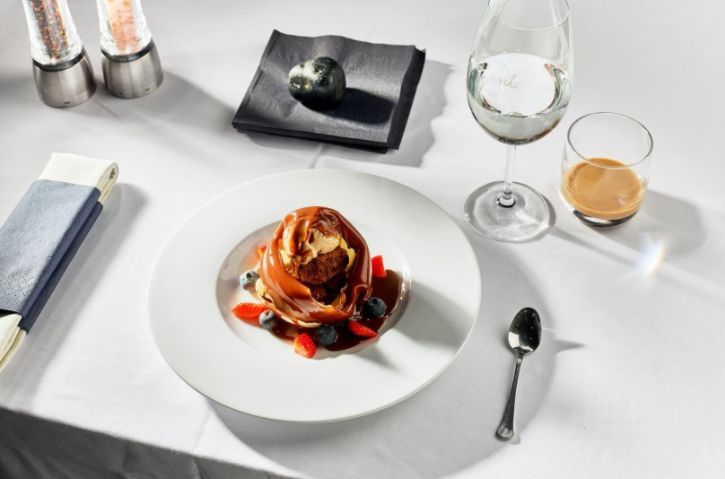 For the little ones, and not only for them, there is a variety of colorful homemade ice creams and fruit sorbets.
In the elegant Italian restaurant Leonardo in Bansko eating is a ritual that leaves unforgettable memories when shared with friends or family.
Photos: leonardobansko.bg